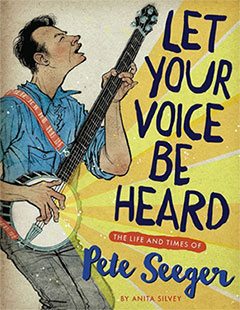 We are so pleased to have author and edu­ca­tor Ani­ta Sil­vey talk with us about her book Let Your Voice Be Heard: The Life and Times of Pete Seeger, our Book­storm this month.
Do you remem­ber when you were first aware of Pete Seeger as a child or teenag­er?
In my sopho­more year in col­lege, I came down with mono and had to be sequestered from oth­er stu­dents. So I taught myself gui­tar as a way to pass the long con­va­les­cent hours. That was the semes­ter I fell in love with Pete Seeger.
What made you want to write a book about Pete Seeger?
I had inter­viewed Pete for Every­thing I Need to Know I Learned from a Children's Book. I was talk­ing to Dinah Steven­son of Clar­i­on about that inter­view, and she men­tioned that she had tried, unsuc­cess­ful­ly, to get one of her writ­ers inter­est­ed in a book on the Weavers. I myself didn't see the Weavers as the sub­ject of a book but men­tioned that a biog­ra­phy of Pete, with a chap­ter on the Weavers, would be an excit­ing project. That con­ver­sa­tion began an eight-year pub­lish­ing process.
You begin the book with the Peek­skill con­cert which turned out to be life-threat­en­ing. Why did you choose to begin there?
Pete always talked about the Peek­skill con­cert and the ride home as among the most fright­en­ing moments of his life. That inci­dent show­cas­es one of the themes of the book. No mat­ter what hap­pened to him, Pete Seeger did not allow any­thing to keep him from singing.
Were there any "truths" you thought were true but your research proved were oth­er­wise?
There were so many things I didn't know: for 10 years he was harassed dur­ing the McCarthy era; he had dif­fi­cul­ties appear­ing on tele­vi­sion, even after he was cleared. The extent of his activ­i­ties — for unions, civ­il rights, peace, the envi­ron­ment — amazed me. I could have writ­ten 10,000 words about any year in Pete's life.
Did you find a lot of fac­tu­al mate­r­i­al that you had to check in sev­er­al sources before you includ­ed it in the book?
You have just described the process of writ­ing nar­ra­tive non­fic­tion — lots of sources, both pri­ma­ry and sec­ondary, lots of bal­anc­ing opin­ions. Basi­cal­ly I had to do that for every sen­tence that I wrote.
How do you plan an inter­view with the sub­ject of a biog­ra­phy?
With Pete it was easy. I would have a cou­ple of ques­tions that I need­ed clar­i­fy­ing. He would do all the rest. Two hours lat­er I'd be off the phone with infor­ma­tion I didn't even know I need­ed.
When you inter­viewed Pete Seeger, what sur­prised you the most in his respons­es?
His gen­eros­i­ty of time. And he sang to me.
What proved to be the hard­est infor­ma­tion for you to find about Pete Seeger?
Toshi Seeger and Pete clear­ly tried to keep fam­i­ly infor­ma­tion out of the press. In the end I hon­ored that desire and kept details about the fam­i­ly to a min­i­mum.
In your After­word, you write, "Biog­ra­phers have a respon­si­bil­i­ty to exam­ine the facts, remain as unbi­ased as pos­si­ble, and tell the truth about their sub­jects." You fol­low this up by shar­ing that "When I read the files that the FBI had gath­ered about Pete Seeger, and I stud­ied the com­plete tes­ti­mo­ny of Pete Seeger's appear­ance before the House Un-Amer­i­can Activ­i­ties Com­mit­tee, I became angry and dis­turbed." In con­clu­sion, you stat­ed, "I offer up his sto­ry in the hope that as a nation we nev­er again turn on our own cit­i­zens and do them the same kind of injus­tice."
After writ­ing this book, do you feel that tak­ing a stance in a non­fic­tion book is accept­able for an author?
I think writ­ers for chil­dren need to admit to a bias if they have one. I didn't make this type of state­ment in Untamed: The Wild Life of Jane Goodall. For that book, I remained much more impar­tial through­out the process. Alert­ing chil­dren to the bias of a writer helps them inter­pret non­fic­tion and can send them to oth­er sources. Some­times when asked by an adult friend about some­thing, I remind them that I am not impar­tial on this top­ic. I believe chil­dren deserve the same respect.