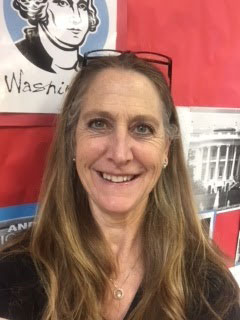 We are so for­tu­nate to have ded­i­cat­ed and inspir­ing librar­i­an edu­ca­tors work­ing with chil­dren in many schools through­out our land. Becky Kruger not only serves as the librar­i­an at Ray Miller Ele­men­tary School in Mis­souri but she also helps orga­nize the annu­al Tru­man State Uni­ver­si­ty Chil­dren's Lit­er­a­ture Fes­ti­val.
Which book you read as a child has most influ­enced your life?
It is not so much that the sto­ry influ­enced my life – but the book that I remem­ber most from my child­hood is The Five Lit­tle Pep­pers and How They Grew. My Mom and Dad gave it to me for Christ­mas when I was in the 3rd grade and I still have it and trea­sure it!!
What's your favorite form of exer­cise?
My favorite form of exer­cise is work­ing in my veg­etable and flower gar­dens!
Who's at the top of your list of Most Admired Peo­ple?
The per­son that I admire most in this world is my daugh­ter. She is the most kind, car­ing, fun­ny, hard work­ing and intel­li­gent per­son that I have ever known. She nev­er ceas­es to amaze me.
What for­eign lan­guage would you like to learn?
I wish that I could speak flu­ent Span­ish.
Do you keep your book­shelves in a par­tic­u­lar order?
I orga­nize my books by sub­ject (non-fic­tion) or author (fic­tion). I also group my children's books togeth­er.
What's your food weak­ness?
Dessert. Def­i­nite­ly dessert.
What's your favorite flower?
I have nev­er met a flower that I didn't love, but if I had to choose, I would say that peonies are prob­a­bly my favorite. It is unfor­tu­nate that they are so fleet­ing.
What's your favorite word because you like the way it sounds?
I love words! Rather than name a favorite word, I would like to name a few books that I love because of the author's use of words: Natal­ie Lloyd's A Snick­er of Mag­ic and Kather­ine Hannigan's Ida B. If you haven't read them, you should!!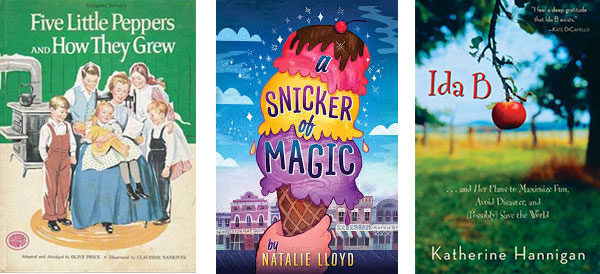 Do you read the end of a book first?
Nev­er!! But…I do have this very annoy­ing habit of skim­ming a few pages in advance when a book gets very sus­pense­ful, or I am wondering…is the dog going to die? Is she going to tell the secret? Are they going to move again? It is like I just have to know before I real­ly read it!! Ha! Does any­one else do that??
If you could be grant­ed one wish, what would you wish for?
I would wish that every per­son in this world had access to clean water and abun­dant, nutri­tious food and that we could all live in har­mo­ny. (If it is all in one sen­tence, can it count as one wish?)