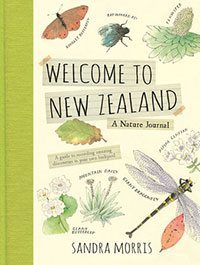 by Vic­ki Palmquist
I nev­er kept a jour­nal. Why? It nev­er occurred to me. It wasn't with­in my realm of famil­iar­i­ty. I start­ed writ­ing many sto­ries on note­book paper and stuffed them into fold­ers. But how sat­is­fy­ing to have a jour­nal, specif­i­cal­ly an obser­va­tion jour­nal to keep track of what you see, hear, and think.
As a child, I was a hunter-gath­er­er. Were you? Did you have a col­lec­tion of rocks? Leaves? Agates? Ani­mals? Per­haps you still do. Or per­haps you know a child who has these ten­den­cies.
I think of Rhoda's Rock Hunt by Mol­ly Beth Grif­fith and Jen­nifer A. Bell (Min­neso­ta His­tor­i­cal Soci­ety Press). Rho­da col­lect­ed so many rocks on her family's camp­ing trip that she couldn't walk — they weighed her down.
Adding to Rhoda's sto­ry, I think of Lois Ehlert's The Scraps Book and Leaf Man. Author and illus­tra­tor Lois Ehlert is renowned for her col­lec­tions, her "scraps," and how she puts them to use. A con­sum­mate hunter-gath­er­er.
Then there's a brand new, absolute­ly amaz­ing book about cre­at­ing a nature jour­nal, Wel­come to New Zealand by San­dra Mor­ris (Can­dlewick Press). This pic­ture book com­bines the record-keep­ing, visu­al art sat­is­fac­tion, and exam­ples of dif­fer­ent things to observe in nature that will keep a hunter-gath­er­er busy for years. I admire this book on so many dif­fer­ent lev­els.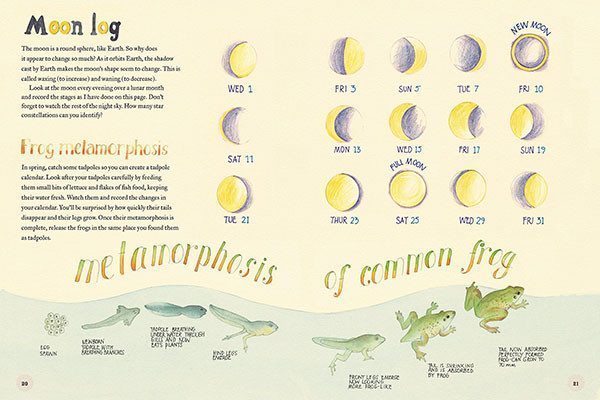 Very clev­er­ly designed as a jour­nal, this book shows exam­ples of dif­fer­ent types of art, ways to arrange things on pages, labels, and note-tak­ing. There's advice on press­ing leaves, observ­ing clouds and phas­es of the moon, and mak­ing a land­scape study. Every turn of the page brings a new sur­prise and some­thing to try on your own. (And you can do this — none of these excus­es about not being an artist — you are!)
Mor­ris writes, "Cre­ate a lay­ered map of the birds on the shore­line as the tide changes, like my high-tide jour­nal page here. Work­ing from the top of the page down­wards, draw the dif­fer­ent flocks as they advance clos­er." Much bet­ter than ANY video game (and I like play­ing video games).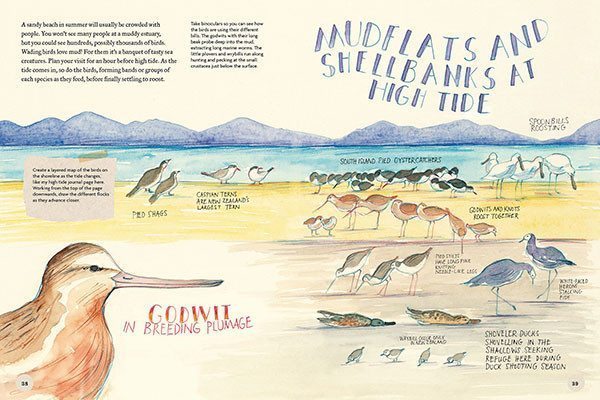 Exam­ples of cray­on, pen­cil, water­col­or, and char­coal draw­ing will inspire each read­er. Plen­ti­ful sam­ples of cre­ative hand-let­ter­ing encour­age the free­dom to make your jour­nal quite per­son­al. Mor­ris pro­vides ideas, but unless you're sit­ting on a beach in New Zealand as you read this, your jour­nal will be all your own.
And that' just it. If you're not in New Zealand, read­ing this book will teach you a lot about the land­scape, the mam­mals, the trees, the insects, and the sea­sons.
This book is great for any young hunter-gath­er­er and observ­er but any old per­son will like it, too! It's a trea­sure.
Oth­er Resources
Smith­son­ian Kids has a site devot­ed to col­lect­ing.
Dr. Patri­cia Nan Ander­son, Advantage4Parents, writes "Why Kids Love to Col­lect Stuff."
Now that you know about this book (you're wel­come), and you try out some of the sug­gest­ed activ­i­ties, send me a sam­ple in the com­ments. Most of all, enjoy the time you spend with nature and your jour­nal.