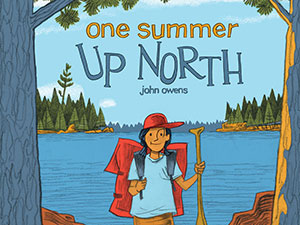 Once in a while a debut book comes across my desk and I'm too curi­ous to put it into a to-be-read pile. I glance at the cov­er through­out the day until I can't resist open­ing the book. What is it about? Am I going to like it? Then I keep turn­ing the pages, mar­veling over the illus­tra­tions … and there are no words! I fin­ish the book and imme­di­ate­ly start over again. What have I missed on my first read-through? There's so much to notice and look at more close­ly. One Sum­mer Up North by John Owens is that sort of book. Read­ing that he teach­es at the Uni­ver­si­ty of Min­neso­ta, I knew my curios­i­ty need­ed to be sat­is­fied. And I get to share John's answers with you.
John, how did you decide on a sto­ry to tell?
I decid­ed on a sto­ry dur­ing my third canoe-camp­ing trip through the Bound­ary Waters Canoe Area Wilder­ness. After pre­vi­ous attempts at a cou­ple of dif­fer­ent con­cepts, this expe­ri­ence of wilder­ness and explo­ration in the BWCAW was the impe­tus I need­ed for my sto­ry. It was impor­tant to me for the sto­ry and illus­tra­tions to be evoca­tive of that experience.
Where do you start with a two-page spread?
I start a two-page spread in my pre­lim­i­nary sketch­es with big hor­i­zon­tal shapes for uni­ty and sec­ondary ver­ti­cal shapes to break up that space. Unlike fac­ing pages with dif­fer­ent images, the wide two-page spread is a per­fect for­mat for express­ing the sto­ry of a wilder­ness area with big wide vis­tas, and some­times inti­mate scenes which are inte­gral to the sto­ry. In the book, these spreads alter­nate between land and water which pro­vide a cer­tain rhythm, inter­est, and vari­ety when turn­ing pages.
What do you do next?
Build on my pre­lim­i­nary thumb­nail sketch­es and notes. The sketch­es explore big design shapes, lin­ear move­ment, bal­ance, hori­zon, and light and dark areas in the com­po­si­tion. I also work on char­ac­ter devel­op­ment, fig­ure place­ment and stud­ies for cer­tain flo­ra and fau­na. This is also the the time when I devel­op the style (medi­um, tech­nique, and inter­pre­ta­tion). My notes include every­thing from descrip­tive words to reminders and nota­tions for vari­a­tions or changes I may want to make and explore later.
Do you make mis­takes or change your mind about what you've drawn?
I make mis­takes and change my mind all the time! Process is all about explor­ing visu­al options and oppor­tu­ni­ties. Many of my sketch­es get re-drawn or changed. Some get dis­card­ed. I can't know if some­thing is work­ing until I actu­al­ly draw it on paper and revise it for com­par­i­son and con­trast. If I was draw­ing dig­i­tal­ly, I could eas­i­ly cor­rect mis­takes by "undo­ing," but I pre­fer draw­ing tra­di­tion­al­ly where I can see all my ear­li­er con­cepts. This lets me com­pare and con­trast them against each oth­er. Often the process is long enough I find some­thing I've drawn a year ago and have for­got­ten about and want to revis­it. If I worked dig­i­tal­ly, all of that would be lost. Process is the work. I don't think the jour­ney of dis­cov­ery or cre­ation is as rich an expe­ri­ence if you can't see your progress from begin­ning to end. This is what I enjoy about see­ing oth­er peo­ples' process work, the explo­ration and changes they've made. For­tu­nate­ly we have a great resource for study­ing process work in children's book lit­er­a­ture at the Uni­ver­si­ty of Min­neso­ta. This resides in The Ker­lan Col­lec­tion, a broad repos­i­to­ry of illus­tra­tors' children's book work.
How do you make changes?
In the begin­ning I redraw and revise my thumb­nail sketch­es. When I'm doing full-size sketch­es I will draw over the ear­li­er marks. Some­times I will erase a mark if it's real­ly not to my lik­ing. I may even re-do the full size sketch if it's just not work­ing. For­tu­nate­ly though, if my small­er sketch­es work as a design my larg­er sketch­es usu­al­ly will too, and I can spend time explor­ing, adding detail and revisions.
This is a word­less book. Were you tempt­ed to insert a word or two?
No. I real­ly want­ed to tell this par­tic­u­lar sto­ry visu­al­ly right from the start, through the pro­ces­sion of the char­ac­ters in the wilder­ness, their ges­tures, and their expres­sions. Had my edi­tor required it, I would have added short sen­tences where I could still inter­pret the sto­ry with­out rely­ing on words much. This was only a pass­ing thought because my edi­tor imme­di­ate­ly embraced my "word­less" concept.
What touch­es do you add to tell a sto­ry that's pro­gress­ing to a conclusion?
In One Sum­mer Up North, those touch­es become a con­tin­u­a­tion of dif­fer­ent scenes that advance toward evening and night, the close of day, and even­tu­al­ly wan­der back full cir­cle to an ear­li­er spread where the fam­i­ly moves out of the scene with just a slight adjust­ment in per­spec­tive. This con­cludes the story.
What makes a col­lec­tion of two-page spreads into a story?
I think a col­lec­tion of two-page spreads needs to have design con­ti­nu­ity to move the sto­ry along. I did this by pro­vid­ing a strong hor­i­zon­tal design move­ment with­in the pages of the book. Some spreads work bet­ter than oth­ers, but you can eas­i­ly see these big shapes in the com­po­si­tion if you're look­ing for them.
What have you done in your life to pre­pare your­self for cre­at­ing a pic­ture book?
As a kid I was always intrigued by illus­tra­tions I saw cre­at­ed for chil­dren whether it was in High­lights mag­a­zine, Jack and Jill mag­a­zine, Sat­ur­day morn­ing car­toons, or library books I bor­rowed from the book­mo­bile. I love the pic­ture book as a visu­al form. The paper, the feel of the book, and even the smell of the ink, or old pages. A strong influ­ence of mine was Uri Shule­vitz's book, Writ­ing with Pic­tures. This book out­lines steps, con­cepts, and struc­ture in a way that I haven't found any­where else. Back in 2011, I took a week­long inten­sive class for pic­ture books taught by Calde­cott Award win­ner, Eric Rohmann. This cement­ed my ded­i­ca­tion to work­ing toward cre­at­ing my own book. The pic­ture book is aspi­ra­tional for me. By con­cen­trat­ing on draw­ing, work­ing with dif­fer­ent media, and pur­su­ing illus­tra­tion as my work, I have been able to achieve my dream!
Where do you work?
Inter­est­ing­ly enough the orig­i­nal full size sketch­es for this book were drawn in a non­de­script shared office space at the Uni­ver­si­ty of Min­neso­ta where I teach. That semes­ter I was teach­ing an ear­ly class and a late after­noon class so I had about 4 hours between the two which I spent eat­ing my lunch and then just draw­ing, draw­ing, draw­ing. Most­ly though I usu­al­ly draw at my draw­ing table in an upstairs room of my house.
What's your favorite tool for mak­ing art? Why?
My favorite tool for mak­ing art is a pen­cil. In this case, specif­i­cal­ly a Faber Castell, Poly­chro­mos, Schwartz Black. This col­or pen­cil makes very rich black marks that when used on a Bris­tol board with some tooth, look much like lith­o­graph­ic marks. I love the look of the marks, I even love how the pen­cil feels when draw­ing with it.
Do you have your next project in mind?
I do have my next project in mind! In fact, it's real­ly three projects. Fol­low­ing up on One Sum­mer Up North, I'm think­ing of the oth­er three sea­sons in the BWCAW, with win­ter com­ing next! Stay tuned…
Thank you, John, for answer­ing my ques­tions. Now I'm even more intrigued.
Are you, too, a curi­ous read­er? Please vis­it John Owen's web­site for more information.