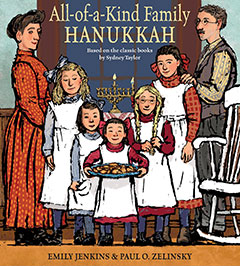 Read­ing and admir­ing the books of Paul O. Zelin­sky rais­es my curios­i­ty. How does he work on the illus­tra­tions for his own books and those of oth­er authors? What is he think­ing about when he evolves his unfor­get­table characters?
Of his newest book, All-of-a-Kind Fam­i­ly Hanukkah (writ­ten by Emi­ly Jenk­ins), Mr. Zelin­sky says, "Now that I'm done, when I con­sid­er how I worked on these pic­tures, try­ing to rough them up when they got too smooth, to flat­ten them out when they got too round, to main­tain a sense of tex­ture through­out, I think that per­haps what I was real­ly try­ing do was rep­re­sent the qual­i­ties of a good pota­to latke! Take a look at one, very close up, and see if you agree."
A pota­to latke? This makes me curious …
What is the first thing you do when you get to work in the morning?
I pull off a sheet from my note pad and write down a list of the things I want to get done that day. I then prompt­ly lose that note under oth­er pieces of paper on my draw­ing table.
How long do you think about a new book before you start work­ing with it on paper?
It's hard to define when I start work­ing on some­thing on paper. At any point after I've got­ten a man­u­script, on the edges of oth­er pages: meet­ing notes, or shop­ping lists, or any­thing else, lit­tle sketch­es may appear that relate to it. The ear­li­est stages aren't work, any­way; they're play, or it just won't work.
Also, I may be sort-of think­ing about a next book before I'm done with a cur­rent one, in which case I won't do much beyond this casu­al, unplanned sketch­ing (and stuff­ing the sketch­es into a fold­er if they seem worth sav­ing); and the amount of time I spend at this depends on how soon I fin­ish the cur­rent book.
But if the ques­tion is how quick­ly does a book progress from just-read man­u­script to seri­ous sketch­es to fin­ished art, the answer is: I don't think there's any way to know.
What is the qual­i­ty of the light in your stu­dio? Where does the light come from?
My stu­dio faces as close to north as pos­si­ble, as stu­dios are sup­posed to do. That's so sun doesn't move across the room as the day goes by, rad­i­cal­ly chang­ing the light con­di­tions. The win­dow light includes some light from the sky, and the rest reflect­ed off the grass and walls of a beau­ti­ful church­yard across the street. So the over­all light com­ing in my win­dows usu­al­ly has a green­ish cast. I also have some flu­o­res­cent light fix­tures, thin bright tubes that emit a sur­pris­ing­ly decent col­or of light com­pared to the flu­o­res­cents of the past. Clipped to a book­case I have two bright LED lamps that I bought to match the light­ing used in the Amer­i­can Writ­ers Muse­um in Chica­go — I was work­ing on a mur­al for them, and it was impor­tant to know how things would look in their real home. (The mur­al was fin­ished just in time for the museum's open­ing, in May of 2017).
How do you orga­nize your tasks? Does that dif­fer from book to book?
I try to orga­nize my tasks, but I would not call them, in the end, orga­nized. Some pro­ce­dures have evolved that I do use reg­u­lar­ly, such as my sys­tem for hang­ing fin­ished art on my wall (if the art isn't dig­i­tal). I have sticks of square wood­en mold­ing hang­ing from the pic­ture mold­ing on my walls, with pegs stick­ing for­ward at inter­vals of about 15 inch­es. I can vary the space between sticks to match the width of the art (which I attach to card­board with holes for the pegs), and it's all quite flex­i­ble and reusable.
What does your work day look like?
No pat­tern that I can see. The clos­er to the dead­line, the more effi­cient­ly I work, except for some­times. On Thurs­day morn­ings if at all pos­si­ble I go to the Minerva's Draw­ing Stu­dio—that's the name of a fig­ure draw­ing workshop/studio on New York's Low­er East Side, not far from me, where on Thurs­days its founder Min­er­va Durham talks about draw­ing, art, his­to­ry, phi­los­o­phy, and more, in a won­der­ful­ly idio­syn­crat­ic way, dur­ing the model's breaks. I think that draw­ing the fig­ure keeps my hand-eye coör­di­na­tion from falling away — the human body is prob­a­bly the most demand­ing thing you can draw. And I'm fas­ci­nat­ed by anatomy.
What's your favorite paper to use for cre­at­ing art?
It's been a while since I used it, but for water­col­or I have been most com­fort­able with Arch­es cold press paper. For a com­bi­na­tion of water­col­or and dig­i­tal print­ing, a tech­nique I've used on a few books, I have a stash of What­man 90 lb. hot press, an amaz­ing paper that, nat­u­ral­ly, went out of pro­duc­tion over ten years ago. For dig­i­tal print­ing I like Moab Entra­da Rag Bright, but you real­ly can't touch it up man­u­al­ly, which is too bad.
What is the most reli­able of the tools you use to cre­ate art?
My com­put­er is most reli­able in the sense that mis­takes are infi­nite­ly for­giv­able. Oth­er­wise, I don't real­ly know. Oils work well for me; water­col­or is riski­er, and oth­er medi­ums have their own difficulties.
The Horn Book asked me to write about this once, and what I wrote still applies except for the part about the com­put­er, which has changed one hun­dred percent.
How do you save the thoughts you don't have time to exe­cute that day?
I write them down on lit­tle pieces of paper that I prompt­ly lose. I also write them in my phone's Notes app and lose them there. When the time comes to exe­cute these ideas, I do find that most of them (as far as I know) come back to me; I actu­al­ly don't mind this process.
Do you work on more than one book at a time?
Every time I've tried to work on more than one book at a time, I find myself work­ing on one book at a time. At most.
Paul O. Zelin­sky will receive a 2018 Eric Car­le Hon­ors Artist award for life­long inno­va­tion in the field. The Hon­ors will be bestowed on Thurs­day, Sep­tem­ber 27, 2018, at Gaus­tavi­no's in New York City.
Do spend some time on Paul O. Zelinsky's web­site. There are many oppor­tu­ni­ties to be fas­ci­nat­ed tucked here and there.