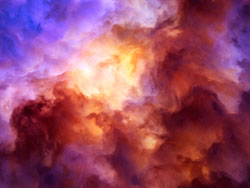 When I vis­it­ed Los Ange­les not long after the 1992 riots, a home-town writer told me a sto­ry that made me feel what it was like to live there in those uncer­tain times.
His dri­ve home passed a large police sta­tion. He was always on alert as he drove by; every­one thought there could be more trou­ble at any time, and he assumed that a police sta­tion might be a key tar­get.
And then one day, when he was still some dis­tance away, he saw smoke bil­low­ing out from the build­ing. This is it, he thought. They've set the sta­tion on fire. Visions of esca­lat­ing chaos, this time in his own neigh­bor­hood, raced through his head.
He drove clos­er, on high alert — and dis­cov­ered cops swarm­ing all around the out­side of the build­ing, intent on…
…the burg­ers being cooked on a large bar­be­cue grill.
I think about this exam­ple when I hear a writer advise: "show, don't tell." That's a way of writ­ing that puts read­ers inside of the story's action.
He could have just told me, "It was a scary time in LA. We thought things might go up in flames at any minute." How long do you think I would have remem­bered that?
Instead, I can still recall small details of his sto­ry. That's because he con­veyed his tale (trust me, it was done in a much more riv­et­ing fash­ion than my retelling here), in such a way that I smelled the smoke and felt the sweat that trick­led down his neck — and then shared his bark of laugh­ter when it became clear that the only things to be charred that evening were the burg­ers.
Here's a way to give your young writ­ers some "show, don't tell" prac­tice. Ask them to write a scene that fea­tures a char­ac­ter expe­ri­enc­ing an intense emo­tion — but don't allow them to use the actu­al word (or any syn­onyms) that rep­re­sent that emo­tion. Instead, ask your stu­dents to make the emo­tion evi­dent through their character's actions. In oth­er words, if the emo­tion is anger, they can't use the words "angry" or "mad" or "rag­ing." Instead, they could show the char­ac­ter stomp­ing his foot, or scream­ing and tear­ing at her hair.
A "show, don't tell" kind of writer won't just tell me there's a dead fish on the beach; he or she will have me smelling it for an entire chap­ter.