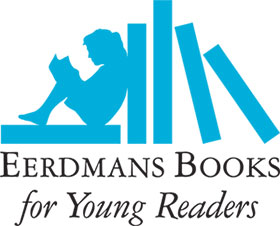 Engag­ing. Diverse. Page-turn­ers. Spir­i­tu­al. Sur­prise! Gen­tle. Com­pas­sion. Old – over 100 years old! and Classic.
Wm. B. Eerd­mans Pub­lish­ing Com­pa­ny has been, and still is, an inde­pen­dent, fam­i­ly-owned pub­lish­er since 1911. Their new imprint—Eerd­mans Books for Young Read­ers—began in 1995 and has been pro­duc­ing over a dozen new children's books each year. Each year many of their books are top award-winners.
There is a rea­son why this press has sur­vived and con­tin­ues to pub­lish impor­tant books — books of diver­si­ty, com­pas­sion, and authenticity.
I asked Kath­leen Mertz, Acqui­si­tions and Man­ag­ing Editor:
What is the pas­sion that gives you the courage to con­tin­ue pub­lish­ing books? Her reply reflects the pas­sion many edi­tors feel about cre­at­ing excit­ing, won­der­ful, and impor­tant books for young read­ers. One book in the hands of one child can make a dif­fer­ence — in one child's world, in one entire nation's world. It happens.
Kath­leen answered, "Pub­lish­ing books does take a lot of courage. It's a tough indus­try — the prof­it mar­gins are often nar­row, the mar­ket is always chang­ing. And there are so many good books — and great books — being pub­lished that it can be easy for even a won­der­ful title to get lost in the shuf­fle and not find its way into the hands of the read­ers who would fall in love with it.
Most of us in pub­lish­ing do what we do because we love it, and I'm no excep­tion. I'm grate­ful to work with a small team of incred­i­bly pas­sion­ate peo­ple who care deeply about the books we pro­duce. I'm grate­ful to be able to have a hand in bring­ing so many books from oth­er coun­tries to a U.S. read­er­ship that might not oth­er­wise ever encounter them. I'm grate­ful to work for a pub­lish­er that tries to pub­lish brave, hon­est books that speak tru­ly about the world. These are the things that sus­tain my pas­sion for the work I do."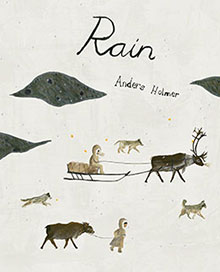 Kath­leen describes two new­ly released books that reflect this pas­sion and also the inclu­sion of books from oth­er countries:
"Rain—This col­lec­tion of haiku was orig­i­nal­ly pub­lished in Swedish, and is struc­tured around a very broad con­cept of "rain" — includ­ing not only the driz­zle that might first come to mind, but also flur­ries of snow, show­ers of ash­es, gen­tle drifts of cher­ry blos­som petals. It's an evoca­tive book that cel­e­brates nature, poet­ry, and cul­tures from around the world — and it's a book that looks beyond the obvi­ous for the unex­pect­ed com­mon threads.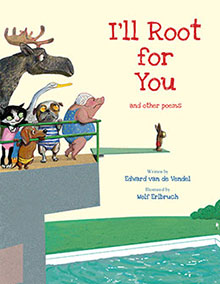 I'll Root for You—A wit­ty and whim­si­cal book of poems about sports of all sorts, but with a unique focus. This one is for all the folks who don't come in first: "Today we'll root for the losers. / Today we'll cheer the oth­er way round. / Today we'll love every­body / whose som­er­sault / nev­er got off the ground." It's a joy­ful and encour­ag­ing reminder that win­ning isn't everything."
Inspired by Kathleen's descrip­tion of the pas­sion that fuels the pub­li­ca­tion of books, I then asked Kath­leen "What is most reward­ing about work­ing in pub­lish­ing?" I was again inspired to hear Kath­leen speak about com­mu­ni­ty, col­lab­o­ra­tion, and the excite­ment of shared creation.
Kath­leen said, "I still remem­ber what it felt like to receive the fin­ished copy of the first book I edit­ed — a book whose every word I'd pored over, a sto­ry that would go out into the world and find read­ers who would fall in love with it themselves.
One of the great­est joys of being an edi­tor is get­ting to watch (and have a hand in) how a sto­ry grows from man­u­script to fin­ished book. It's incred­i­bly sat­is­fy­ing when I can help an author hone their sto­ry in a way that will help it reach an audi­ence even more effec­tive­ly. And then I get to see the artist take that sto­ry and bring their own bril­liance to it — those days when we get sketch­es or final art in for a project are tremen­dous­ly exciting.
To work on children's books is to be part of some of the most won­der­ful com­mu­ni­ties — the dri­ven and end­less­ly cre­ative peo­ple who dream up words and art to tell the world new sto­ries, the pas­sion­ate and thought­ful peo­ple who invest their lives in pub­lish­ing, the teach­ers and librar­i­ans and read­ers of all ages who find end­less joy in sto­ries and are always on the look­out for the next book to fall in love with."
I want­ed to hear more about Eerd­mans' new books. Kath­leen, tell us about a few of your recent pub­li­ca­tions and why they are unique.
"Here are two more of our fall books that I'm par­tic­u­lar­ly excit­ed about: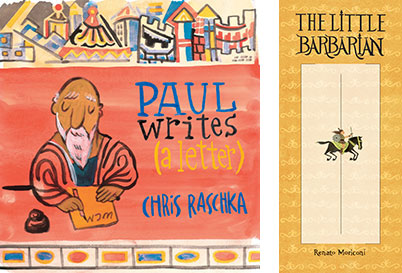 "Paul Writes (a Let­ter)—Chris Rasch­ka is just bril­liant. Each spread of this book depicts Paul writ­ing to his friends, cap­tur­ing a core idea or two from each of the epis­tles. It's earnest and warm and sur­pris­ing­ly fun­ny — a more human depic­tion of Paul than I've ever seen before.
"The Lit­tle Bar­bar­ian—This is the first com­plete­ly word­less pic­ture book we've pub­lished. It might be short on words, but it's not short on adven­ture or imag­i­na­tion! With the help of his trusty steed, our fear­less lit­tle bar­bar­ian must bat­tle one ter­ri­fy­ing adver­sary after anoth­er. I love the dis­tinc­tive for­mat of this book, and the look of delight on people's faces when they get to the sur­prise twist of an ending."
I have always enjoyed re-read­ing many of Eerd­mans' books. So many are excel­lent ways to begin mean­ing­ful con­ver­sa­tions with read­ers or to enrich the study of many top­ics with "sto­ry." I asked Kath­leen, "What recent 'old­er' books of yours would you espe­cial­ly rec­om­mend to teach­ers and librarians?"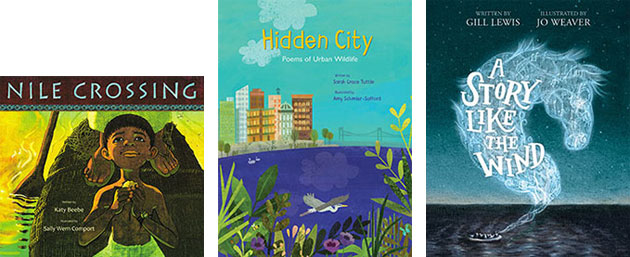 "Nile Cross­ing—I describe this book as a back-to-school sto­ry set in ancient Egypt. It's about a young boy named Khep­ri who is leav­ing his life as a fish­er­man to start scribe school. It's lyri­cal­ly writ­ten, the art is stun­ning, and it's got a ton of addi­tion­al infor­ma­tion at the back — per­fect for any class doing a unit on Ancient Egypt.
"Hid­den City—A col­lec­tion of poems cel­e­brat­ing the ways that nature exists even in the mid­dle of our cities. The poems are acces­si­ble, the art is col­or­ful and fun, and there's some real­ly good addi­tion­al infor­ma­tion at the end of the book. This is a great way to encour­age kids to keep an eye out for the flo­ra and fau­na that they might encounter in their own lives.
"Sto­ry Like the Wind—This is a beau­ti­ful­ly illus­trat­ed mid­dle-grade nov­el about a group of refugees adrift at sea in a tiny raft. One of them, a boy named Rami, takes out his vio­lin (the only thing he's man­aged to bring with him) and with it tells a sto­ry about an indomitable stal­lion — a sto­ry that helps them all remem­ber the past and find some hope for the future. It's a pow­er­ful book that tack­les hard sub­jects and also reminds read­ers how impor­tant sto­ries can be."
Check out an Eerd­mans' title at your local library or inde­pen­dent book­store. You will enjoy a fresh way of see­ing, a deep­er way of thinking.