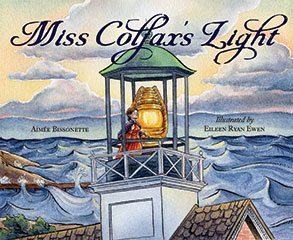 We are pleased to share with you our inter­view with Eileen Ryan Ewen, the illus­tra­tor of Miss Col­fax's Light, our Book­storm™ this month. This book is a per­fect exam­ple of the text and illus­tra­tions enhanc­ing each oth­er to make a pic­ture book biog­ra­phy that is more than the sum of its parts. Have the book open near you when you read Eileen's respons­es. With our inter­view, we hope to help you look more deeply at the illus­tra­tions.
In the first few pages of the book, when Har­ri­et is walk­ing through the door, why did you decide to draw her with one foot poised on the thresh­old? And was this pic­ture always like this?
Yes, as I look back through my ear­ly sketch­es, Harriet's foot is always on the thresh­old. Lit­tle is known about Harriet's per­son­al­i­ty (though a bit comes through in her logs), and I was try­ing to imag­ine what it must have been like for her on that, her first day at the light­house. I tried to think about what it must have been like to be a woman in the 1860's. How many women would have stepped away from a job as demand­ing as a light­house keep­er? How many women (and men, for that mat­ter) would have vol­un­tar­i­ly stayed on for as long as Har­ri­et did, as well as com­plet­ed the job so thor­ough­ly each day? I have to imag­ine that most women of that era nev­er would have enter­tained such a liveli­hood. Yet Har­ri­et, a for­mer music teacher and type­set­ter, didn't step away. She stepped up.
You have many peri­od details in your art­work, from a five-pan­el door to a log hold­er to changes in cloth­ing styles. How do you do your research?
I love his­to­ry! My father was a his­to­ri­an, and I've always had a soft spot for the sub­ject. As far as research, I had the good for­tune to vis­it the actu­al Michi­gan City Light­house, where won­der­ful docents gave me a tour, and pro­vid­ed great infor­ma­tion about what the light­house looked like back in Harriet's day (it wasn't as large!), cloth­ing from her era, and the tools she used. Com­bined with that infor­ma­tion, I used the good old inter­net to make sure the fash­ions I was using were appro­pri­ate. For instance, if you search women's cloth­ing from the mid-nine­teenth cen­tu­ry, very for­mal ball gowns will be the most like­ly results. Har­ri­et would have worn no such thing. So then a more refined search is need­ed, often with trips to the library to scour books that might fit the time peri­od I'm try­ing to cap­ture. I know some illus­tra­tors who look to peri­od movies, and will study the cos­tumes and sets for inspi­ra­tion. In the end, I usu­al­ly have loads of infor­ma­tion about the time peri­od, and only end up using a small frac­tion of it in my illus­tra­tions — just enough to hope­ful­ly give the piece an authen­tic feel, and accu­rate­ly cap­ture the era. The research side can be tedious and time con­sum­ing, but because I find it so inter­est­ing, it's a lot of fun as well!
Are you in charge of decid­ing where you have two fac­ing pages with dif­fer­ent scenes and where you'll have a two-page spread? What deter­mines this for you?
It's prob­a­bly dif­fer­ent for each Art Direc­tor and pub­lish­er. I have great appre­ci­a­tion for the trust that my Art Direc­tor at Sleep­ing Bear Press showed me. She gave me the man­u­script with the text some­what arranged on each page, and let me loose. I was allowed to move text if I want­ed to, in order to fit my illus­tra­tion ideas, and I had free rein to chose vignettes, full-page illus­tra­tions, or two-page spread illus­tra­tions. Now, all that said, I had to run all of my ideas and sketch­es by the Art Direc­tor, Edi­tor, and Pub­lish­er, as well as a few oth­er peo­ple, before I could start the final art. Some­times they approved my deci­sions, and some­times I had to tweak some­thing small, and oth­er times I had to do an entire illus­tra­tion over. The cov­er of Miss Colfax's Light was done twice.
In the scene where Har­ri­et is fill­ing the lantern with whale oil, the light is shin­ing up from her lantern on the floor. How do you deter­mine where the light will orig­i­nate, and where it falls, in your illus­tra­tions?
If I have to be hon­est, this is some­thing I'm still work­ing on — lights and darks. For the illus­tra­tion men­tioned above, I guessed. I revert­ed back to my fig­ure draw­ing days in col­lege, remem­ber­ing stud­ies of the planes of the face and folds of fab­ric, how sub­tle angles can be thrust into com­plete dark­ness, while a slight curve can cre­ate a sharp, bright con­trast. Look­ing at illus­tra­tors and artists who've mas­tered lights and darks also helps (and intim­i­dates!). I know of sev­er­al illus­tra­tors who actu­al­ly make mod­els of their char­ac­ters, and then place lights to mim­ic the light­ing of their piece, and draw from that. This is some­thing I hope to try in the future.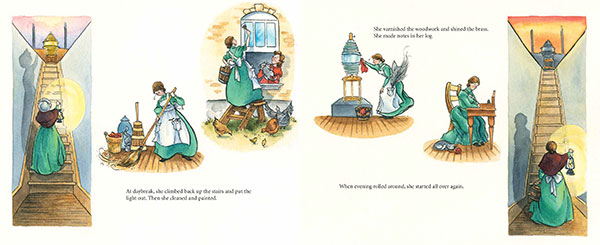 In the dou­ble-page spread filled with small vignettes of Har­ri­et work­ing, how did you think how to lay out that page?
This was a chal­leng­ing one for me! A lot of impor­tant infor­ma­tion is being revealed, and all deserv­ing of a visu­al com­po­nent. One illus­tra­tion per page just wouldn't cut it. Add the fact that Aimée is describ­ing the typ­i­cal work Har­ri­et would do in any one day, made me want to cap­ture the feel­ing of what it was like for Har­ri­et from sun up to sun down. For this rea­son, I chose to arch the vignettes around the words, start­ing with Har­ri­et tend­ing the light at the first crack of dawn, to Har­ri­et light­ing it again at dusk. But until I came up with that solu­tion, I strug­gled with this spread quite a bit. I'm not sure why the solu­tion came to me when it did, but it sort of popped up as I was walk­ing my daugh­ters home from preschool. I imme­di­ate­ly had the image of clock hands, the pass­ing of time, how the hands (and sun) arch and rotate from Point A, to Point B. It dawned on me to try to use this move­ment in the piece. Just goes to show that some­times ideas pop up at the strangest moments. I wasn't think­ing about the prob­lem that fall morn­ing, or so I thought, but appar­ent­ly some lit­tle part of my art brain was still churn­ing, unbe­knownst to me.
I love how woe­ful the post­mas­ter looks when Har­ri­et is read­ing the let­ter telling her she's being replaced. When you begin an illus­tra­tion, do you have in mind what the expres­sions will be on var­i­ous char­ac­ters' faces?
Yes and no. Some­times, I feel like I know the char­ac­ter right away, and oth­er times I real­ly have to sit back and let the scene mar­i­nate in my mind, cre­ate a few real­ly awful sketch­es before I start to feel the true spir­it of a char­ac­ter, even a minor one, like the post­mas­ter. I remem­ber read­ing Harriet's obit­u­ary, which described the peo­ple of Michi­gan City as absolute­ly lov­ing her, and hold­ing her in high regard. So while there were some naysay­ers at the begin­ning of Harriet's career, it seems as if almost every­one felt she was a beloved, stal­wart fix­ture by the end of her career. The lat­ter feel­ing is what I was try­ing to cap­ture in the postmaster's face.
You begin and end the book with that door­way. When did this idea for fram­ing the sto­ry come to you in your process?
I think it came fair­ly nat­u­ral­ly, and the fram­ing is large­ly in Aimée's writ­ing, which made my job easy! And of course, doors make such nice analo­gies, don't they? Com­ings and goings, begin­nings and end­ings. I almost feel like this aspect of the sto­ry­line was a gift. It just made sense to me to start and fin­ish the book with that door.
What did you want read­ers to know from the pages of illus­tra­tions you cre­at­ed for this book?
His­to­ry can be such a dry sub­ject. Until we real­ize that it's all just a series of sto­ries, made up of real peo­ple doing extra­or­di­nary things. So I hope that when peo­ple read Miss Colfax's Light, they see a per­son who was coura­geous, and tired, and deter­mined, with cal­loused hands and a smile for a friend or a cat who's chas­ing the chick­ens again. I hope that I helped to make Harriet's world a real, tan­gi­ble place for read­ers, espe­cial­ly chil­dren. I hope to inspire some­one to try some­thing that might be out of their com­fort zone, or to not back away from some­thing they want to try just because some­one says it's not meant for them. There is so much to be learned from Har­ri­et and her life. In some ways, her sto­ry is a small one, his­tor­i­cal­ly speak­ing. In oth­er ways, it's huge, and absolute­ly deserves to be told. It has been such an hon­or to be entrust­ed in help­ing bring her sto­ry to life!