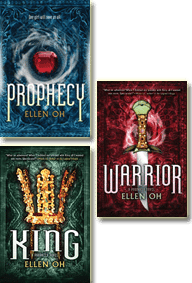 Bookol­o­gist's note: Last month we fea­tured Cather­ine, Called Birdy and an inter­view with the author, Karen Cush­man. In that inter­view, non­fic­tion writer Claire Rudolf Mur­phy asked Cush­man about her research and incor­po­ra­tion of his­tor­i­cal fact into her fic­tion. Con­tin­u­ing that explo­ration, this month Bookol­o­gy vis­its with nov­el­ist Ellen Oh. King, the final vol­ume of her Prophe­cy tril­o­gy, was released in March (vol­umes 1 and 2 are Prophe­cy, Harp­er Teen 2013 and War­rior, Harp­er Teen 2014). A blend of his­tor­i­cal and fan­ta­sy fic­tion, the tril­o­gy is set around 350 AD or CE and weaves ancient his­to­ry from the area now known as Korea into a com­pelling and action-packed nar­ra­tive about a teen girl, Kira, who is a demon-hunter and also the ful­fil­ment of an ancient prophe­cy — the Drag­on Musa­do who would unite the many divid­ed king­doms into a sin­gle nation.
You have writ­ten on your web­site and spo­ken in oth­er inter­views about how your recre­ation­al read­ing of ancient Asian his­to­ry trig­gered your writ­ing. Have you always loved read­ing his­to­ry and/or his­tor­i­cal fic­tion?
Yes. I love his­to­ry. As a child my favorite books tend­ed to be the his­tor­i­cal ones. In fact, my all time favorite books were The Count of Monte Cristo and To Kill a Mock­ing­bird. I was that nerdy kid that enjoyed read­ing the school his­to­ry text­book. When I was 13, my par­ents got suck­ered into buy­ing the entire World His­to­ry Ency­clo­pe­dia book set and I am not ashamed to admit that I read every sin­gle vol­ume. And I read what­ev­er inter­ests me, which is how I got into Asian his­to­ry. I was fas­ci­nat­ed by the idea that Genghis Khan had been named Time's Man of the Mil­le­ni­um and it led me to read every­thing I could get my hands on. And in the process, I learned all about Asian his­to­ry and I was hooked.
When you were first read­ing ancient Asian his­to­ry, you must have encoun­tered many things that rang the "how amaz­ing — should be in a book!" bell. How did you keep track of those bits of his­to­ry and mythol­o­gy for lat­er use?
Yes! So many awe­some things. If the book was mine, I would tab all the impor­tant pages. But I had bor­rowed so many library books that I kept a notes jour­nal filled with all the facts, leg­ends, folk­tales, myths, etc., that I came across. I have sev­er­al expand­able file fold­ers filled with papers and note­books on all my notes.
Can you cite one or two finds that a read­er will encounter in Prophe­cy or the lat­er books?
The most amaz­ing sto­ry I came across was the leg­end of the Rock of Falling Flow­ers, Nakhwa-am. Leg­end has it that dur­ing the Shilla and Tang inva­sion of Paekche in 638 C.E., 3,000 court ladies leapt to their deaths into the Baeng­ma Riv­er. From a dis­tance, the beau­ti­ful, mul­ti-col­ored han­boks of the court ladies looked like falling flow­ers — which is where the place gets its name. The leg­end is so visu­al­ly com­pelling that I knew I had to include it not only in my book, but also in my book trail­er.
Can you cite one or two ele­ments in the tril­o­gy that would not show up in a his­to­ry book?
Oh yeah, well it is a fan­ta­sy and I want­ed the scary ele­ments to be real­ly creepy. So in Prophe­cy, you will come across demons that eat your organs and wear your skin like a Hal­loween cos­tume. But the best part is Kira and her tiger spir­it. Kira has yel­low eyes because she has a tiger spir­it that is part of her and pro­tects her. And it is the tiger spir­it that lets her see and smell demons, some­thing that no one else in her world has.
You have a fab­u­lous map on your web­site that shows the 7 King­doms from the nov­els. While you empha­size that your king­doms are not the his­tor­i­cal king­doms that would merge into mod­ern Korea, there is some sim­i­lar­i­ty, and you list those. Geog­ra­phy is so impor­tant in the books — the moun­tains, the rivers, the seas, the loca­tion of the walled cities. How did you keep all of this clear in your head while writ­ing?
I kept a copy of the map and a com­pass by my side the entire time I was writ­ing. Espe­cial­ly in the lat­ter books, where Kira has to lit­er­al­ly zig zag her way across the coun­try, I relied heav­i­ly on my map to course out the road she would trav­el.
Map-mak­ing can be a ter­rif­ic writ­ing prompt or exer­cise for uncov­er­ing details. Did you have any favorite writ­ing exer­cis­es that helped you devel­op Kira's char­ac­ter or world?
I like to use Excel spread­sheets and include all my char­ac­ters in them and list out every­thing I know about them, even to their sor­did and some­times irrel­e­vant back­sto­ries. But by putting togeth­er a spread­sheet, I was able to know inti­mate­ly how every­one inter­act­ed with each oth­er and why they were nec­es­sary in any giv­en scene. It was, in a way, my char­ac­ter map.
Kira's fam­i­ly gives lov­ing sup­port to her "dif­fer­ent­ness" and unique pow­ers rather than cast her out or attempt to sti­fle her. Can you talk about that writer's choice?
It was impor­tant for me that Kira had a strong fam­i­ly that she could fall back on. No mat­ter how hard her life is, how hat­ed she is by the out­side world, hav­ing faith and being secure in her family's love keeps her ground­ed. It is part of what devel­ops her into such a strong char­ac­ter. And being a mom myself def­i­nite­ly played into this deci­sion. You see, I have 3 won­der­ful and very dif­fer­ent girls and it is impor­tant for me to be as sup­port­ive as I can for them. No mat­ter what choic­es they make in life, I'll always be there for them and love them uncon­di­tion­al­ly.
When you vis­it class­rooms, what sort of ques­tions do you get from stu­dents about the books?
The two most com­mon ques­tions are "Do you have a Jin­do dog?" and "When will it be made into a movie?"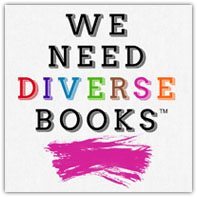 You are the pres­i­dent of #WeNeed­Di­verse­Books. What's ahead in the cam­paign for 2015?
So many great things! Our short sto­ry con­test for a spot in our anthol­o­gy is cur­rent­ly going on and we are get­ting a lot of amaz­ing entries! We have begun award­ing intern­ship grants to increase diver­si­ty in pub­lish­ing and we have opened up our Wal­ter Awards for best diverse book. And we are gear­ing up to pre­pare for our Diver­si­ty fes­ti­val which is cur­rent­ly set for July 2016 in Sil­ver Spring, MD.