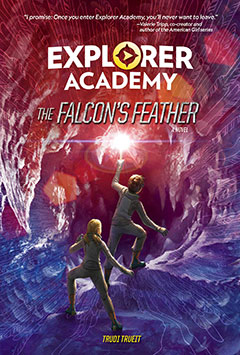 Explor­er Acad­e­my: The Fal­con's Feath­er
Tru­di Trueit
illus­trat­ed by Scott Plumbe (with a blend of pho­tos)
Nation­al Geo­graph­ic Part­ners, 2019
ISBN 978−1−4263−3304−0
I've writ­ten a pri­or Read­ing Ahead essay about my love for The Neb­u­la Secret, the first book in the Explor­er Acad­e­my series. Now book two, The Fal­con's Feath­er, con­tin­ues the sto­ry and I think it's even more excit­ing. I can­not wait for the next install­ment in the series, The Dou­ble Helix, which won't be avail­able until Sep­tem­ber 3, 2019. Do you remem­ber that kind of excite­ment as a young read­er, wait­ing for a book by your favorite author?
In this book, Cruz Coro­n­a­do, his friends and fel­low Explor­ers, Emmett, Sailor, and Brandys, and their entire class embark on The Ori­on, a superb high-tech­nol­o­gy ship that will vis­it var­i­ous trou­bled spots on the Earth, teach­ing the stu­dents about ecol­o­gy, con­ser­va­tion, sci­en­tif­ic inquiry, and involv­ing them in cur­rent exper­i­ments. A con­gru­ent sto­ry­line finds Cruz and his best friend in Hawaii, Lani, putting clues togeth­er that Cruz's sci­en­tist moth­er left before she dis­ap­peared. It's all very involv­ing, page-turn­ing, and will appeal to peo­ple who love mys­ter­ies, non­fic­tion, puz­zles, sci­ence, and Har­ry Pot­ter.
I am so excit­ed by this book that I asked if I could inter­view the author, Tru­di Trueit. How on earth does she write a book, much less a sev­en-book series, of this cal­iber? Here's how she answered me:
What's in your back­ground that prompt­ed Nation­al Geo­graph­ic to ask you to write The Explor­er Acad­e­my series?
Many writ­ers will tend to choose a genre, but I've always had a pas­sion for writ­ing both fic­tion and non­fic­tion. My work includes more than nine­ty non­fic­tion library titles for kids on every­thing from video gam­ing to storm chas­ing for pub­lish­ers like Scholas­tic and Lern­er. I've also writ­ten nine mid­dle grade fic­tion titles, includ­ing the Secrets of a Lab Rat series for Simon & Schus­ter. I will go back and forth between the two gen­res, writ­ing a fic­tion title, then writ­ing a short series of non­fic­tion books. It's the per­fect mix. Just when I am eager to fin­ish writ­ing about a non­fic­tion top­ic, it's time to switch and let my cre­ative juices take over. Explor­er Acad­e­my is a com­bi­na­tion of those worlds, allow­ing me to cre­ate a fast-paced adven­ture series that's root­ed in sci­ence.
I recent­ly saw you on WCCO in Min­neapo­lis with Eri­ka Bergman, sub­mersible pilot, a Nation­al Geo­graph­ic Explor­er. When you're writ­ing each book in the series, do you pull the plot togeth­er with actu­al Nation­al Geo­graph­ic projects as the basis for your scenes … or do you and your edi­tor work out the projects to fea­ture in each book?
The plots aren't nec­es­sar­i­ly based on actu­al Nation­al Geo­graph­ic projects, how­ev­er, I do look to expe­ri­ences from the explor­ers and real-world tech­nol­o­gy to enhance the sto­ry­line. Some­times, a sto­ry is sparked by some­thing an explor­er shared with me, a project they are work­ing on, or an arti­cle they wrote. Oth­er times, it's an issue that has touched my heart, like help­ing marine ani­mals caught in fish­ing nets. I research and learn what we are (or aren't) doing to address the prob­lem and then cre­ate a mis­sion for the explor­ers to go on.
Are you some­one who enjoys puz­zles and mys­ter­ies? Do you like to play games?
I adore games, puz­zles, and mys­ter­ies! As a kid, one of my favorite books was called Two Minute Mys­ter­ies and it was exact­ly that: short sto­ries where you had to fig­ure out who­dunit. I also devoured pret­ty much every Nan­cy Drew book out there (Hardy Boys, too!). I love games, too, espe­cial­ly word games and triv­ia.
Your plots are jam packed with adven­tures. How do you orga­nize your plots, phys­i­cal­ly and men­tal­ly?
I try to keep things orga­nized through an out­line, scene list, and what I call Thread Notes. These are notes that I car­ry through from book to book, to remind me of the dif­fer­ent threads that I have start­ed so that I can decide when and how to wrap them up as the series pro­gress­es. For each book, I will do a gen­er­al four to five page syn­op­sis to estab­lish the main plot ele­ments and how I want it to end. I do try to keep as much in my head as pos­si­ble, because if you're expect­ing a read­er to remem­ber details as they read, it's only fair that you do the same. I don't do an extreme­ly detailed out­line because I find it tends to sti­fle cre­ativ­i­ty. Half the fun of get­ting up in the morn­ing is see­ing what will pour out of my head and onto the page!
What does your work­space look like?
My work­space is noth­ing fan­cy — my home office with a desk, book­shelf, and lit­tle flo­ral sofa. The sage green walls are dec­o­rat­ed with can­vas prints of some of my book cov­ers. It's pret­ty neat, because I can't write in chaos. I do have three edi­tors, who see to it that I stay on track: my cats Pip­pin, Emmy­lou, and Woody. They snooze (and some­times, snore) the day away next to my com­put­er and occa­sion­al­ly steal my pens and pen­cils. Woody is a twen­ty-pound boy, so he takes a bit of room. I think I need a big­ger desk!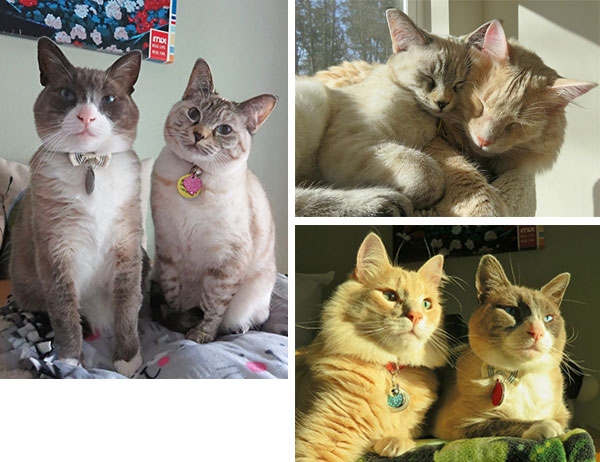 What are your five top go-to ref­er­ence sites or ref­er­ence books while you're writ­ing?
It varies, depend­ing on the top­ic and book. Sources that I've looked to while writ­ing Explor­er Acad­e­my include The Smith­son­ian, Nation­al Ocean­ic and Atmos­pher­ic Admin­is­tra­tion (NOAA), U.S. Geo­log­i­cal sur­vey, NASA, NOVA, Sci­en­tif­ic Amer­i­can, Dis­cov­ery, and, of course, first and fore­most, Nation­al Geo­graph­ic.
The Ori­on Ship Map at the begin­ning of The Falcon's Feath­er is one of the coolest things ever. Did you draw a ver­sion of that map to help you with writ­ing the scenes on board The Ori­on?
Yes, I did a very basic ver­sion of the ship so I could visu­al­ize where every­thing was and keep track of things. Thank­ful­ly, tal­ent­ed artist Scott Plumbe took my crude draw­ing and craft­ed an incred­i­ble illus­tra­tion for the book. I love its futur­is­tic look!
You explain the gad­gets so well. Are these sci­en­tif­ic inno­va­tions some­thing you've been able to see to help with describ­ing them or are they fic­tion?
Some gad­gets I have been able to see, such as minia­ture drones and smart glass­es, but things like the time cap­sule, octo­pod, or shad­ow badge are fic­tion­al. Often, the gad­gets are a com­bi­na­tion of both. Because the explor­ers are liv­ing in the not-too-dis­tant future, I will often take ele­ments of the famil­iar and expand them via my imag­i­na­tion. For instance, the CAVE (Com­put­er Ani­mat­ed Vir­tu­al Expe­ri­ence) is a vir­tu­al real­i­ty room, which we are all famil­iar with, that gives off an actu­al sen­sa­tion when you touch an object, which is some­thing that we are not famil­iar with – yet!
Taryn Secliff, the kids' school res­i­dent assis­tant, has a High­land White Ter­ri­er named Hub­bard, who's affec­tion­ate­ly regard­ed by Cruz, Emmett, and Bryn­dis. Do you have a pet?
Yes, I have three pets. I think you met them on my desk: Pip­pin (snow­shoe), Woody (gin­ger tab­by), and Emmy­lou (Siamese mix). They all get along great and are so much fun. Pip­pin has his own Face­book page, because you can nev­er have too many cat pic­tures, right?
What's your best hope for this series of books?
I hope that read­ers have as much fun read­ing Explor­er Acad­e­my as I am hav­ing writ­ing it (I'm writ­ing Book Five in the series now!). It would be won­der­ful if some read­ers see them­selves in its pages, per­haps, even dis­cov­er a pas­sion that leads to a career. More than any­thing, I hope the series spurs kids to par­tic­i­pate and con­tribute, just the way the Nation­al Geo­graph­ic explor­ers I have met seek to make a pos­i­tive dif­fer­ence in the world.
Vis­it Nation­al Geo­graph­ic's Explor­er Acad­e­my web­site.
Tru­di Trueit has writ­ten more than 100 books for young read­ers, both fic­tion and non­fic­tion. Her love of writ­ing began in fourth grade, when she wrote, direct­ed, and starred in her first play. She went on to be a TV news reporter and weath­er fore­cast­er, but she knew her call­ing was in writ­ing. Trueit is a gift­ed sto­ry­teller for mid­dle-grade audi­ences, and her fic­tion nov­els include The Sis­ter Solu­tion, Steal­ing Pop­u­lar, and the Secrets of a Lab Rat series. Her exper­tise in kids non­fic­tion encom­pass­es books on his­to­ry, weath­er, wildlife, and Earth sci­ence. She is the author of all the nar­ra­tives for the Explor­er Acad­e­my series, begin­ning with Explor­er Acad­e­my: The Neb­u­la Secret. Born and raised in the Pacif­ic North­west, Tru­di lives in Everett, Wash­ing­ton. Vis­it her web­site.