by Mar­sha Qualey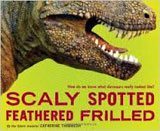 The con­flu­ence of sci­ence and art is at the heart of this month's Book­storm™ book, Scaly Spot­ted Feath­ered Frilled by Cather­ine Thimmesh.
In con­ver­sa­tions about school cur­ricu­lum, STEM (sci­ence-tech­nol­o­gy-engi­neer­ing-math) turned into STEAM (+arts) quite some time ago. But why were sci­ence and art ever detached from each other?
I sus­pect the truth is that wher­ev­er learn­ing has occurred, they nev­er were detached.
As a vet­er­an writer and writ­ing teacher, I know the impor­tance of ask­ing "What If?" Most often the ques­tion is used to nudge or explode a plot (Drag­ons!). But the ques­tion has equal impor­tance when applied to manip­u­lat­ing read­er reac­tion: What if I add some white space here? What if I move that page turn? How will that affect the reader's response? Why?
As for the visu­al arts and music, well what's NOT about explor­ing the sci­ence of the tools?
What sound will I get if I mute this horn?
What If I thin the paint and don't prime the canvas?
As you peruse this mon­th's Bookol­o­gy you'll see sci­ence and art hand in hand many places, most obvi­ous­ly in the books includ­ed in the Book­storm ™ and our fos­sil slide show. Lat­er this month we'll have more that embraces the con­flu­ence: inter­views with Cather­ine Thimmesh and Melis­sa Stew­art (on teach­ing sci­ence through lit­er­a­ture), and an arti­cle by Jen­ny Bar­low on using pic­ture books to con­nect with peo­ple liv­ing with Alzheimer's and dementia.
All that and our reg­u­lar columns and arti­cles. And of course, we'll be skin­ny dip­ping. Glad you could join us.