by Mar­sha Qua­ley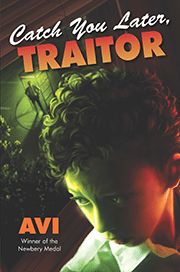 Wel­come to the sixth issue of Bookol­o­gy.
This mon­th's Book­storm™ Book is Catch You Lat­er, Trai­tor, the lat­est nov­el by New­bery medal­ist Avi. Set in the 1950s in New York City dur­ing the era of com­mu­nist-hunt­ing, the nov­el explores the long and fright­en­ing reach of gov­ern­ment into pri­vate lives under the guise of secu­ri­ty and patri­o­tism and how a point­ed and accus­ing fin­ger can cause so much dam­age. Accom­pa­ny­ing the Book­storm™ is a con­ver­sa­tion between Avi and New­bery Hon­or author Gary D. Schmidt and our usu­al bul­let point book talks for some of the Book­storm™ com­pan­ion books.
After prep­ping and read­ing for this mon­th's 1950s-influ­enced Bookol­o­gy, I'm ready to claim the podi­um and assert that the most impor­tant year in Amer­i­can Chil­dren's pub­lish­ing was 1957. Thanks to two of that year's events, every­thing changed.
The pub­li­ca­tion of The Cat and the Hat. In one fell swoop, read­ing instruc­tion and the type of books ear­ly read­ers could encounter would nev­er be the same. Dick and Jane would hold on for a few years, but not much longer.
The launch of Sput­nik. Accord­ing to author and chil­dren's lit­er­a­ture schol­ar Ani­ta Sil­vey, after this sal­vo in the space race the "school mar­ket for chil­dren's books surged into the fore­front of chil­dren's pub­lish­ing" (Chil­dren's Books and Their Cre­ators, p. 5 43). This surge was strength­ened a year lat­er with a tremen­dous increase in the fed­er­al funds avail­able for pur­chas­ing school books — texts and gen­er­al read­ing mate­r­i­al.
Every­thing changed.
Well, that's a bit of hyper­bole, isn't it? It's also quick­ly refut­ed because one big thing that did­n't change was the white­ness of Amer­i­can chil­dren's lit­er­a­ture.
The world of chil­dren's book writ­ing and pub­lish­ing is now engaged in a need­ed and won­der­ful cam­paign for diver­si­ty in the top­ics and sub­jects of the books and in the voic­es cre­at­ing, pub­lish­ing, and pro­mot­ing those books.
A won­der­ful cam­paign, but not a new one, though the def­i­n­i­tion of diver­si­ty has expand­ed in ways the ear­ly pro­po­nents might nev­er have imag­ined. One of those pro­po­nents was Nan­cy Lar­rick, whose 1965 Sat­ur­day Review arti­cle "The All-White World of Children's Books" brought the top­ic to the gen­er­al public's eye, much like Wal­ter Dean Myer­s's 2014 arti­cle in the New York Times short­ly before his death.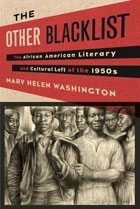 The white­ness of chil­dren's lit­er­a­ture came into sharp relief as I was read­ing and read­ing about books includ­ed in this month's storm. We include sev­er­al Red Scare nov­els on the list, but they are cen­tered on white lives; I'd love to hear about books that explore what a child or teen of col­or expe­ri­enced. In the ter­rif­ic book The Oth­er Black List, author Mary Helen Wash­ing­ton writes "Because J. Edgar Hoover sus­pect­ed that any­one work­ing against seg­re­ga­tion or in the field of civ­il rights also had com­mu­nist ties, the FBI (in league with Joseph McCarthy's Per­ma­nent Sub­com­mit­tee on Inves­ti­ga­tions and the House Un-Amer­i­can Activ­i­ties com­mit­tee) per­sis­tent­ly tar­get­ed the black intel­lec­tu­al and cul­tur­al com­mu­ni­ty of the 1950s" (pp. 22 – 23). At least some of those tar­get­ed adults must have had young peo­ple in their lives who were affect­ed. I want to read their sto­ries.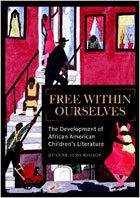 In her excel­lent book Free With­in Our­selves: The Devel­op­ment of African Amer­i­can Chil­dren's Lit­er­a­ture, Rudine Sims Bish­op, Pro­fes­sor Emeri­ta at Ohio State Uni­ver­si­ty, states there is a sur­pris­ing dearth of chil­dren's nov­els about the orga­nized civ­il rights events of the fifties (and by exten­sion, I sup­pose, the Red Scare).
Which brings me back to 1957 and yet anoth­er momen­tous event: the deseg­re­ga­tion of Cen­tral High School in Lit­tle Rock. At the cen­ter of that were nine teenagers: Ernest Green, Eliz­a­beth Eck­ford, Jef­fer­son Thomas, Ter­rence Roberts, Car­lot­ta Walls, Min­ni­jean Brown, Glo­ria Ray, Thel­ma Moth­er­shed, and Mel­ba Pat­til­lo. Per­haps one rea­son there are so few fic­tion­al explo­rations of the 1950s civ­il rights peri­od is that the real sto­ries and peo­ple involved tend to blow every­thing else out of the water. Still, deseg­re­ga­tion is one civ­il rights era expe­ri­ence that many authors HAVE tack­led in nov­els, and our time­line this month shares some of those.
The upheavals of the 1960s, on the oth­er hand, have inspired many writ­ers, and lat­er this month we'll have an inter­view, "Writ­ing His­to­ry," with Kekla Magoon, author of How it Went Down, Fire in the Streets, The Rock and the Riv­er, and many more books for teens and mid­dle grade read­ers.
And of course through­out the month we will run our reg­u­lar fea­tures and columns, begin­ning today with a Knock Knock col­umn: "Being Ten" by Can­dace Ran­som.
We also have a con­test! Any­one who com­ments (on any arti­cle in Bookol­o­gy) dur­ing the month will be entered into a ran­dom draw­ing to win a signed hard­cov­er of Avi's book, and our fea­tured Book­storm, Catch You Lat­er, Trai­tor.
And by all means…if you dis­agree with me about the year 1957, tell me why. In a com­ment, please. You might be a win­ner.
Thanks for vis­it­ing Bookol­o­gy.