by Mar­sha Qua­ley
Wel­come to Bookol­o­gy.
Thank you for com­ing back, or check­ing us out for a first look, or for paus­ing if you land­ed here by acci­dent.
Return­ing read­ers know that each month much of our con­tent is con­nect­ed to the magazine's month­ly cen­ter­piece: the Book­storm™, a bib­li­og­ra­phy of books and web­sites com­piled and writ­ten by our chief Bookol­o­gist, Vic­ki Palmquist, which has at its start­ing point a sin­gle book. This month that book is Chas­ing Free­dom by Nik­ki Grimes, in which the author imag­ines a con­ver­sa­tion that might have occurred had Susan B. Antho­ny and Har­ri­et Tub­man sat down for tea. Susan B. Antho­ny and Har­ri­et Tubman's "paths fre­quent­ly crossed one anoth­er's," Grimes says in our inter­view with her, but she could find no doc­u­men­ta­tion of an actu­al shared tea. Still, "[t]he fact that these his­tor­i­cal pow­er­hous­es knew one anoth­er was excit­ing."
The Sep­tem­ber Book­storm™ focus­es on the 19th cen­tu­ry and the ear­ly 20th cen­tu­ry and the polit­i­cal and social envi­ron­ments and insti­tu­tions in which Susan B. Antho­ny and Har­ri­et Tub­man lived and worked: slav­ery, war, Recon­struc­tion, the advent and dawn of Jim Crow, the new cen­tu­ry. If you don't have time now to look over the bib­li­og­ra­phy, our Bul­let Point Book Talks offers a quick look at some of the books in the 'storm.
On the lighter side, today we also cel­e­brate the back-to-school sea­son with a Quirky Book List of books involv­ing class­room pets. Cau­tion­ary read­ing for our teacher friends? Per­haps.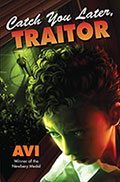 Don't for­get to return after today, because, as usu­al, through­out the month you can join us for some skin­ny dip­ping and read what our reg­u­lar book-lov­ing con­trib­u­tors have to say about their lat­est for­ays into children's lit­er­a­ture. Want to be alert­ed to Bookol­o­gy updates? Please sub­scribe.
And final­ly: We have a win­ner. Last month we encour­aged our read­ers to com­ment on our arti­cles, and we offered a signed copy of that month's Book­storm™ book, Catch You Lat­er, Trai­tor by Avi as the prize for a draw­ing for which all com­menters would be eli­gi­ble. Lin­da B. from Col­orado took a moment to com­ment on our August Lit­er­ary Madeleine, and it was her name we pulled out of the Bookol­o­gist Hat. Con­grats to Lin­da, and thank you to all who com­ment­ed.
That's enough. Time to explore Bookol­o­gy. Thanks for stop­ping.