Look­ing for a book for a child who is expe­ri­enc­ing a hard time — maybe being bul­lied, maybe par­ents are divorc­ing or some­one is seri­ous­ly ill, or some­thing scary hap­pened at school or in the com­mu­ni­ty. Or maybe a teen feels "dif­fer­ent"?
Mag­i­na­tion Press is a book imprint of the Amer­i­can Psy­chol­o­gy Asso­ci­a­tion that — through books — helps fam­i­lies, par­ents, and chil­dren cope with emo­tion­al, learn­ing, or behav­ioral challenges.

I asked Kris­tine Ender­le, edi­to­r­i­al direc­tor, to describe the unique focus of Mag­i­na­tion Press.
What is most reward­ing — and chal­leng­ing — about being an edi­to­r­i­al director?
It's chal­leng­ing — nd reward­ing at the same time — being a small inde­pen­dent press. With near­ly every major pub­lish­er now pub­lish­ing books on social-emo­tion­al learn­ing, men­tal health, and well­ness, our mar­ket just got a lit­tle crowd­ed. But, read­ers should know that they can count on us for strong, evi­dence-based, informed infor­ma­tion. Being part of the Amer­i­can Psy­cho­log­i­cal Asso­ci­a­tion allows us to work with psy­chol­o­gists — experts in their fields. Our books are rock-sol­id, based on sci­en­tif­ic and trust­ed sources. We are sup­port­ive of and sen­si­tive to our lit­tle read­ers and young adults. Our books are writ­ten with kind­ness and respect. Our books are designed to lead read­ers through an intro­spec­tive and heal­ing process. Our books approach this process from a kid-cen­tered, prob­lem-solv­ing place. We want to empow­er kids by giv­ing them the tools they need to make a dif­fer­ence in their lives.
Mar­ket­ing our books out­side of a schol­ar­ly world has also been chal­leng­ing. We're thrilled that Jason Wells (for­mer­ly of Rodale and Abrams) joined us in 2018 to help us reach a wider audi­ence and move more con­fi­dent­ly in the trade world through the efforts of his great team. Our front list sales are up over 70% year to date over last year! Our newest titles with new mar­ket­ing are work­ing well together.
What is the pas­sion that gives you the courage to con­tin­ue pub­lish­ing books?
Mag­i­na­tion Press is the children's book imprint of the Amer­i­can Psycho­logical Asso­ci­a­tion. Through our work, we aim to make an impact and fur­ther the APA mis­sion — to pro­mote the advance­ment, com­mu­ni­ca­tion, and appli­ca­tion of psy­cho­log­i­cal sci­ence and knowl­edge to bene­fit soci­ety and improve lives. So what that means for Mag­i­na­tion Press is through our books we reach young­sters and teens (and their par­ents and care­givers) mak­ing nav­i­gat­ing life's chal­lenges a lit­tle eas­i­er. Mag­i­na­tion Press works dili­gent­ly to help chil­dren and teens learn to deal with the big and small chal­lenges they may face and be a go-to source of youth-focused books on men­tal health and well­ness, social-emo­tion­al learn­ing. We share with the world men­tal health ex­pertise and psy­cho­log­i­cal knowl­edge to help kids flour­ish and grow. Addi­tion­al­ly, Mag­i­na­tion Press is com­mit­ted to being a pro­gres­sive, proac­tive force for social change and to teach kids about psy­chol­o­gy and how it can inform and empow­er them as they apply psy­cho­log­i­cal sci­ence to their every­day life. This advo­ca­cy-effort, mis­sion-informed approach is what dri­ves Mag­i­na­tion Press.
What keeps you going when dis­ap­point­ments or frus­tra­tions happen?
A tal­ent­ed team of edi­tors and their ener­gy feeds my days. We added a new senior edi­tor role this year and also brought on our first pro­duc­tion edi­tor and in-house graph­ic design­er, so keep an eye on us as we evolve. We are also sign­ing-on famil­iar, beloved authors such as Pat Mora, Lesléa New­man, and others.
Tell us about a few of your recent pub­li­ca­tions and why they are unique.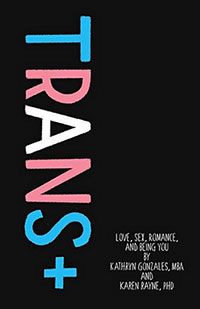 We love books that lead teens to­ward a place of self-dis­cov­ery and pro­vide hon­est, un­censored, fac­tu­al infor­ma­tion that may answer ques­tions they have relat­ing to men­tal health con­cerns (anx­i­ety, stress, depres­sion, anger, sui­cide), psy­cho­log­i­cal devel­op­ment (self-expres­sion or iden­ti­ty), and social-emo­tion­al psy­chol­o­gy (life skills). An excel­lent exam­ple of such a book is TRANS+: Love, Sex, Romance, and Being You by Kathryn Gon­za­les and Karen Rayne. We are super excit­ed about this book! Trans+ is an uncen­sored guide for teens who are trans­gen­der, non­bi­na­ry, gen­der-non­con­form­ing, or gen­der-flu­id. The authors are amaz­ing. The infor­ma­tion is essen­tial and frank. The sto­ries are real, mak­ing the whole book gen­uine, hon­est, author­i­ta­tive, and inclu­sive. It's real­ly special.
We work hard to reflect the expe­ri­ences of all kids and cre­ate books where chil­dren and teens can see them­selves and can con­nect with the char­ac­ters. We now make room on our list for books that speak to and help kids under­stand crit­i­cal soci­etal issues and open a con­ver­sa­tion to impact our com­mu­ni­ties. For instance, Some­thing Hap­pened in Our Town is a sto­ry about a police shoot­ing of an unarmed African-Amer­i­can man. It is an amaz­ing book that starts a con­ver­sa­tion about racial injus­tice, inter­nal­ized bias­es, and our coun­try's his­to­ry of oppres­sion and preju­dices. Also Mar­velous Mar­avil­loso cel­e­brates col­or­ful­ly diverse fam­i­lies and at its core it is about mul­ti­cul­tur­al­ism, inclu­sion, and bira­cial iden­ti­ty. Jacob's Room to Choose intro­duces the need for open-access bath­rooms for chil­dren every­where and dis­cuss­es gen­der expres­sion and gen­der non­con­form­ing identity.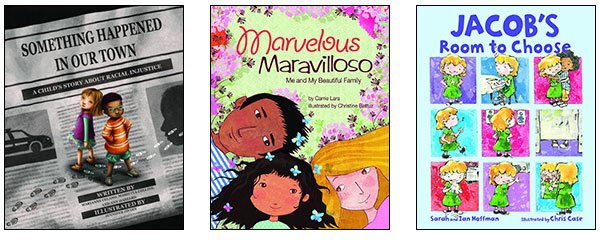 I love find­ing books that have a smidgen of psy­chology or sto­ries that sneak impor­tant psychologi­cal con­cepts into the sto­ry. We recent­ly pub­lished a book called, Good­bye, School. There are sev­er­al books about start­ing school, but I haven't see one about leav­ing school to go to a new school or at the end of the school year. This book tells a sto­ry that guides chil­dren through an impor­tant peri­od of their life and helps them under­stand tran­si­tion or change and acknowl­edge their feel­ings through­out the expe­ri­ence. It's beau­ti­ful­ly illustrat­ed with charm­ing details and super help­ful with the under­ly­ing psy­chol­o­gy of accept­ing and deal­ing with dif­fi­cult transitions.
What books of yours would you espe­cial­ly rec­om­mend to teach­ers and librarians?
Neon Words—a neat writ­ing guide and guid­ed jour­ney of self-expression
Camil­la Car­tog­ra­ph­er—super cute sto­ry about a boar, snowy for­est, maps, and spa­tial awareness
Red Yel­low Blue—great lit­tle sto­ry about social and emo­tion­al learning
Giraffe Asks for Help—a per­fect tool to encour­age kids to ask for help with themes of prob­lem-solv­ing and teamwork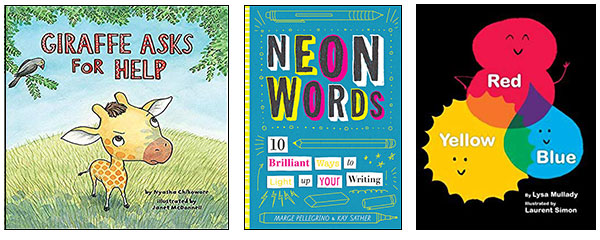 What top­ics are you cur­rent­ly look­ing for? (for our author readers)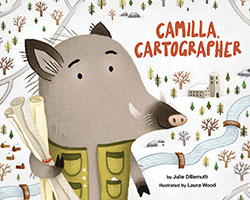 We always are look­ing for pic­ture books cov­er­ing social-emo­tion learn­ing and friendship/family rela­tion­ships. Books for teens that address crit­i­cal soci­etal issues (com­mu­ni­ty vio­lence, addic­tion, racism, cli­mate change) and help teens under­stand and deal with anx­i­ety, stress, and fears those issues cause are at the top of our wish list. We are also inter­est­ed in books that will pro­vide a safe way for mid­dle graders and teens to explore their own voice, val­ues, roles, iden­ti­ties, and ideas. We are also explor­ing non­fic­tion resource books on psy­chology sub­dis­ci­plines and research meth­ods and ways to pro­mote psy­cho­log­i­cal sci­ence as a STEM dis­ci­pline. Sub­mis­sions guide­lines on the web­site are spe­cif­ic and helpful.
No social-emo­tion­al or behav­ior issue is too big or too small to be con­sid­ered an appro­pri­ate top­ic. Not only is the vari­ety of top­ics amaz­ing — from every­day sit­u­a­tions, such as start­ing school or adapt­ing to a chang­ing, grow­ing fam­i­ly to more seri­ous prob­lems, such as divorce, depres­sion, anx­i­ety, asth­ma, atten­tion dis­or­ders, bul­ly­ing, and death. Oth­er top­ics are the uni­ver­sal devel­op­men­tal chal­lenges chil­dren face — phys­i­cal changes, sex­u­al ori­en­ta­tion, han­dling awk­ward social sit­u­a­tions, mak­ing friends.
Mag­i­na­tion Press books are not didac­tic. Children's emo­tions are shown through behav­ioral inter­ac­tions with peers, pets, or par­ents. The read­er is not told what to do to han­dle a chal­leng­ing sit­u­a­tion, learn­ing dif­fi­cul­ty or neg­a­tive feel­ings, but giv­en sug­ges­tions and options. In the fic­tion nar­ra­tives, read­ers see how feel­ings and thoughts can evolve and change.
All of our pic­ture books include a com­pre­hen­sive Note to Par­ents. What­ev­er age of the read­er, Mag­i­na­tion Press has books to offer:
Pic­ture books for young chil­dren (ages 4 to 8)
Mid­dle school read­ers for chil­dren (ages 9 to 13)
Non­fic­tion books and work­books for old­er chil­dren (ages 9 to 13 and teens)
Thank you, Kris­tine Ender­le, Edi­to­r­i­al Direc­tor, Mag­i­na­tion Press, and Amer­i­can Psy­cho­log­i­cal Asso­ci­a­tion for cre­at­ing impor­tant books for chil­dren, teens, par­ents, teach­ers, and all ages of caregivers.