Our Book­storm this month fea­tures Giant Pump­kin Suite, the first nov­el from Melanie Heuis­er Hill (Can­dlewick Press). Often called debut authors, a first-time author is intrigu­ing for a read­er. Is this some­one we'll look for­ward to read­ing for many years to come? How will this author grow as they become more expe­ri­enced at craft­ing a sto­ry with char­ac­ter, action, and plot? We avid­ly pick up a brand new author's book with great hopes. Once you fin­ish the sto­ry of Rose and Thomas Bruti­gan, I think you'll wish you had Melanie's next book to open up right away. It won't hap­pen like that (we can read faster than they can write!) but it's our priv­i­lege to hear from Melanie at the very begin­ning of her career.
When do you first remem­ber being excit­ed about writing?
In kinder­garten. We had a spe­cial over-sized book for each let­ter of the alpha­bet. The books were the size and shape of record album (LP) cov­ers. On the cov­er of each book was a cap­i­tal let­ter and a small let­ter — the cap­i­tal let­ter was three to four inch­es in size. There was also a pic­ture of some­thing that start­ed with the let­ter — I espe­cial­ly remem­ber the O book with its octopus.
The let­ters were tex­tured — this is bril­liant, I think. I knew how to make all my let­ters when I start­ed kinder­garten, I believe, but I delight­ed in the exer­cise of trac­ing those sandpaper/fuzzy/dotted/slick let­ters with my fin­ger each day. I was very pre­cise in this trac­ing, believ­ing I might be able to speed up the writ­ing process and get to the actu­al writ­ing of the let­ters if I did the pre-emp­tive prac­tice as well as I could.
When I grad­u­at­ed to writ­ing the let­ters them­selves on paper with a pen­cil — long rows of O's across green, yel­low, and red lines that matched the stop­light at the begin­ning of the writ­ing page — I could "feel" the tex­ture of the let­ter through my pen­cil even as I was just writ­ing on paper. I found this thrilling and mys­te­ri­ous. I still think writ­ing is thrilling and mysterious.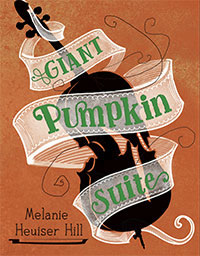 Did you talk about writ­ing with your sib­lings or friends or parents?

I remem­ber con­fess­ing to my best friend in fifth grade that I hoped to be a writer some day. It felt very much like a con­fes­sion — like it wasn't quite right that I want­ed to do this. I don't know why. Nobody used pejo­ra­tive lan­guage about writ­ers in my sphere. In fact, I received great feed­back all the way through school — ele­men­tary through grad school — about my writ­ing, cre­ative and oth­er­wise. But it didn't feel like some­thing I could do as a grown-up career. I'm not sure it does quite yet! But now it doesn't feel like a con­fes­sion, more like a deter­mined mantra, filled with hope and a lit­tle ner­vous­ness: I am a writer!
Did you go through phas­es in your writ­ing as a young writer? (hors­es, elves, princesses)
I went through a horse phase in read­ing, but I've nev­er writ­ten any­thing with hors­es in it except for maybe a book report some­where along the line. I don't think I've had any "phas­es" cre­ative­ly. There were years when I wrote critical/academic papers, of course, but that was just how the assign­ments came. Often I did some­thing more cre­ative with those dry top­ics, as well, which my pro­fes­sors seemed to appreciate.
You have sev­er­al degrees ahead of your MFA in writ­ing for chil­dren and young adults from Ham­line Uni­ver­si­ty. How do you believe hav­ing a broad edu­ca­tion has influ­enced your writing?
I went to Con­cor­dia Col­lege in Moor­head, Min­neso­ta, a small lib­er­al arts col­lege. I think the empha­sis on lib­er­al arts encoun­tered there more than any­thing (besides being a book­worm) has influ­enced my writ­ing. I enjoy tak­ing dis­parate sub­jects and putting them togeth­er — giant pump­kins and Bach's Cel­lo Suites, for instance, with a dash of Japan­ese his­to­ry, a shake of tap dance, and a sprin­kling of musi­cals. I am a mas­ter at none of these sub­jects, but I have curios­i­ty, research skills, and an abil­i­ty to see the like­ness in things that seem so very dif­fer­ent. I think lib­er­al arts study was a foun­da­tion of that.
I have two mas­ters degrees — both heavy in read­ing and writ­ing. Grad­u­ate school takes time and dis­ci­pline. I've learned from some of the very best — and to have had those years with top writ­ers and schol­ars cri­tiquing my work … well, that's invalu­able for any writer, I think.
I believe you have many inter­ests after read­ing Great Pump­kin Suite. How does this work? Do you explore your inter­ests and decide how they will work into your book? Or do your char­ac­ters tell you which inter­ests they have?
I do have many inter­ests. We hear a lot that we should "write what we know," but I find it more inter­est­ing to write what I want to know. I was super fas­ci­nat­ed by giant pump­kins when I first heard about them. I've been in love with Bach's Cel­lo Suites for decades. I inten­tion­al­ly decid­ed to put them togeth­er, dif­fer­ent as they are, and as I researched those two top­ics, the char­ac­ters were born. The nov­el I'm work­ing on now is unfold­ing in a sim­i­lar way. I love learn­ing about new things and char­ac­ters are the easy part for me—plot is what is hard!
A theme of Great Pump­kin Suite is com­pe­ti­tion. Rose is com­pet­ing musi­cal­ly and her twin, Thomas, is soon com­pet­ing in some­thing far dif­fer­ent, grow­ing giant pump­kins. What is it about com­pet­ing that intrigues you enough to make it a part of your plot?
Com­pe­ti­tions by their very nature present a clear goal — to win. I need­ed an answer to the ques­tion "What does Rose want?" Once I put the Bach Cel­lo Suites Com­pe­ti­tion in place, the answer was clear. She want­ed to win the com­pe­ti­tion so she could study with Har­ris Waldenstein.
Thomas, on the oth­er hand, was sim­ply into the process of grow­ing the giant pump­kin. He seem­ing­ly did not have a com­pet­i­tive bone in his body…until he found out there was a com­pe­ti­tion. Then he, too, had a goal. Putting a cou­ple of com­pe­ti­tions in the book helped me fig­ure out how to move things for­ward — I'm not sure much would've hap­pened with­out them!
You just had your first book pub­lished and you're work­ing on a sec­ond nov­el. Is devel­op­ing a plot and fig­ur­ing out char­ac­ters hard work for you?
Plot is hard for me — I can write chap­ter after chap­ter with intrigu­ing char­ac­ters doing absolute­ly noth­ing. In the ear­ly stages when I tell a will­ing lis­ten­er (teacher, agent, edi­tor, writ­ing friend) what my book is about, I'll go on and on about the char­ac­ters and the set­ting etc. and they invari­ably have to inter­rupt and say, "Yes, but what hap­pens?" I love think­ing about char­ac­ters. I could spend years dream­ing up eccen­tric char­ac­ters — espe­cial­ly the side or minor char­ac­ters. My imag­i­na­tion just glo­ries in that task. But plot … that's more difficult.
You write the Red Read­ing Boots col­umn for Bookol­o­gy mag­a­zine. Why do you believe so strong­ly in writ­ing for children?
Because I believe so strong­ly in read­ing to chil­dren. I was such a read­er as a kid—such a read­er. Books were an enor­mous part of my child­hood. And when I look back over the rais­ing of my own two kids, I can say, with­out equiv­o­ca­tion or ques­tion, that I've done well in one area: read­ing to them. Some of the rest of the par­ent­ing might be up for ques­tion, but the read­ing thing got done right. Books have been and con­tin­ue to be an impor­tant part of our fam­i­ly life.
Now that they're old­er, we read along­side each oth­er and share books, etc., more than we read togeth­er, but it's still a bond, a shared love. The old­er they get, the more I miss the snug­gles on the couch with a shared book, and the hap­pi­er I am that we had so many years of it.
One of my favorite things in the whole world to do is read with chil­dren. It astounds me to think I now have the hon­or of writ­ing for them.
___________________
Melanie, we know you're very busy spread­ing the news about Giant Pump­kin Suite. Thank you for shar­ing your thoughts with our read­ers, many of whom we expect will become your read­ers. You've been writ­ing the Red Read­ing Boots col­umn for Bookol­o­gy for three years. It's one of our most-read columns. We love how much you love shar­ing read­ing with young peo­ple and the adults who want to place great books in their hands.
Learn more about Melanie Heuis­er Hill.