The books that most delight mid­dle school and junior high read­ers often strad­dle a "Mid­dle King­dom" rang­ing from upper mid­dle grade to YA. Bookol­o­gy colum­nist Lisa Bullard reg­u­lar­ly vis­its the Mid­dle King­dom by view­ing it through the eyes of a teacher or librar­i­an. Bookol­o­gy is delight­ed to cel­e­brate the work of these edu­ca­tors who have built vital book encamp­ments in the tran­si­tion­al ter­ri­to­ry of ear­ly adolescence.
This jour­ney takes us to Albu­querque Acad­e­my in Albu­querque, New Mex­i­co, where Lisa talks with librar­i­an Jade Valenzuela.
Lisa: What are three to five things our blog read­ers should know about your com­mu­ni­ty, school, or library/media center?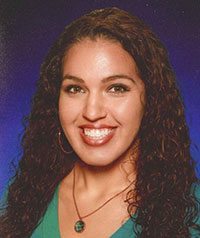 Jade: Our school library is a large, mul­ti-func­tion­al space with over 140,000 items and is a place stu­dents can come before, dur­ing and after school to study or have class, and to just hang out!
Lisa: What recent changes or new ele­ments are affect­ing the work you do with students?
Jade: New school sched­ule, imple­ment­ing a lap­top pro­gram at the school, using new tech­nolo­gies like LibGuides and dig­i­tal tools have changed the way I work with stu­dents, the lat­ter in a very pos­i­tive way.
Lisa: What five books (or series) are checked out most often by your mid­dle school students?
Jade: Com­ic books like Fox­Trot by Bill Amend. In the past cou­ple of years, Dork Diaries by Rachel Renee Rus­sell, Diver­gent by Veron­i­ca Roth, the Hunger Games series by Suzanne Collins, and Rick Rior­dan books. John Green, too.
Lisa: What book(s) do you per­son­al­ly love to place into mid­dle school stu­dents' hands?
Jade: Skul­dug­gery Pleas­ant by Derek Landy – one of my per­son­al favorites that most kids haven't heard of, but all love it after they read it. I love going through the shelves with stu­dents, talk­ing with them about what they have read and what they would like to read and then I offer sug­ges­tions based on what they say. It is a very per­son­al­ized process, and I just love to get stu­dents read­ing some­thing they are inter­est­ed in.
Lisa: What do you like most about work­ing with mid­dle schoolers?
Jade: The ener­gy and enthu­si­asm. It can be exhaust­ing some­times, but I love see­ing them light up and get excit­ed about books and reading.
Lisa: Could you share some infor­ma­tion about your most popular/successful/innovative pro­gram for pro­mot­ing books and reading?
Jade: I do book­talks with mid­dle grades, so I meet with class­es and get to share books that I like and want to rec­om­mend. Our low­er divi­sion also brings stu­dents up to the library for Inde­pen­dent Read­ing hours, where stu­dents just pick books and sit and read, and I am avail­able to help them pick. Lots of books get checked out on these days! I also some­times do dis­plays to pro­mote books.
Lisa: How have books or oth­er things changed for Mid­dle King­dom read­ers dur­ing your time as a librarian?
Jade: I have def­i­nite­ly noticed a shift toward dig­i­tal media, not nec­es­sar­i­ly for read­ing, but just for every­thing – play­ing video games, watch­ing YouTube, etc., seems to have tak­en over for many stu­dents as their favorite hob­by. It is always inter­est­ing to me to see the trends, espe­cial­ly in my own com­mu­ni­ty. One year, man­ga may be all the rage, then dystopi­an, then real­is­tic. It is real­ly inter­est­ing and hard to pre­dict. Keeps me on my toes!
Lisa: What do you want your stu­dents to remem­ber about your library in ten years?
Jade: I want them to remem­ber it as a place they liked to come to, wel­com­ing and safe, where they could find what they need­ed, get help, and leave happy.