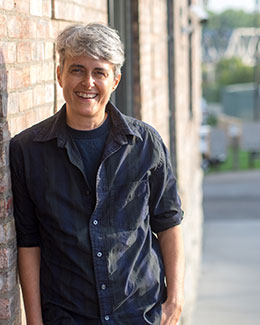 Pat Schmatz is the smart, well-read, insight­ful, and tal­ent­ed author of books such as Lizard Radio, Mouse­traps, Blue­fish, and her most recent The Key to Every­thing. She occa­sion­al­ly teach­es writ­ing, espe­cial­ly to mid­dle school and high school stu­dents. If you have a chance, attend one of her class­es.
What's the weird­est place you've ever read a book?
Inside a snow cave that I had built by tun­nel­ing far into an enor­mous drift, by can­dle­light. I start­ed feel­ing kind of funky, so I crawled out­side. Didn't occur to me until (much) lat­er that the can­dle was using all of the oxy­gen in my lit­tle snow cave!
How many book­cas­es do you have in your house?
6 – in a 2BR apart­ment.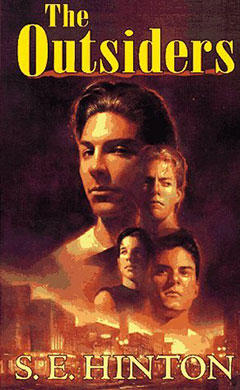 Which book you read as a child has most influ­enced your life?
The Out­siders by SE Hin­ton
What's your favorite form of exer­cise?
Cross-coun­try ski­ing in the win­ter, swim­ming in the sum­mer, sculling on the Mis­sis­sip­pi Riv­er in the spring and fall.
Have you trav­eled out­side of your state? Which state draws you back? (How many states have you vis­it­ed?)
The best trip I ever had was a ten-day walk­ing tour in West­ern Ire­land. That was amaz­ing. But I think my favorite coun­try to vis­it is still Japan. I spent sev­er­al months in Kyoto and every bite of food was amaz­ing and the beau­ty every­where was almost more than I could stand.
What's the last per­for­mance you saw at a the­ater?
The Pink Uni­corn at Illu­sion The­ater in Min­neapo­lis. It was excel­lent!
What would you wear to a cos­tume par­ty?
I like to go as road kill. Take your clothes and lay them on the dri­ve­way. Pour black paint on the car tires. Dri­ve back and forth over your clothes. Add a grue­some mask and you're all set.
If you could be grant­ed one wish, what would you wish for?
Glob­al Jus­tice (peace would fol­low)
What for­eign lan­guage would you like to learn?
I love lan­guage study. I'm cur­rent­ly study­ing Amer­i­can Sign Lan­guage, Span­ish, Japan­ese, and Hebrew. I would love to be flu­ent in all of these, and also pick up Gael­ic and Ital­ian.