We are hon­ored to inter­view the high­ly respect­ed Richard Jack­son, who is on to his next career as a writer. His most recent­ly pub­lished book is all ears, all eyes, a lush and irre­sistible read-aloud book, illus­trat­ed by Kather­ine Tillit­son (Simon & Schus­ter). We thought we'd take the oppor­tu­ni­ty to talk with him about the pro­gres­sion from his edi­to­r­i­al career to his writ­ing career and the four books he has written.
Edi­to­r­i­al Career
Will you please tell us a bit about your edi­to­r­i­al experience?
After Army ser­vice, I grad­u­at­ed from NYC in 1962 with a Master's degree in edu­ca­tion. I worked first at Dou­ble­day, not with children's books, then at Macmil­lan and David White.
In 1968, you co-found­ed Brad­bury Press. You moved to Orchard Books in 1986 and then began the non­fic­tion pub­lish­ing imprint DK Ink in 1996. Three years lat­er, in 1999, you had your own imprint at Simon & Schus­ter with the ven­er­at­ed Atheneum Books. Has this jour­ney tak­en you around unex­pect­ed bends in the road?
I've nev­er been sub­ject­ed to a job interview.
As you were gain­ing expe­ri­ence, which edi­tors do you feel taught you the most?
Frances Keene and then Susan Hirschman at Macmillan.
Do you think most pic­ture book edi­tors are equal parts visu­al and verbal?
Most like­ly. For me, as writer, as edi­tor, the words are of first importance.
What did your authors teach you?
Empa­thy.
While you were an edi­tor, did you always have a yen to write your own books?
No. But retire­ment — in so much as I am retired; I still work on a few books annu­al­ly by old pub­lish­ing friends — sud­den­ly stretched rather bland­ly before me. I began tin­ker­ing with words, with play, with wordplay…
You're work­ing with an edi­tor now, a col­league. What do you look for from your editor?
Effi­cien­cy. A sense of humor. Taste. Can­dor — i.e., a will­ing­ness to see the pos­si­bil­i­ties of some­thing not yet final.
Con­sid­er­ing the Books You've Written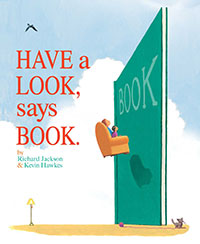 Have a Look, Says Book
illus­trat­ed by Kevin Hawkes
Cait­lyn Dlouhy Books / Atheneum Books
Simon & Schus­ter, 2016
Kevin Hawkes illus­trat­ed this book that is play­ful­ly focused on adjec­tives. The text rhymes but not in a way that feels read-aloud con­fin­ing. How do you work on the poet­ry in a pic­ture book?
In my head, often while driving.
Sto­ry­time librar­i­ans are focus­ing more than ever on teach­ing. This book offers an oppor­tu­ni­ty to talk about the plea­sure of books, the love of words. Have you always been fond of words?
A ver­bal child was I. As opposed to athletic.
What sparked the idea for this book?
The sim­ple but enor­mous word "touch" has at least two mean­ings… There are many see, hear books, a few smell and taste books — hard­ly any about touch. Watch­ing chil­dren and grand­chil­dren touch the pages and pic­tures of a book, I thought…let's see if I can hon­or that young-kid impulse: to point out, to make con­tact with a fin­ger, to search a book for a tac­tile dimen­sion equal to see­ing and hearing.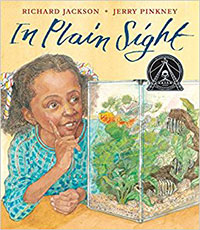 In Plain Sight
illus­trat­ed by Jer­ry Pinkney
Neal Porter Books
Roar­ing Brook Press, 2016
The sto­ry in this book is uni­ver­sal, a grand­fa­ther and grand­daugh­ter who enjoy each other's com­pa­ny. Grand­pa, who lives in a bed­room in Sophie's house, always has some­thing for them to do togeth­er, to find some­thing he's hid­den In Plain Sight.
What inspired this uni­ver­sal sto­ry of love?
Well, I was the Grand­pa, I think. Sophie, a sis­ter who died at four. She always announced her pres­ence with "Here I ahm." In my imag­i­na­tion, the game ele­ment was as impor­tant as any­thing, so it was based upon a game my father played on us, his chil­dren, on Christ­mas night — find objects hid­den in unlike­ly places, such as a dol­lar bill wrapped around a book's spine in a book­case — very tricky!
It's so impor­tant for chil­dren who have old­er gen­er­a­tions liv­ing with them to see them­selves in books, to under­stand that fam­i­lies extend them­selves when needed.
Was it your idea to have Grand­pa sup­port­ed by a wheelchair?
Jerry's, I think. As was Grandpa's ath­let­ic and mil­i­tary past, as was the cat.
This man­u­script was inter­pret­ed by the much-admired author and illus­tra­tor, Jer­ry Pinkney. How was he brought into this project?
Neal Porter's idea, at Roar­ing Brook. They had not worked togeth­er before. I asked Neal, quite casu­al­ly, I remem­ber, if this fam­i­ly might be black (they weren't while I was fol­low­ing the con­ver­sa­tion which accounts for the sto­ry here). Jer­ry widened and deep­ened every image; note Sophie's school clothes, for instance. Or the illus­tra­tion on the bind­ing of the book — not a repeat of the jack­et, but some­thing new and on its own; that's Grandpa's nature, don't you think; there's always a lit­tle more to give.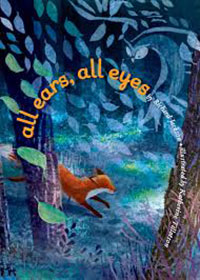 all ears, all eyes
illus­trat­ed by Kather­ine Tillotson
Cait­lyn Dlouhy Books / Atheneum Books
Simon & Schus­ter, 2017
Your text for this book is so evoca­tive of being out­doors at night, par­tic­u­lar­ly in a forest­ed or wild area. Why did you want to share that expe­ri­ence with read­ers and listeners?
The set­ting is a bit of woods, across a brook near our house in the coun­try north of New York City. Real coun­try, if you can believe. One night a yodel­ing fox awoke me and my wife. Moon and most­ly dark­ness. Still­ness, except for Mr. Fox. Mag­i­cal. We got the chil­dren up (they are part of my ded­i­ca­tion for this book) and, bare­foot, we went out­side, across the grass, up to the brook's bank. We lis­tened and with­out enter­ing the woods, let the woods enter us. I hoped to write a poem to that night, that fox, that fam­i­ly experience.
When you wrote the text for all ears, all eyes, did you have an illus­tra­tor in mind? Why?
Yes indeed, the text was for Kather­ine Tillot­son always, once the open­ing words sprang from my mem­o­ry. She sug­gest­ed the project some­how, and inspired it all along, from a very ear­ly ren­di­tion of a lurk­ing owl. Next came Cait­lyn Dlouhy and Ann Bob­co (Atheneum's bril­liant art direc­tor), and the four of us played for months and months. Until quite close to the "end," I was fuss­ing with rhymes and line breaks. Such fun.
Many peo­ple who want to write books for chil­dren have been told that they'll nev­er work direct­ly with their illus­tra­tor. Did you include instruc­tions for how the text might be illus­trat­ed? As an edi­tor, does your mind work that way?
I give a lit­tle guid­ance when the artist will need it — the main boy wears glass­es, for exam­ple. And I break the text into page and page turn units. In my head I'm imag­ing a movie. But the illus­tra­tor is the cam­era­man (or woman), and often comes up with total­ly sur­pris­ing and often just-right new views.
Don't miss read­ing our inter­view with Kather­ine Tillot­son about this book.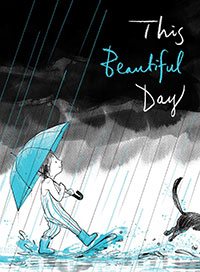 This Beau­ti­ful Day
illus­trat­ed by Suzy Lee
Cait­lyn Dlouhy Books / Atheneum Books
Simon & Schus­ter, 2017
In August of this year, we'll be treat­ed to anoth­er book you wrote, this one filled with humor and whim­sy. It begins with a bor­ing, rainy day, but the atti­tude of the three chil­dren and their moth­er brings out the sun.
With your con­sid­er­able expe­ri­ence as an edi­tor, do you reflex­ive­ly envi­sion your text on the page?
Reflex­ive­ly? I think not. I do imag­ine page turns — and often, as sug­gest­ed above, an illus­tra­tor will have a bet­ter idea and I'll be tickled.
When you were an edi­tor, did you look for­ward to the sur­prise of the illustrator's rough sketch­es, their inter­pre­ta­tion of the author's story?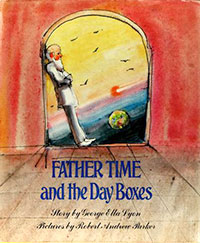 You bet! I once pub­lished a pic­ture book, George Ella Lyon's and Robert Parker's Father Time and the Day Box­es (o.p), using the sketch­es, which were per­fect as they were. Had I imag­ined them as Bob pre­sent­ed them? No way. It's ide­al to be sur­pris­ing and just right from the get-go.
Now that it's your man­u­script being inter­pret­ed, how does that expe­ri­ence differ?
Not much dif­fer­ent. I hadn't imag­ined a rainy begin­ning to this day, so was tak­en aback at first; even­tu­al­ly, I have come to see the wis­dom of giv­ing the nar­ra­tive this "hinge" in mood. What you sug­gest (that sun is atti­tude induced) is irre­sistible — and com­plete­ly Suzy's idea.
____________________
Thank you for shar­ing your thoughts with us, Richard Jackson!
I've admired the books he's edit­ed, some of the finest in the chil­dren's lit­er­a­ture canon, so it's a plea­sure to hear from him as he walks his next path as a writer.