by Vic­ki Palmquist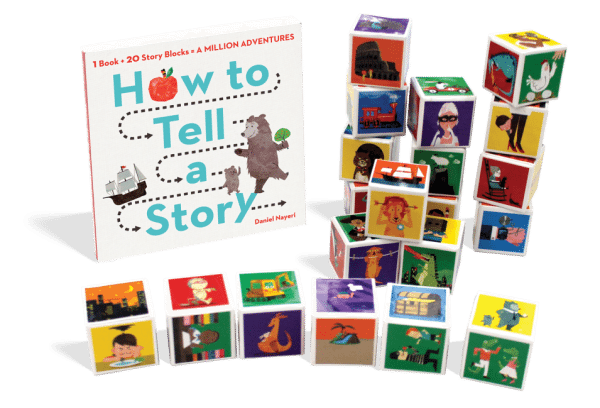 Look­ing for hours of fun with a book the whole fam­i­ly can enjoy … or one per­son can eas­i­ly study to learn to write or tell a sto­ry … bet­ter? Then you'll want to give this a try: How to Tell a Sto­ry, writ­ten by Daniel Nay­eri, illus­trat­ed by Bri­an Won, and pub­lished by Work­man Pub­lish­ing in 2015.
This book comes in a box. Inside the box there's a small-for­mat book (5−1÷4" x 5−1÷4", 143 pages) with lots of illus­tra­tions and visu­al cues to help under­stand the many ways telling a sto­ry can be not only fun but inter­est­ing and chal­leng­ing.
To help you "get ideas," which kids often feel is the tough­est part of writ­ing or sto­ry­telling, there are 20 cubes. Each face of the cube con­tains a char­ac­ter, object, place, adjec­tive (descrip­tion or emo­tion), action, or rela­tion­ship. They're col­or-cod­ed so you can set par­tic­u­lar para­me­ters for your "game play" or the chal­lenge you've made for your­self.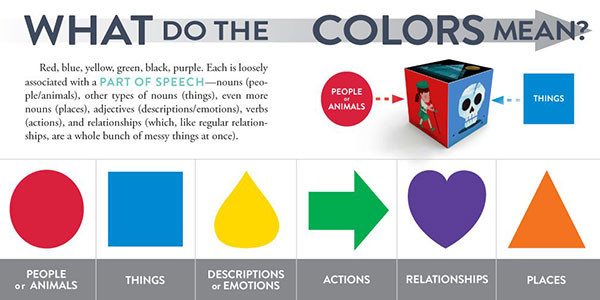 With chap­ters on con­flict, moti­va­tion, dia­logue, char­ac­ter, plot, and theme, the basics of sto­ry­telling are packed into this guide.
The author has includ­ed a num­ber of games that can be played with two, up to 20, blocks. For instance, in "Debate," we'll roll 10 blocks. We'll choose two blue blocks and one red block. Nay­eri writes, "Oh, no! There's a dead­ly storm on the hori­zon and Cap­tain Lark has to decide what to do with a ship full of pre­cious (blue block), the crew of (red block), and the mag­i­cal (oth­er blue block), which can only be used to save one per­son or thing. What should Cap­tain Lark save first? Why? Come up with enough sto­ries to argue for sav­ing either the pre­cious (blue block), the crew of (red block), or him­self." My fin­gers are itch­ing to roll the blocks, aren't yours?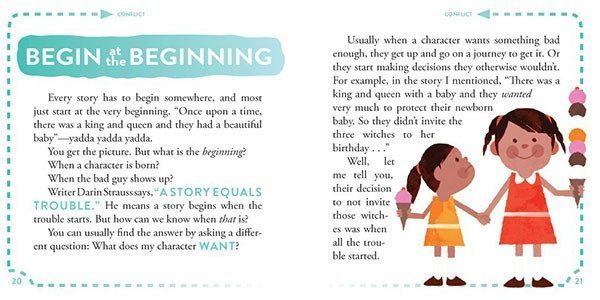 The blocks can be used in sim­ple ways with young chil­dren or they can be engross­ing for adults. The author is very instruc­tive in the text:
"As our sto­ry­teller, if you start in the mid­dle, then you're going to have to intro­duce us to the impor­tant bits of the back­sto­ry as they become nec­es­sary.
"The ancient Roman poet Horace called this method IN MEDIA RES, which means "in the mid­dle of things." He rec­om­mend­ed telling sto­ries this way so you can jump straight into the action and fill out the details as you go."
The illus­tra­tions by Bri­an Won are appeal­ing to chil­dren, teens, and adults. They're the same style as those used on the blocks (and often the same images) so we feel a con­nec­tion. They're descrip­tive enough so that our brains begin mak­ing sto­ries out of them imme­di­ate­ly, but not so reduc­tive that they only con­vey one pos­si­bil­i­ty.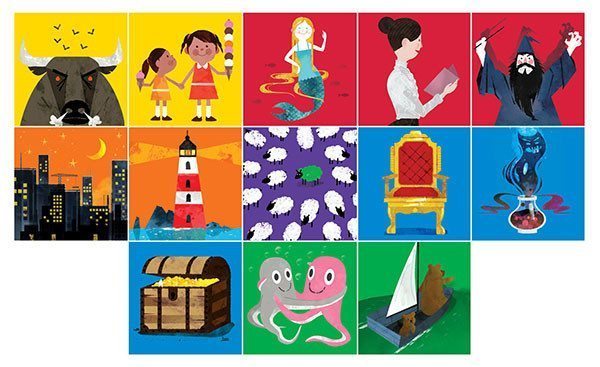 That's the beau­ty of this set of sto­ry starters. There's a myr­i­ad of ways to use them, to learn from them, to play games with them, and to have fun. This is a per­fect gift for the sto­ry­tellers in your fam­i­ly.