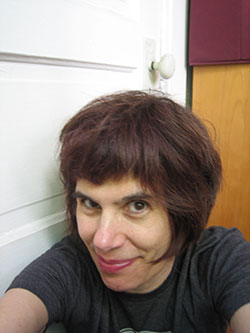 Are you fans of the Lowrid­ers graph­ic nov­els? We are! And we can't wait for the next one. The author who thinks up those great sto­ries is Cathy Camper. We invit­ed her to Skin­ny Dip with the Bookol­o­gist … and she said yes! When we asked her point­ed ques­tions, here's what she had to say.
Favorite break­fast or lunch as a kid?
Eat­ing cake for break­fast just like Two Bits in The Out­siders.
What's your least favorite chore?
Mak­ing my stu­pid lunch. I work full-time and it's nev­er-end­ing! I make my lunch, go to bed, go to work, eat my lunch, go home, and have to make my stu­pid lunch all over again.
When are you your most cre­ative?
When I have a lit­tle bit of some­thing with caf­feine, prefer­ably dark choco­late, maybe a small gulp of cof­fee, then go for a run or walk, or some mind­less activ­i­ty that allows me to day­dream. When the ideas start to come, I write them down imme­di­ate­ly.
Best inven­tion in the last 200 years?
Indoor plumb­ing and clean water, in par­tic­u­lar, hot water WHENEVER you want a bath or show­er, and clean water when­ev­er you want a drink. I give great thanks for being born in a time and soci­ety where we have that lux­u­ry.
What's your best con­tri­bu­tion to tak­ing care of the envi­ron­ment?
I nev­er had kids. One less human.