For this inter­view, we vis­it with Deb­by Dahl Edward­son, author of the Nation­al Book Award final­ist My Name is Not Easy and co-founder of the Loon­Song Writ­ers' Retreat.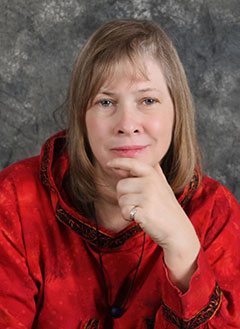 Which celebri­ty, liv­ing or not, do you wish would invite you to a cof­fee shop?

Anne Lam­ott. I feel like I already know her so well though her books that I would actu­al­ly feel com­fort­able with this kind of meet­ing, which is a bit out of my com­fort zone, for sure. Lam­ott seems like the kind of per­son you could talk to about any­thing — from your strug­gles with spir­i­tu­al­i­ty to your awful first draft — and she'd empha­size, hav­ing just dealt with these same issues like yes­ter­day morn­ing or in the mid­dle of the night last week.
Most cher­ished child­hood mem­o­ry?
Get­ting lost in books. When I was 12 years old, my god­moth­er gave me a book for Christ­mas. It was a book that had won the New­bery award that year and it cap­ti­vat­ed me. Clichés aside, I was pulled imme­di­ate­ly into the dark and stormy night with which the book opened and I found myself instant­ly inside that lit­tle attic bed­room where Meg Mur­ry was just begin­ning to awak­en to the series of strange and won­der­ful events. I remained immersed in that book for sev­er­al days. I reread it imme­di­ate­ly upon fin­ish­ing it. I sim­ply did not want to leave that world. I am talk­ing, of course, about A Wrin­kle in Time, by Made­line L'Engle. Enter­ing new worlds through the world of books are among my most cher­ished child­hood mem­o­ries.
Favorite sea­son of the year? Why?
Fall. It's always been my favorite. I love the col­ors and the smells of fall every­where, even here in Alas­ka, where I live on the tree­less tun­dra. I love the way the tun­dra turns rus­set and the air tin­gles with the promise of snow. I remem­ber, as a child in north­ern Min­neso­ta, watch­ing the sky dark­en with geese call­ing out their rau­cous calls, head­ed south. And now that I am in the fall of my life, I love that, too!
What's your dream vaca­tion?
I have about a hun­dred dream vaca­tions. Most of them involve ocean beach­es because I love the ocean and I love to swim. But one non-beach place I'd love to vis­it and spend time in is north­ern New Mex­i­co, the region where Geor­gia O'Ke­effe lived and paint­ed. I have a pic­ture of hers in my writ­ing room. It's one you've nev­er seen: a sin­gle blue trail lead­ing up into pas­tel blue and gin­ger moun­tains. I want to go there. I love adobe, too, the way the red hous­es seem to grow from the red earth — and there's a hot spring there, too: Ojo Caliente. I love hot springs. Above that pic­ture of O'Keeffe's paint­ing in my writ­ing room is a pho­to­graph of her with the words that have pret­ty much become my writ­ing mot­to: "It belongs to me. God told me if I paint­ed it enough I could have it." I am attract­ed to land­scapes that hold that kind of pow­er.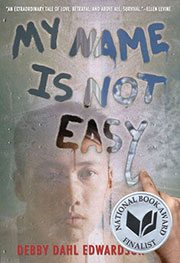 Your hope for the world?
That peo­ple will learn true empa­thy and devel­op, from a young age, the abil­i­ty to see the world through mul­ti­ple lens­es. I think many of the prob­lems we face in the world come from an increas­ing ten­den­cy to see the world mono­lith­i­cal­ly. This kind of inflex­i­bil­i­ty is extreme­ly dan­ger­ous in pret­ty much every way you can imag­ine. One of my favorite quotes is this one, from Wade Davis: "Oth­er cul­tures are not failed attempts at being you: they are unique man­i­fes­ta­tions of the human spir­it. The world in which you were born is just one mod­el of real­i­ty." We will not begin to find true solu­tions to our deep­est prob­lems until we devel­op the abil­i­ty to see mul­ti­ple ways of con­fig­ur­ing real­i­ty."