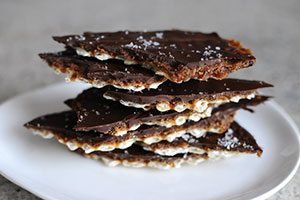 Favorite hol­i­day tradition?
Food! I love to bake and hol­i­days are the best excuse for bak­ing! Peach cob­bler for the Fourth of July, apple cake for the Jew­ish hol­i­days, dozens and dozens of cook­ies for friends and fam­i­ly in Decem­ber, and this killer can­dy that we call mat­zo tof­fee at Passover. I make a ton of it for friends and even send some to spe­cial edi­tors. It's the most addic­tive thing ever and it proves that choco­late makes every­thing better.
Were you a teacher's pet or teacher's challenge?
Most­ly a teacher's pet. I had poor eye­sight and super-thick glass­es and had to sit up front. But I also have strong opin­ions, so I'm sure I was a chal­lenge as well.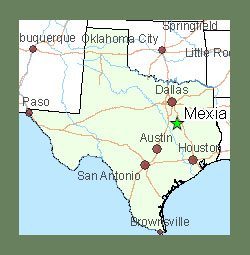 What's the first book report you ever wrote?
This is embar­rass­ing, but I don't remem­ber book reports in ele­men­tary school. I remem­ber reports on a town in Texas (I chose Mex­ia, pro­nounced Me-hay‑a) and oth­er sub­jects, and even a report on Nixon's trip to Chi­na, but no book reports. Maybe I blocked them out! We did do them in junior high and I got in trou­ble for choos­ing a 1934 nov­el by John O'Hara that the teacher deemed too old for me.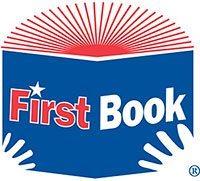 Do you like to gift wrap presents?
That's kind of a fun­ny ques­tion. Yes, and no. Here's why: For the last 12 or 13 years, my fam­i­ly has gift-wrapped books at local book­stores dur­ing the Christ­mas sea­son to raise mon­ey for a lit­er­a­cy orga­ni­za­tion called First Book. Some years, we worked many shifts at sev­er­al book­stores and some years, we worked just a hand­ful of shifts. But near­ly all of those years, we gift-wrapped on Christ­mas Eve, which is a crazy day when all the last-minute or vis­it­ing-from-out-of-town shop­pers come in. By the mid­dle of the sea­son, I could hard­ly bear to wrap our family's own gifts.
All togeth­er, our wrap­ping raised more than $20,000 for First Book. But we decid­ed 2014 would be our last year. Our daugh­ters, who were 12 and 14 when we start­ed, are now grown and live on oppo­site coasts and we don't get to spend much time with them. It was a great expe­ri­ence though, and I'm now an excel­lent wrapper!
What do you wish you could tell your 10-year-old self?
Hmmm. I enjoyed writ­ing at that age, but was becom­ing self-con­scious about it, and I had class­mates — includ­ing anoth­er Karen — who were more skilled. Prob­a­bly I would tell her that pas­sion and per­sis­tence are about as impor­tant as any­thing and to keep at it.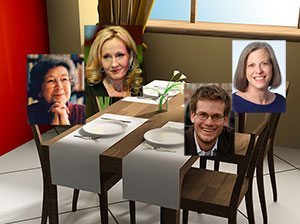 What 3 children's book authors or illus­tra­tors or edi­tors would you like to invite to dinner?
One of the real­ly great things about being an author is that you get to meet oth­er authors, and even have a meal with them. So I've got­ten to meet some of my heroes, like Rus­sell Freed­man, Steve Sheinkin, and Susan Bartoletti.
Oh, this is so hard! Bev­er­ly Cleary, for sure, because she was one of my ear­ly favorites and still is. J.K. Rowl­ing, because that would be amaz­ing. And maybe John Green, because he's so cool.
Where's your favorite place to read?
Any­where! Real­ly! I'll read just about any­where, though I pre­fer a chair. I read a lot at my break­fast table, but also in a com­fort­able chair in our den, on the bike at the gym, on planes, and when I'm wait­ing for an appointment.