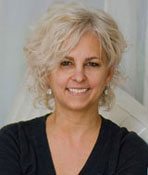 Do you remem­ber any book reports you wrote or gave while in ele­men­tary school?
No one has ever asked me this ques­tion before! Here is the truth: I don't remem­ber doing one, sin­gle book report. Have I blocked the mem­o­ries out? Or did I real­ly not do any? I'm think­ing it's the lat­ter. Tru­ly.
Describe your all-time favorite pair of paja­mas.
Red flan­nel. Dec­o­rat­ed with dogs. And Milk bones. Divine.
What was the best Hal­loween cos­tume you've ever worn or seen?
I love the Bugs Bun­ny mask I wore when I was three. I can still smell the inte­ri­or of that mask. I can still feel the pow­er of *hid­ing* behind that mask.
Are you good at wrap­ping presents?
Ha ha ha. I am laugh­ing. And I can hear my moth­er laugh­ing from the great beyond. I inher­it­ed my inabil­i­ty to wrap presents from her. Present-wrap­ping always ends up with me in the mid­dle of a great big snarl of wrap­ping paper and scotch tape. Imag­ine Bink wrap­ping a present and you get the right visu­al.
Do you like to cook for friends or meet them at a restau­rant?
Still laugh­ing. Cook for friends? Me? I like to go to *their* hous­es and eat *their* food. But I do take them out to restau­rants to return the favor.
Which out­door activ­i­ty are you most like­ly to par­tic­i­pate in: run­ning; fish­ing; leaf rak­ing; parade watch­ing?
Parade watch­ing. I love a parade. And it's all a parade.
When did you get your first library card, and from what library?
*Swoon* I got my first library card when was I sev­en. I got it from the Coop­er Memo­r­i­al Pub­lic Library.
Favorite bird?
Crow.
Which children's book do you wish you'd read as a child?
Matil­da. It was­n't in our school library or the pub­lic library. Strange, huh?