You may know Kel­ly Star­ling Lyons for One Mil­lion Men and Me or Tea Cakes for Tosh or Ellen's Broom, mem­o­rable pic­ture books, but we're cel­e­brat­ing her new chap­ter books star­ring Jada Jones! Thanks, Kel­ly, for tak­ing a Skin­ny Dip with us in Decem­ber.
Who was your favorite teacher in grades K‑7 and why?
That's a tough ques­tion. I loved all of my teach­ers. But two that stand out are Dr. Kupec at Beech­wood Ele­men­tary and Mr. Pow­ell at Mil­liones Mid­dle School.
Dr. Kupec was my sec­ond grade teacher and lat­er prin­ci­pal of the school. I looked for­ward to going to her class to see what won­ders were in store. Would we sing? Act? Read books that took us to oth­er worlds? She knew how to cap­ti­vate kids and make learn­ing fun.
Anoth­er favorite was band direc­tor and teacher Mr. Pow­ell. Bril­liant, cre­ative and exact­ing, he taught me the pow­er of prac­tice and feel­ing what you're play­ing. Under his direc­tion, I couldn't just blend into the back­ground. I had syn­the­siz­er solos that put me in the spot­light. He even wrote a song that show­cased my play­ing called "Kelly's Blues." I'll always remem­ber how amaz­ing that made me feel.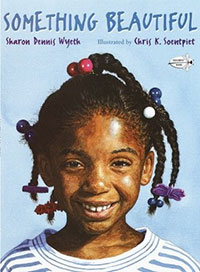 All-time favorite book?
A children's book that made a big impact on me was Some­thing Beau­ti­ful by Sharon Den­nis Wyeth. In the sto­ry, an African-Amer­i­can girl learns that the pow­er to cre­ate beau­ty lives in her. I looked at her face full of won­der and saw girls I know and lit­tle me. That was the first time I saw a black char­ac­ter on the cov­er of a pic­ture book. It called me to write for kids and will always have spe­cial mean­ing.

Favorite break­fast or lunch as a kid?
Break­fast is my favorite meal. On week­ends, we would sit around the table and mar­vel at the spread made by my grand­ma and mom. The table was filled with favorites — fried apples, scram­bled eggs with cheese, home­fries, link sausage, home­made muffins, banana pan­cakes with warm maple syrup. It was a feast of food and love.
Your best mem­o­ry of your library?
My local Carnegie Library was mag­i­cal. All around, sto­ries wait­ed to be read and explored. It was a place where adven­tures and dreams came to life. Read­ing was like being on anoth­er plane, out­side of time and space. Those sto­ry­telling jour­neys meant every­thing to me. I feel blessed to be cre­at­ing them for chil­dren today.
Your favorite toy as a child?
I trea­sured my home­made Raggedy Ann doll. In stores, I just saw white ones. But a rel­a­tive made one with skin the col­or of mine. It was more than a toy. It was an affir­ma­tion, a love let­ter. It's one of the few keep­sakes I've held onto from child­hood. Today, it's my daughter's.