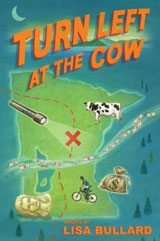 What keeps you up at night?
I don't need anything to keep me up at night—I am almost always up at night no matter what! When I have morning obligations, I force myself to go to bed at a reasonable time. But when I have a few days in a row where I don't have to get up "early," my bedtime slips to a later and later time—until I am regularly staying up until 3:00 or 4:00 in the morning. The very early morning hours (before I have been to bed) are a very creative time for me. But very early morning hours AFTER I have been to bed—on days I have to get up super-early—are a nightmare!
What is your proudest career moment?
Seeing my name on the cover of a book for the first time (it was my picture book Not Enough Beds!) still ranks as one of the biggest thrills of my life. I determined in 5th grade that someday I would become a published author, and I was really proud to have made that dream come true.
Describe your favorite pair of pajamas ever
When I was a little girl, my grandma gave me a light-blue nightgown that had light-blue fake fur around the neck and the bottom of the sleeves. I thought it was the most glamorous thing I had ever owned, and I wore it until it was in tatters.
In what Olympic sport would you like to win a gold medal?
I grew up in the northern part of Minnesota, where I took figure skating lessons and skated in ice shows. I would love to win a gold medal in figure skating—it's such a beautiful and athletic sport!
What's the bravest thing you've ever done?
I don't know if it was brave or stupid, but I did scare off a bad guy when I was in college. I was on a trip to Europe with classmates, and some of us were walking through the London subway system late at night when a guy started in our direction in a menacing fashion. Rather than running away, which probably would have been the smart thing to do, I threw myself in front of my companions, lifted my chin, and growled at him. He took one look at me making my "Dude, I'm scarier than you are" face and ran off. I've since figured out that I can be very brave when I'm protecting other people, but not necessarily when it's just about me!
What's the first book you remember reading?
I think it might have been Snow by Roy McKie and P.D. Eastman, one of Dr. Seuss' Beginner Books. It was definitely from that series. I was really proud that I could read the entire book to my mom, but my teacher secretly told her that rather than actually reading, I had memorized the whole book and was reciting it back.
What TV show can't you turn off?
I like goofy things, so I am a huge fan of Fnding Bigfoot—nothing makes me laugh harder than watching those true believers (and one skeptic) roaming through the woods, howling and knocking on trees in the hopes of attracting the attention of Bigfoots (and yes, that is a correct plural usage). There is something about the seekers' wide-eyed certainty that someday Bigfoot will show up for the cameras that I can't resist.