Which book of yours was the most dif­fi­cult to write or illus­trate?
My non-fic­tion books required the most intense peri­ods of research, but the YA nov­el, Blue Coy­ote, was the most per­son­al­ly chal­leng­ing. How could I, a straight woman, take on the char­ac­ter and voice of a young male teen who was explor­ing his sex­u­al­i­ty? Yet a num­ber of read­ers who had read the novel's pre­quel, Twelve Days in August, had writ­ten to ask, "What about Alex? What hap­pened to him?" They also asked the ques­tion I couldn't answer myself, with­out writ­ing the book: "Is Alex gay — or not?" I felt these read­ers deserved answers. As I worked through many drafts, I received won­der­ful insights and sug­ges­tions from my writer's group, as well as from a cou­ple of gay friends who read the man­u­script in draft form. Writ­ing the sto­ry in a third per­son lim­it­ed point of view also gave me some need­ed dis­tance. When stu­dents in schools ask me which book I'm proud­est of, Blue Coy­ote is at the top of the list.
Which of your books would make a good movie and who would be the star?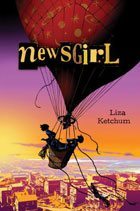 News­girl—because it is an adven­ture sto­ry with plen­ty of action, an excit­ing set­ting (Gold Rush San Fran­cis­co), and a diverse cast of char­ac­ters. Amelia should be played by a feisty, deter­mined 12 or 13 year old girl who can hold her own in a gang of boys. And since she goes fly­ing off in an unex­pect­ed bal­loon ascent, she shouldn't be afraid of heights.
What's your favorite line from a book?
I will cheat and cite three. The first is the famous open­ing line from One Hun­dred Years of Soli­tude, by Gabriel Mar­cia Mar­quez: "Many years lat­er, as he faced the fir­ing squad, Colonel Aure­liano Buen­dia was to remem­ber that dis­tant after­noon when his father took him to dis­cov­er ice."
I also love the open­ing sen­tence of M.T. Anderson's nov­el, The Aston­ish­ing Life of Octa­vian Noth­ing, Trai­tor to the Nation: "I was raised in a gaunt house with a gar­den; my ear­li­est rec­ol­lec­tions are of float­ing lights in the apple trees." This is fol­lowed by six more breath­tak­ing sen­tences that intro­duce the narrator's amaz­ing voice and set the tone for the sto­ry that fol­lows.
The last sen­tence of Eliz­a­beth Bowen's nov­el, A World of Love, has stayed with me for­ev­er. While many final sen­tences wrap up a sto­ry, this one opens the reader's mind to a whole new begin­ning for the pro­tag­o­nist, who has been through a dif­fi­cult time: "They no soon­er looked but they loved."
What book do you tell every­one to read?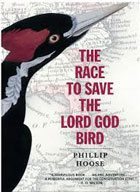 A tough ques­tion, when there are so many great books out there! I often men­tion Philip Hoose's mag­nif­i­cent non-fic­tion book, The Race to Save the Lord God Bird (Melanie Kroupa books, Far­rar, Straus and Giroux). It is one of the few non-fic­tion books that I have reread a num­ber of times; I even read and stud­ied the foot­notes at the end. It's a true sto­ry with the dra­ma, pac­ing, and char­ac­ter­i­za­tion of the best fic­tion. I learned a lot about birds, avid bird­ers, and about the inter­con­nect­ed­ness of com­merce and the envi­ron­ment. Who knew that the dis­ap­pear­ance of the ivory-billed wood­peck­er in Louisiana was linked to the rise of the Singer sewing machine? I cer­tain­ly didn't.
Are you a night owl or an ear­ly bird?
I'm an ear­ly bird. I raised my sons in Ver­mont, where the school bus came ear­ly, and we had ani­mals to feed before start­ing the day (a small flock of sheep and a goat or two to feed and milk). My sons were also ear­ly ris­ers, so I got into the habit of being up with the sun. In good weath­er, I love to walk or gar­den first thing in the morn­ing. When I was teach­ing at Ham­line Uni­ver­si­ty, I was lucky to room with Jack­ie Brig­gs Mar­tin. We woke up at the same ear­ly hour dur­ing the July res­i­den­cies and explored Hamline's St. Paul neigh­bor­hood, admir­ing the gar­dens, but­ter­flies, and birds as we walked the qui­et streets.
Were you most like­ly to vis­it the school office to deliv­er attendance/get sup­plies, vis­it the nurse, or meet with the prin­ci­pal?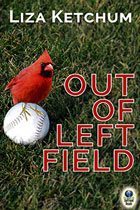 I hat­ed school from the mid­dle of kinder­garten — when we moved from Ver­mont to Wash­ing­ton, D.C. — to the end of third grade. I had stom­ach cramps every day. When I com­plained of pain, my teach­ers sent me to the principal's office. She was a fierce old­er woman who scold­ed me and accused me of invent­ing my symp­toms. When I was grown and liv­ing in Ver­mont years lat­er, I learned that a close writer friend had attend­ed the same school, a few years ahead of me. She, too, suf­fered from repeat­ed stom­ach trou­ble. "It was because of recess," she said. "Remem­ber how the boys played war?" I had for­got­ten, but it all came back: the gangs of boys on the play­ground, who tor­tured and bul­lied us girls. They chased us until we fell and skinned our knees; they yanked our hair and called us names, while the staff — who were sup­posed to be watch­ing — ignored the whole scene. When we moved to New York State — where I attend­ed a won­der­ful pub­lic school — the stom­ach aches dis­ap­peared, and so did my trips to the principal's office.