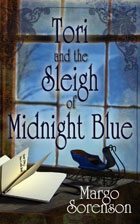 What is your proudest career moment?
My proudest career moment was doing my first author visit at Hale Kula Elementary School, Wahiawa, HI, the Schofield Barracks elementary, where I spoke to 200 kindergarteners and their parents, many of whom were in cammies, about Aloha for Carol Ann. Tears came to my eyes as I watched the parents and kids interact in the activity the librarian (SLJ Librarian of the Year Michelle Colte) had designed for them, based on my book. To think these parents, who put their lives on the line for our country, took the time to show their kids how important reading and writing are by their attendance and involvement was truly inspirational.
Describe your favorite pair of pajamas ever.
My favorite pair of pajamas ever are my Royal Stuart red plaid flannels – especially in Minnesota!
In what Olympic sport would you like to win a gold medal?
Fencing would be my pick, being a medieval history major, but, sadly, I've never even taken one lesson or held a foil in my hand.
What's the bravest thing you've ever done?
The bravest thing I've ever done was punch the neighborhood bully when I was twelve years old, because he was throwing rocks at two other little neighborhood kids. I've not punched anyone since—at least, not that I remember!
What's the first book you remember reading?
The first book I remember reading was Our Island Story, by H.E. Marshall, the classic children's storybook about English history from its purported beginning to the 1950's, with its stories of all the kings and queens and intrigue. The historical characters came to life on the page and they seemed so real to me. It is still on my desk for inspiration. Yes, it's true; I am a geek!
What TV show can't you turn off?
The TV show I can't turn off is Downton Abbey. The characters are classic, the dialogue witty, the plots and subplots intriguing, and the acting marvelous. I wish it would go on forever; it is such a kick!
[Sorenson,-Margo-Bio]