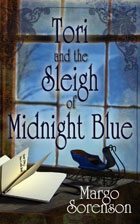 What is your proud­est career moment?
My proud­est career moment was doing my first author vis­it at Hale Kula Ele­men­tary School, Wahi­awa, HI, the Schofield Bar­racks ele­men­tary, where I spoke to 200 kinder­garten­ers and their par­ents, many of whom were in cam­mies, about Alo­ha for Car­ol Ann. Tears came to my eyes as I watched the par­ents and kids inter­act in the activ­i­ty the librar­i­an (SLJ Librar­i­an of the Year Michelle Colte) had designed for them, based on my book. To think these par­ents, who put their lives on the line for our coun­try, took the time to show their kids how impor­tant read­ing and writ­ing are by their atten­dance and involve­ment was tru­ly inspi­ra­tional.
Describe your favorite pair of paja­mas ever.
My favorite pair of paja­mas ever are my Roy­al Stu­art red plaid flan­nels – espe­cial­ly in Min­neso­ta!
In what Olympic sport would you like to win a gold medal?
Fenc­ing would be my pick, being a medieval his­to­ry major, but, sad­ly, I've nev­er even tak­en one les­son or held a foil in my hand.
What's the bravest thing you've ever done?
The bravest thing I've ever done was punch the neigh­bor­hood bul­ly when I was twelve years old, because he was throw­ing rocks at two oth­er lit­tle neigh­bor­hood kids. I've not punched any­one since — at least, not that I remem­ber!
What's the first book you remem­ber read­ing?
The first book I remem­ber read­ing was Our Island Sto­ry, by H.E. Mar­shall, the clas­sic chil­dren's sto­ry­book about Eng­lish his­to­ry from its pur­port­ed begin­ning to the 1950's, with its sto­ries of all the kings and queens and intrigue. The his­tor­i­cal char­ac­ters came to life on the page and they seemed so real to me. It is still on my desk for inspi­ra­tion. Yes, it's true; I am a geek!
What TV show can't you turn off?
The TV show I can't turn off is Down­ton Abbey. The char­ac­ters are clas­sic, the dia­logue wit­ty, the plots and sub­plots intrigu­ing, and the act­ing mar­velous. I wish it would go on for­ev­er; it is such a kick!
[Sorenson,-Margo-Bio]