What's the first book you remem­ber read­ing?
Ramona the Pest. My ele­men­tary school was vis­it­ed by RIF (Read­ing is Fun­da­men­tal) twice a year — the best days of the year. You had to be in sec­ond grade to peruse the tables of nov­els that were set up in the entry-way to our school. It was enor­mous­ly excit­ing — so many to choose from! I picked that slim Ramona vol­ume from all the oth­er books piled high on the table and I read it "hid­den" in my lap dur­ing math class that after­noon. I can't imag­ine I fooled my teacher, Mrs. Perkins, but she had com­mend­ed me on my choice ear­li­er, so per­haps she didn't mind…even at the expense of math.
What do you wish you could tell your 10-year old self?
That some­day I would actu­al­ly love being tall. I was 5'10" at the age of ten and it was rough. I'm six feet tall now and real­ly enjoy being tall — but it took a long time to get here. I sup­pose my 10-year old self would have just rolled her eyes — what an adul­tish thing to say to a kid! But it's true and I wish I could've believed it then.
What 3 children's book authors or illus­tra­tors or edi­tors would you like to invite to din­ner?
Only three?! Well, I'd have to have a series of din­ners, I guess. Here are two in that series: If I could invite three who are no longer liv­ing, I'd invite L.M. Mont­gomery, Arthur Ran­some, and E. L. Konigs­burg. If I had to lim­it myself to the liv­ing (rea­son­able, I sup­pose) I'd invite Vir­ginia Euw­er Wolff, Kevin Henkes, and Deb­o­rah Wiles. Now to plan my addi­tion­al din­ners….
Where's your favorite place to read?
This week it's my new bright red Adiron­dack chair in the gar­den. SO com­fort­able, big wide arms for a glass of iced tea and a pile of books, and beau­ty all around. It is bliss.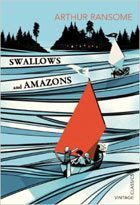 What book do you tell every­one to read?
For the last ten years I tell every­one about Arthur Ransome's Swal­lows and Ama­zons series — most­ly because Amer­i­can read­ers have almost nev­er read it and it has been A For­ma­tive Series for my kids. It's a series of tremen­dous adven­tures with quo­tid­i­an details — some­how a mag­ic com­bi­na­tion. Sev­er­al of the books fea­ture the Walk­er kids — four dear sib­lings who are afford­ed a tremen­dous amount of free­dom on their sum­mer hol­i­days and know just how to use it. In oth­er books in the series there are fright­ful pirates and né'er-do-wells. We have read them almost exclu­sive­ly on vaca­tions — a big nov­el each trip, me grow­ing hoarse read­ing by lantern in the tent, on pic­nic blan­kets, and in hotel rooms. The audio­books done by Gabriel Woolf are tremen­dous and hours and hours of time in the car have been filled with these books.