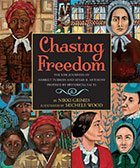 What keeps you up at night?
My brain! I can't shut it off. I'm constantly bombarded with thoughts about what's on my to-do list (I live or die by the list), what arrangements I need to make for the next conference, book festival, or school visit; what work I need to do to elevate the relationships of my characters or ways to make them more authentic; what manuscript I need to concentrate on next (I'm always juggling three or four at one time). When those things aren't keeping me up, it's one of my mouthy characters, deciding he or she has something to say that just can't wait until morning!
What is your proudest career moment?
Entering the White House as a guest for the first time, on the invitation of First Lady Laura Bush, as part of the National Book Festival in 2003, with my sister—my oldest fan—on my arm, beaming! Winning the Coretta Scott King Award for Bronx Masquerade is what got me there.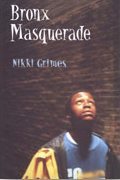 In what Olympic sport would you like to win a gold medal?
Ice-skating! I have absolutely no talent in this area, but ice-skating is the one Olympic sport that keeps me glued to the television screen. That combination of lyrical movement and technical skill fascinates me. I especially love those moments of spontaneity when each athlete's personality shines through. The programs are planned and choreographed, but the performances are very much in the moment. Anything can happen, and I love that! I feel that way when I'm writing a story. Anything is possible. Anything can happen! I put in the work, I lay in the structure, set my character's back-stories, and then, somewhere along the way, I get into the zone, and—boom! Magic happens, and I score tens across the board—in my mind, at least! Yeah. Ice-skating.
What's the bravest thing you've ever done?
Face down an armed robber, high on drugs, in a Swedish boutique I managed in Stockholm. I was working behind the counter when this guy came into the store and confronted me, his hand in his pocket pointing a gun in my direction. He demanded the money in the register and, when I did not comply, he bared a mouthful of yellowed teeth.
"I will blow you straight to hell," he told me.
"No," I said. "You'll blow me straight to heaven."
That got him off his game, I think. He took a step back from the counter and gave me a long, hard look.
"What? What did you say?" he asked.
I, calm as the prover­bial cucum­ber, explained to him that, as a Chris­t­ian, when I died, I was going to heav­en, not to hell. Then, blan­ket­ed in the per­fect peace of God, I pro­ceed­ed to share with him the gospel of Christ, and invit­ed him to accept Jesus.
Now, mind you, this was an out-of-body expe­ri­ence, because part of me was stand­ing back, watch­ing, ask­ing myself, "Are you crazy?! This man's got a gun!" But, some­how, in that moment, by God's grace, I felt no fear.
I talked with him qui­et­ly, slow­ly as if I had all the time in the world.
He asked me a few hon­est ques­tions about faith and for­give­ness, which I answered. As the scene played out, his pos­ture changed. His shoul­ders soft­ened, his head began to bow, the hand in his pock­et relaxed and he let the gun drop. Even­tu­al­ly, with both hands at his side, he shuf­fled out of the store, whis­per­ing a string of apologies.
Once he was gone, I returned to my body and trem­bled from head to foot, like a nor­mal per­son! It was an extra­or­di­nary moment that taught me the real­i­ty of the pow­er of God and the per­fect peace he can offer in any cir­cum­stance. Okay, so maybe this is as much a sto­ry about faith as it is about brav­ery. Any­way, there you have it.
What TV show can't you turn off?
There are a few, but the one that most surprises me is Shark Tank!
There is some­thing riv­et­ing about a per­son bar­ing his heart in pur­suit of a dream, and fight­ing for that dream in a do-or-die moment, when self-con­fi­dence is the key to suc­cess. I have wres­tled in pur­suit of my dreams my entire life. Maybe that's why this show res­onates with me.