What keeps you up at night?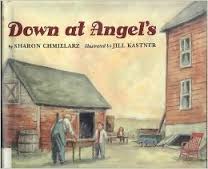 Noth­ing keeps me up at night (knock on wood). I have a cou­ple of glass­es of red wine, then show­er (usu­al­ly), hit the mat­tress, do some leg exer­cis­es, and I'm a goner until the next morn­ing. If I slip from that rou­tine and drink some­thing with caf­feine too close to 6:30 pm or so, then it's a dif­fer­ent sto­ry. Then in the dark at 11:00 pm I wor­ry when and if I'm ever going to fall asleep.
What's the bravest thing you've ever done?
What's the bravest thing I've ever done? Try to stab my father in the back with a scis­sor when he was attack­ing my moth­er.
Describe your favorite paja­mas ever.
Oh, yes, I remem­ber my fav PJ's. My moth­er worked at a cloth­ing store (Barton's) and got a dis­count on what­ev­er she bought. One day she brought home a pair of pink and char­coal gray dia­mond-pat­terned cot­ton PJ's. The dia­monds repeat­ed them­selves as in a Har­le­quin cos­tume. Each pink dia­mond had a tuft of gray in its cen­ter. But the pièce de resis­tance was the robe that matched it. Knee length. Big side pock­ets. Sleeves just past the elbow. Any paja­ma out­fit fea­tured in Sev­en­teen would be jeal­ous. The com­plete out­fit was a bit warm in the sum­mer in our non air-con­di­tioned, no-fan house, but I wore it any­way.
What TV show can't you turn off?
Cur­rent­ly, Down­ton Abbey is my favorite TV show. Don't call me at 8:00 p.m. Sun­days. When the clock's hand in the TV room edges toward 8:50, I think, "Oh, (exple­tive).It's almost over."
In what Olympic sport would you like to win a gold medal?
Slalom ski­ing has it all for me. First, it takes place in a beau­ti­ful land­scape. Sec­ond — or maybe first — the skiers are beau­ti­ful, schuss­ing down a moun­tain, sashay­ing this way and that through the gates, leav­ing a trail of pow­der spray. I'm amazed by the strength in their legs. I'm very sor­ry Lind­sey Vonn didn't make the world cham­pi­onship giant slalom finals this year. She has such grace and pow­er schuss­ing down a slope.