Author of the beloved Din­ner at the Pan­da Palace, Stephanie Cal­men­son has shared her love of lit­er­a­ture with ear­ly child­hood and ele­men­tary read­ers by chan­nel­ing her enthu­si­asm for their expe­ri­ences into her books.
Who was your favorite teacher in grades K‑7 and why?
I loved my kinder­garten teacher, Ms. Cogan, who taught with warmth and joy. Fast for­ward a cou­ple of decades and, inspired by Ms. Cogan, I'm teach­ing kinder­garten in that very same Brook­lyn class­room.
When did you first start read­ing books?
I was about four or five when I got hooked on the Lit­tle Gold­en Books edi­tion of Hei­di. I lis­tened to, recit­ed, and stud­ied that book until I was actu­al­ly read­ing it. I was even cap­ti­vat­ed by the copy­right page. (Clear­ly an author-in-the-mak­ing, I was thrilled when I got to write my own Lit­tle Gold­en Books.)
Your favorite day­dream?
When I was a kid, I dreamed of hav­ing a dog. In adult­hood, I made my dream come true as soon as I began work­ing at home.
My shag­gy dog Rosie became the star of Rosie, a Vis­it­ing Dog's Sto­ry. My dachs­hund Har­ry became the star of May I Pet Your Dog?
Din­ner par­ty at your favorite restau­rant with peo­ple liv­ing or dead: where is it and who's on the guest list?
No big din­ner par­ty for me, thanks. I'll be at Pop's Lun­cheonette on Flat­bush Avenue with Mau­rice Sendak. We'll be shar­ing Brook­lyn sto­ries while drink­ing egg creams.
What's your favorite part of start­ing a new project?
When the lan­guage meets the idea. It can be as sim­ple as a catchy title, or a few lines that sing to me.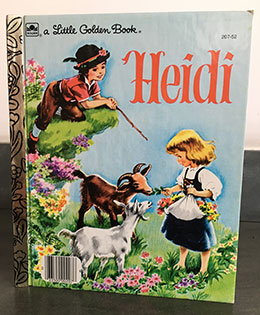 Your best mem­o­ry of your school library?
The libraries I've vis­it­ed as an author have replaced any mem­o­ry of my own school library. They're havens for kids, lov­ing­ly cre­at­ed by librar­i­ans who want noth­ing more than to assist and inspire.
Favorite fla­vor of ice cream?
Mint choco­late chip. No, wait — jamo­ca almond fudge. Okay, it's def­i­nite­ly green tea. Hold the cone! Choco­late fudge brown­ie!
Book on your bed­side table right now?
Thomas Man­n's The Mag­ic Moun­tain.
What's your hid­den tal­ent?
The hid­den tal­ent I wish I had is to sing well enough to fill a room.
Your favorite toy as a child …
My pink pup­py. I named her Hei­di, of course.
Why do you feel hope­ful for humankind?
It's a chal­lenge to feel hope­ful these days, but good peo­ple band­ing togeth­er and speak­ing out helps. As Dr. Seuss writes in The Lorax, "UNLESS some­one like YOU cares a whole awful lot, NOTHING is going to get bet­ter. It's NOT."