Per­fect Pairs: Using Fic­tion and Non­fic­tion Books to Teach Life Sci­ence, K‑2
Melis­sa Stew­art and Nan­cy Ches­ley
Sten­house Books, 2014
Authen­tic sci­ence always begins with a ques­tion, with a fleet­ing thought, with a curi­ous per­son. That curi­ous per­son has an idea, won­ders if it is valid, and then tries to find out. Because won­der­ing is at the heart of dis­cov­ery, each Per­fect Pairs les­son starts with a Won­der State­ment that we've care­ful­ly craft­ed to address one Next Gen­er­a­tion Sci­ence Stan­dards Per­for­mance Expec­ta­tion. It is fol­lowed by a Learn­ing Goal, which clear­ly spec­i­fies the new knowl­edge and essen­tial under­stand­ing stu­dents will gain from the les­son. Togeth­er, the Won­der State­ment, Learn­ing Goal, and fic­tion-non­fic­tion book pair launch stu­dents into a fun and mean­ing­ful inves­tiga­tive process. (Per­fect Pairs, pg. 8)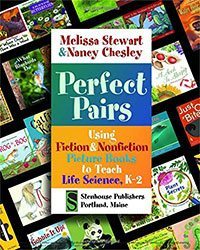 Melis­sa Stew­art, you and edu­ca­tor Nan­cy Ches­ley cre­at­ed Per­fect Pairs for teach­ers because you felt that children's lit­er­a­ture could be a fun and effec­tive start­ing point for teach­ing life sci­ence to stu­dents in grades K‑2.
In your intro­duc­tion, you state that "many ele­men­tary teach­ers do not have a strong sci­ence back­ground. Some even report being intim­i­dat­ed by their school's sci­ence cur­ricu­lum and feel ill-equipped to teach basic sci­ence con­cepts. Build­ing sci­ence lessons around children's books enables many ele­men­tary edu­ca­tors to approach sci­ence instruc­tion with greater con­fi­dence."
Why does this mat­ter to you?
Because stu­dents can tell when their teach­ers are com­fort­able and con­fi­dent, and when they're hav­ing fun. If a teacher has a pos­i­tive atti­tude, his or her stu­dents are more like­ly to stay engaged and embrace the con­tent.
So many adults are turned off by or even afraid of sci­ence. They say, "Oh, that's hard. That's not for me." But sci­ence is just the study of how our won­der­ful world works. It affects every­thing we do every day. I hope that Per­fect Pairs will help teach­ers and stu­dents to see that.
What type of sci­ence edu­ca­tion did you receive that pro­pels you to pro­vide this aid to edu­ca­tors?
I do have a degree in biol­o­gy, but my sci­ence edu­ca­tion real­ly began at home with my par­ents. My dad was an engi­neer and my mom worked in a med­ical lab­o­ra­to­ry. From a very young age, they helped me see that sci­ence is part of our lives every day.
As a children's book author, my goal is to share the beau­ty and won­der of the nat­ur­al world with young read­ers. Per­fect Pairs is an exten­sion of that mis­sion. Nan­cy and I have cre­at­ed a resource to help teach­ers bring that mes­sage to their stu­dents.
For each les­son, where did you start mak­ing your choic­es, with the top­ic, the fic­tion book, or the non­fic­tion book?
We began with the NGSS Per­for­mance Expec­ta­tions, which out­line the con­cepts and skills stu­dents are expect­ed to mas­ter at each grade lev­el. Each PE has three parts — a dis­ci­pli­nary core idea (the con­tent), a prac­tice (behav­iors young sci­en­tists should engage in, such as ask­ing ques­tions, devel­op­ing mod­els, plan­ning and car­ry­ing out inves­ti­ga­tions, con­struct­ing expla­na­tions, etc.), and a cross-cut­ting con­cept (pat­tern, cause and effect, struc­ture and func­tion, etc.) that bridges all areas of sci­ence and engi­neer­ing. Here's a sam­ple PE for kinder­garten: "Use obser­va­tions to describe [prac­tice] pat­terns [cross­cut­ting con­cept] of what plants and ani­mals (includ­ing humans) need to sur­vive. [DCI]"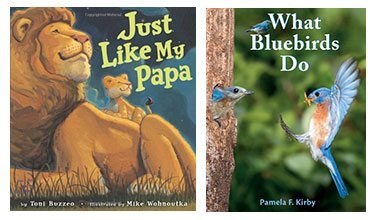 Next, we searched for fic­tion and non­fic­tion books that could be used to help stu­dents gain an under­stand­ing of the tar­get PE. The books became the heart of a care­ful­ly scaf­fold­ed les­son that ful­ly addressed the PE.
In Les­son 1.7, "How Young Ani­mals Are Like Their Par­ents," you paired Toni Buzzeo's fic­tion title Just Like My Papa with Pamela F. Kirby's non­fic­tion title, What Blue­birds Do. For this les­son, the Won­der State­ment is "I won­der how young ani­mals are like their par­ents." Your les­son focus­es on Inher­i­tance of Traits and Vari­a­tion of Traits, look­ing at sim­i­lar­i­ties and dif­fer­ences.
With each les­son, you pro­vide tips for les­son prepa­ra­tion, engag­ing stu­dents, explor­ing with stu­dents, and encour­ag­ing stu­dents to draw con­clu­sions. What process is this estab­lish­ing for teach­ers?
We hope that our three-step inves­tiga­tive process (engag­ing stu­dents, explor­ing with stu­dents, and encour­ag­ing stu­dents to draw con­clu­sions) is some­thing that teach­ers will inter­nal­ize and adopt as they devel­op more sci­ence lessons in the future. The first step focus­es on whet­ting stu­dents' appetites with a fun activ­i­ty or game. Dur­ing the sec­ond step, teach­ers read the books aloud and work with stu­dents to extract and orga­nize key con­tent from the fic­tion and non­fic­tion texts. Then, dur­ing the final step, stu­dents syn­the­size the infor­ma­tion from the books and do a fun minds-on activ­i­ty that involves the NGSS prac­tice asso­ci­at­ed with the PE. The prac­tices are impor­tant because research shows that chil­dren learn bet­ter when they actu­al­ly "do" sci­ence.
In many cas­es, you've not only pro­vid­ed ques­tions that teach­ers can ask their stu­dents, but you've includ­ed the answers. Is this the only pos­si­ble answer to the ques­tion?
In many cas­es, we've includ­ed answers to help the teacher learn the sci­ence before work­ing with his or her class. Many ele­men­tary teach­ers have a lim­it­ed sci­ence back­ground and need the sup­port we've pro­vid­ed.
Our answers may not be the only ones that stu­dents sug­gest, but they are the ones teach­ers should guide their class to con­sid­er because they devel­op stu­dent think­ing in the right direc­tion for the con­cepts we are tar­get­ing in that par­tic­u­lar les­son.
I appre­ci­ate the pho­tos and exam­ples and kids' draw­ings you've includ­ed through­out the book. How did you go about col­lect­ing these visu­als?
Nan­cy test­ed all the lessons in the book at Pow­nal Ele­men­tary School in Maine. She took the pho­tographs as she was work­ing with the stu­dents, and the stu­dent work in the book was cre­at­ed by those chil­dren. I love the pho­tos because you can tell that the chil­dren are real­ly enjoy­ing them­selves.
You pro­vide more than 70 repro­ducibles to accom­pa­ny the lessons in your book, from Won­der Jour­nal Labels to Read­ers' The­ater Script to sam­ple Data Tables to draw­ing tem­plates. How did you decide which items to pro­vide to teach­ers using your book?
Writ­ing can be a chal­lenge for K‑2 stu­dents. We cre­at­ed the Won­der Jour­nal Labels to min­i­mize the amount of writ­ing the chil­dren would have to do. The goal of the oth­er repro­ducibles was to help teach­ers as much as pos­si­ble and reduce their prep time. It was impor­tant to us to cre­ate lessons that were easy and inex­pen­sive to imple­ment.
To Melis­sa and Nan­cy, I express my grat­i­tude for thought­ful­ly prepar­ing this guide, Per­fect Pairs, that will make sci­ence lessons an approach­able part of les­son plan­ning. Thank you!