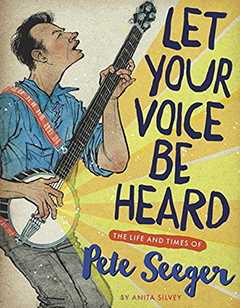 We're out of school today in obser­vance of Oaks Day here in our area. This morn­ing, Ani­ta Sil­vey, chil­dren's lit­er­a­ture expert and resource, remind­ed us on Face­book that Pete Seeger cel­e­brates a birth­day today. 100 years. I might not have known that with­out her post. How many of us would? How many of us would have known that Ani­ta Sil­vey has writ­ten one of the best non­fic­tion looks at Seeger's life and work?
Adam did.
And, as you will see, as luck might have it, I had Adam's project to share with you out in the van. Here is that project. As you will see in the pho­tos below, Adam's instal­la­tion is built like a stage that dis­plays a bro­ken-down ban­jo Adam found at the Ped­dler's Mall right before the project.
Adam had no aware­ness of Seeger or his music or his influ­ence on many of the artists Adam did know. When Adam was stuck in his sub­ject choice, we had just fin­ished watch­ing clips of Bruce Spring­steen's Broad­way show to inspire some writ­ing in Room 407. I thought that Pete Seeger would be a great sub­ject to tie into the idea of the theme of an Amer­i­can Creed and how music can be the lan­guage we use to express our per­son­al creed as Americans.
This is a moment that we might stop and remind our­selves that our stu­dents do not read 100% of the books and they do not write 100% of the pieces they might if we don't know about them, shelve and share them, and work these with stu­dents while they are in our build­ings. I had Sil­vey's book in the room as well as oth­er resources you see in Adam's Anno­tat­ed Bib­li­og­ra­phy. I had Seeger CDs at the ready or I would not have made a rec­om­men­da­tion to him to pur­sue the project.
Watch as Adam lists his Table of Con­tents right after the orig­i­nal tracks on this album set (and that his project is tucked inside of a vin­tage boxed record set). His review of Sil­vey's book (post­ed to Ama­zon) is also includ­ed with­in the project. A lit­tle book­let is tucked inside of the project that serves like "Lin­er Notes" for the project.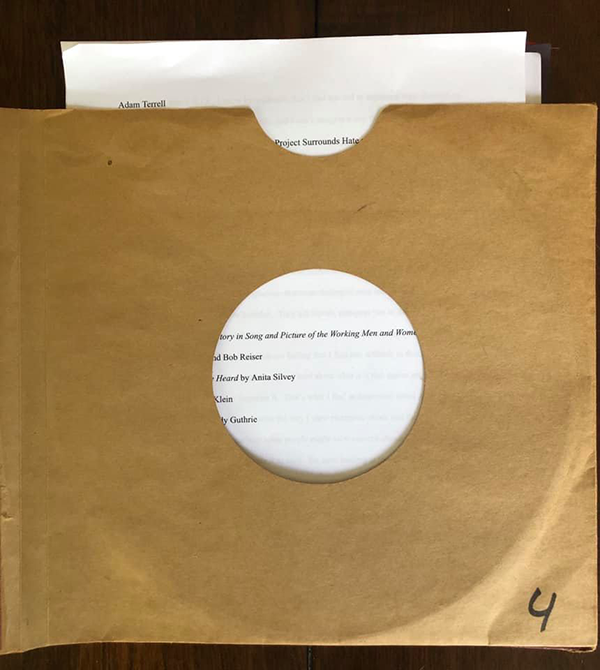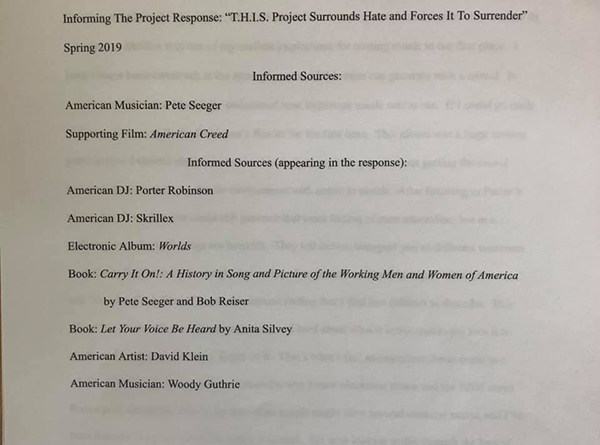 I sim­ply love the earnest­ness of this project as it is pre­sent­ed. Adam nar­rates the "turns" in the project as well as how it all comes togeth­er in the end. Adam has (and he will not mind or push back against this) been a lit­tle late on some of the pieces along the way. All I want­ed for him this spring is that a project could come in that reflect­ed his love for music. All I want­ed for Adam was to take a deep­er look at the roots of the music he lis­tens to today. That's what I want­ed. And Adam deliv­ers here.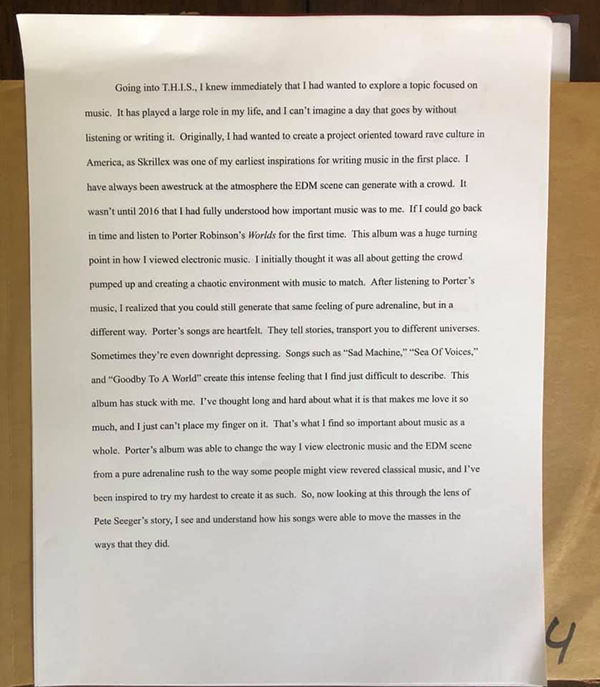 As a side note, Adam's project caught the eye of senior, Calvin, and he want­ed to know more about the ban­jo Adam had found (Calvin is a pick­er). This led to an IRP (study hall) con­ver­sa­tion between two stu­dents who might not oth­er­wise had an oppor­tu­ni­ty to share an inter­est in the instru­ment and the music.
It is a joy to share Adam's project with you today on Seeger's birthday.