by Mar­sha Qua­ley
Here in the upper Mid­west most of us are wait­ing for the oth­er shoe to drop. We've had a hint of win­ter, and we all sus­pect the real thing will arrive soon. Mean­while, the land­scape is brown, with the occa­sion­al flash of col­or from hol­i­day trim­mings, birds, blaze orange out­er­wear.
The Nation­al Book Awards were bestowed last month at what's prob­a­bly the fan­ci­est book event in the U.S. While the book award sea­son is now on hold until Jan­u­ary, the end of year "best" or "best bets for gifts" list­ing is in full swing. These com­mer­cial lists have a lot in com­mon with those announced in con­junc­tion with an award: They're all about the new books.
From its incep­tion, Bookol­o­gy has not been about new books. Yes, a num­ber of our Book­storm™ books have been new releas­es, but month-to-month we aim our focus on and use our plat­form to her­ald the vast cat­a­logue of books pub­lished in pre­vi­ous years. The per­fect book to place in the hand of a young read­er might not be the one gen­er­at­ing all the cur­rent buzz, and that's why so many titles in our columns and 'storms and Quirky Book lists have a few miles on them and deserve to be talked about once again.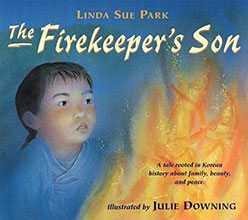 Our Book­storm™ book this month is The Firekeeper's Son by New­bery medal­ist Lin­da Sue Park. A pic­ture book set in 19th cen­tu­ry Korea, it's the sto­ry of a boy who is sud­den­ly swept away from play­time with his toy sol­diers and chal­lenged to "step up" when his father is injured.
We'll have inter­views with both Lin­da Sue Park and, lat­er this month, the illus­tra­tor, Julie Down­ing. Also com­ing soon: a Quirky list and an end-of-year slide show hon­or­ing the children's book cre­ators who have died this year. And of course we'll have the usu­al columns from the bookol­o­gists and authors who show up reg­u­lar­ly in Bookol­o­gy. Today: author Eliz­a­beth Fixmer shares how children's books deep­ened her work as a psy­chother­a­pist.
Thanks for vis­it­ing Bookol­o­gy.