by Melanie Heuser Hill
My deal­er (in books, my drug of choice) and I have a spe­cial rela­tion­ship. I send her emails of books I'd like to have as I have a need, and she gets them for me. I know that doesn't sounds all that spe­cial, but because she keeps a run­ning tab for me and because I'm usu­al­ly not in a hur­ry, I some­times for­get what I've ordered by the time we meet on the street cor­ner for the hand-off.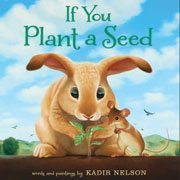 Such was the case with If You Plant a Seed by Kadir Nel­son. Undoubt­ed­ly, I'd read a review sug­gest­ing I'd love this book — due to bud­get con­straints, I don't usu­al­ly put in an order unless I'm sure I want it on my shelves. Per­haps I'd sim­ply seen the cov­er — Nelson's art­work often makes my heart go pit­ter-pat, and this cov­er with its lop-eared bun­ny and mouse anx­ious­ly watch­ing a small seedling … well. It must be the gar­den­er in me.
But I'd for­got­ten I'd ordered it, and so when it came, it came as a delight­ful sur­prise. I sat down this morn­ing to read it and two things hap­pened. First, I found myself quite verklempt. Then, I went and stood on my front porch and looked up and down the street hop­ing I'd see some kids. I sat down in the rock­ing chair to wait. That's how deter­mined I was to read it to a child — imme­di­ate­ly, if not soon­er. Sit with book and they will come, I told myself.
Alas, even­tu­al­ly I had to track down my niece who lives around the cor­ner. But she was more than will­ing to have a read with me as soon as I showed her the cov­er — they cur­rent­ly have a bit of a bun­ny and mouse obses­sion going at their house this spring.
Eighty words. That's all the book has. Eighty words! But of course Nel­son is a fine artist and much of the sto­ry is told in the art. Three seeds are plant­ed. A toma­to plant, car­rot, and cab­bage grow after time and a lit­tle love and care. The bun­ny and mouse dance their joy in the gar­den and set­tle in for a feast.
Five birds arrive — a crow, a pigeon, a blue jay, a car­di­nal, and a nuthatch/sparrow. (Please note: I am not an ornithol­o­gist — I can­not pos­i­tive­ly iden­ti­fy the nuthatch/sparrow, but I think I have the oth­er ones right.) They look at the bun­ny and mouse with a sort of "Whatcha-doin'?" kin­da look. You turn the page and they are look­ing at you with "Well-are-ya-gonna-share?" kind of look.
The book goes on to explore (in less than eighty words and in beau­ti­ful art — a true pic­ture book!) what hap­pens if you plant a seed of selfishness…and what hap­pens if you plant a seed of kind­ness. The read­er is allowed to see the "har­vest" of both.
This is a "qui­et book." Each spread is made to be savored, time must be allowed for look­ing at all the details and absorb­ing the sto­ry and the emo­tions. The title might make you think it will have the rol­lick­ing fun of the Lau­ra Numeroff's If You Give a Mouse/Pig/Moose a Cookie/Pancake/Muffin books. But it's noth­ing like that. If You Plant A Seed is about the ban­quet of joy that feeds and delights all when a small seed of kind­ness is plant­ed. There's no moral — nobody screech­es out the les­son at the end in a Lit­tle Red Hen voice — but the last spread illus­trates the point well.
Find this book, if you haven't already. Find a kid, or a whole group of them. Read it. Then go out and plant some seeds — toma­toes, car­rots, cab­bage… and/or love, joy and gen­eros­i­ty of spir­it.