What a plea­sure it is each year to dis­cov­er which books the Jane Addams Peace Asso­ci­a­tion has cho­sen to hon­or. Since 1953, the Jane Addams Chil­dren's Book Award annu­al­ly acknowl­edges books meet­ing stan­dards of lit­er­ary and artis­tic excel­lence, pub­lished in the U.S., with themes or top­ics that engage chil­dren in think­ing about peace, jus­tice, world com­mu­ni­ty, and/or equal­i­ty of the sex­es and all races.
Win­ner, Books for Younger Chil­dren: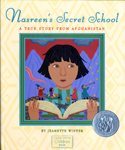 Nasreen's Secret School: A True Sto­ry from Afghanistan, writ­ten and illus­trat­ed by Jeanette Win­ter (Beach Lane Books/Simon & Schus­ter). Nasreen's par­ents are gone, her father tak­en one night by sol­diers, her moth­er lost on her search to find him. Now liv­ing with only her grand­moth­er, Nas­reen stays inside her­self, silent with trau­ma. Whis­pers about a for­bid­den school reach her grand­moth­er who, with stealth, brav­ery and hope, brings Nas­reen to the secret school hid­den in the home of an equal­ly-brave woman, a teacher of girls. Framed styl­ized paint­ings in hues that sym­bol­i­cal­ly reflect the path of Nasreen's heal­ing extend the sto­ry told in the plain, heart­felt voice of her grand­moth­er. The pow­er of edu­ca­tion and resis­tance stand out in this all-too-true con­tem­po­rary tale of the human toll exact­ed by war and the oppres­sion of women. We were for­tu­nate enough to hear Ms. Win­ter read this out loud … it is an inspi­ra­tional book.
Hon­or Books, Younger Chil­dren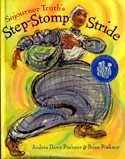 Sojourn­er Truth's Step-Stomp Stride, by Andrea Davis Pinkney & Bri­an Pinkney (Dis­ney-Jump at the Sun Books). Born a slave in upstate New York, Sojourn­er Truth, an icon­ic fig­ure in the abo­li­tion­ist and woman's suf­frage move­ments, was "Meant for speak­ing. Meant for preach­ing. Meant for teach­ing about freedom." Told with punch and vig­or, this ener­getic pic­ture book biog­ra­phy march­es along with Truth as she frees her­self from bondage and ulti­mate­ly deliv­ers her leg­endary women's rights speech to a church filled with white men in 1851. Short sto­ry­teller-style sen­tences punc­tu­at­ed with excla­ma­tion points and mean­ing­ful cap­i­tal­iza­tions evoke Truth's spir­it and force. Illus­tra­tions in a palette of yel­lows alive with whirling lines keep the momen­tum, ener­gy, sor­row, seri­ous­ness and fer­vor of Sojourn­er Truth's unwa­ver­ing quest for social jus­tice front and cen­ter in an orig­i­nal ren­der­ing of this remark­able woman's life.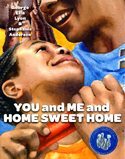 You and Me and Home Sweet Home by George Ella Lyon and Stephanie Ander­son (Richard Jack­son Book/Atheneum Books). Sharon­da and her moth­er have been liv­ing in the back room of Aunt Janey's apart­ment for more than a year now. When the pair's church fam­i­ly declare that they are going to build them a house of their own, Sharon­da responds: "Right … Like I'm going to tap dance on the moon." Nur­tured by Diane, the wise head of house con­struc­tion, Sharon­da ben­e­fits from shared work and a sense of com­mu­ni­ty. Poet­ic text writ­ten in Sharonda's voice cap­tures the girl's shift­ing emo­tions dur­ing the house-build­ing process. Illus­tra­tions from many per­spec­tives rein­force Sharonda's growth in a blend of soft, pri­ma­ry and sec­ondary col­ors held togeth­er by the brown tones depict­ing the African-Amer­i­can pro­tag­o­nist, her moth­er, the church fam­i­ly and the larg­er com­mu­ni­ty.
Win­ner, Books for Old­er Chil­dren

March­ing for Free­dom: Walk Togeth­er, Chil­dren, and Don't You Grow Weary, Eliz­a­beth Par­tridge (Viking), is a breath­tak­ing trib­ute to the coura­geous, pas­sion­ate African-Amer­i­can chil­dren who demand­ed vot­ing rights through non­vi­o­lent action in the his­toric 1963 March from Sel­ma to Mont­gomery. Riv­et­ing chronol­o­gy, stun­ning pho­tographs, and telling details from oral his­to­ry inter­views recre­ate the children's anger, ter­ror, sol­i­dar­i­ty and pur­pose moment-by-moment. This pal­pa­ble sense of imme­di­a­cy crys­tal­lizes the com­mit­ment of young peo­ple who act­ed on behalf of human rights when they were most fright­ened and "the end" was unclear and out of sight. Vital and force­ful, this tes­ta­ment to the pow­er of youth and
col­lec­tive non­vi­o­lent action inspires activism by delv­ing deeply into the heart of a piv­otal moment in the his­to­ry of youth and civ­il rights in the Unit­ed States.
Hon­or Books, Old­er Chil­dren

Almost Astro­nauts: 13 Women Who Dared to Dream by Tanya Lee Stone (Can­dlewick Press). Fifty years ago, in the midst of the race into space, thir­teen women pilots per­formed con­sis­tent­ly bet­ter than men on the bat­tery of psy­cho­log­i­cal and phys­i­cal tests required to become astronauts—and did not become astro­nauts. The spir­it, resilience and deter­mi­na­tion of this group of women, now called the Mer­cury 13, infuse this grip­ping, well-researched chron­i­cle of overt and insti­tu­tion­al­ized sex­ism. Framed by the launch of the space shut­tle Colum­bia in 1999, the first space shut­tle com­mand­ed by a woman, this heart­break­ing sto­ry of untapped tal­ent and lost dreams empha­sizes that no effort on behalf of human rights is lost; indeed, each move­ment toward equal­i­ty helps the next one along.

Claudette Colvin, by Phillip Hoose (Melanie Kroupa Books/Farrar Straus Giroux). A biog­ra­phy of Claudette Colvin, a teen-ager whose ener­gy, dri­ve, intel­li­gence and thirst for jus­tice pushed her to put her­self on the line not once, but twice, in the bat­tle for African-Amer­i­can civ­il rights. On her own, Colvin chal­lenged Mont­gomery, Alaba­ma, bus seg­re­ga­tion laws through civ­il dis­obe­di­ence months pri­or to the chal­lenge that tripped the mas­sive 1955 boy­cott. And, with char­ac­ter­is­tic deter­mi­na­tion, she chal­lenged them again through the courts as a plain­tiff in the Fed­er­al class action suit that ruled bus seg­re­ga­tion laws uncon­sti­tu­tion­al. Intri­cate his­to­ry of the peri­od based in impec­ca­ble research blends smooth­ly with Colvin's own words and adult reflec­tions on her life and actions. This sub­stan­tive pho­to-biog­ra­phy explores both the effects of Colvin's activism on civ­il rights and the effects of the civ­il rights move­ment on her life.
For addi­tion­al infor­ma­tion about the Jane Addams Children's Book Awards and a com­plete list of books hon­ored since 1953, vis­it their web­site.