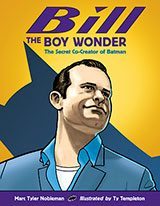 I enjoy so many types of books, mar­veling that a writer or com­ic artist or archi­tect or jour­nal­ist or cook or explor­er thought long and stud­ied hard and wrote and revised and gave count­less hours to the cre­ation of their book. After all, how do you count the hours a book's author spends dream­ing, observ­ing, and con­vers­ing before the book heads into print pro­duc­tion?
I like to imag­ine that you, the read­er or teacher or librar­i­an or par­ent, con­sid­ers the life out­side the book, too. The bare­ly ref­er­enced fact. The char­ac­ters on the periph­ery. The his­to­ry that led up to the book. For many rea­sons, these things can't be includ­ed in a book and yet … they are the blood cours­ing through a book's veins. They give me the sat­is­fac­tion of won­der­ing, research­ing, reach­ing out to answer all the ques­tions that rise up from a book like mos­qui­toes from dis­turbed grass.
Some­times a book comes along that is writ­ten for a mis­sion, some­thing the author believes in so strong­ly that the mis­sion hov­ers above the page pro­vid­ing tex­ture, nuance, and a bridge to an unfa­mil­iar cul­ture.
When I read Bill the Boy Won­der: the secret cre­ator of Bat­man, I was trans­port­ed to the comics cul­ture. These are peo­ple deeply immersed in the cre­ators of the comics, the inven­tive brains, impec­ca­bly detailed art, the appre­ci­a­tion of cre­at­ing oth­er worlds we can inhab­it ver­bal­ly and visu­al­ly. Marc Tyler Noble­man wrote and Ty Tem­ple­ton illus­trat­ed this book that eas­i­ly trans­ports the read­er to the comics cul­ture, a sto­ry of how things were done in the 1930s and how a man's char­ac­ter shaped what we know of his­to­ry. It's the true sto­ry of Mil­ton Fin­ger, who wished to be known as Bill, who con­ceived of and wrote the orig­i­nal Bat­man sto­ries. For years, Bob Kane was list­ed as the sole cre­ator on the com­ic books and his con­tract stip­u­lat­ed that it would always remain that way … and it has. It's evi­dent that Noble­man has a mis­sion, a pas­sion, a need to let it be known that Bill Fin­ger was the man behind one of our most endur­ing fic­tion­al char­ac­ters.
Beside the fact that this book is about Bat­man and its pages are drawn in a style so rem­i­nis­cent of the super­hero comics, this book is about copy­right and attri­bu­tion and acknowl­edge­ment, some­thing we all try to teach in our class­rooms. While the inter­net makes it so easy to pil­fer some­one else's work and not give them cred­it, Bill the Boy Won­der delves into the effects that has on one man's life. It's easy to extrap­o­late how it might affect oth­ers. An exten­sive bib­li­og­ra­phy and author's notes are just as inter­est­ing to read as the nar­ra­tive. Noble­man describes his research, show­ing that he's just as much a detec­tive as Bruce Wayne.
Tem­ple­ton's illus­tra­tions pro­vide a great deal of detail that will irre­sistibly piqué the curios­i­ty of any­one who wants to know more about the hey­day of comics. And they're prac­ti­cal­ly a primer on how to draw effec­tive­ly and com­mu­ni­cate infor­ma­tion in this style.
In his acknowl­edge­ments, Noble­man cred­its Charles­bridge, his pub­lish­er, with being "brave and bold all." I don't think of this pub­lish­er as mak­ing this type of cre­ative book, but it's cer­tain­ly a worth­while depar­ture. High school and mid­dle grade class­rooms will val­ue this book for its read­abil­i­ty and its dis­cus­sion-gen­er­at­ing pos­si­bil­i­ties. It's a good exam­ple of biog­ra­phy and a jump­ing-off point for talk­ing about fic­tion ver­sus non­fic­tion.