My explo­ration began when a young man, aged 7, rec­om­mend­ed that I read Ship­wrecked! the True Adven­tures of a Japan­ese Boy (Rho­da Blum­berg, Harper­Collins, 2001). The title sprang imme­di­ate­ly to his mind when I asked him what he'd read late­ly that was good.
Find­ing a copy, I opened it and began read­ing, real­iz­ing that this was a well-writ­ten account of a real-life boy in 1841 who sur­vived a calami­ty. I put it aside, know­ing I'd want to read it when I could savor every detail.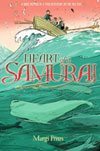 Then Mar­gi Preus, a CLN mem­ber, wrote Heart of a Samu­rai (Amulet, August 2010). It's a fic­tion­al­ized ver­sion of the same sto­ry about Man­jiro, a Japan­ese boy who is the sole sup­port for his fam­i­ly, fish­ing with a crew for sus­te­nance and hav­ing their ship destroyed in a whop­per of a storm, swim­ming fran­ti­cal­ly to a bar­ren island that can't sus­tain them for long. At 14, Man­jiro is resource­ful, but it isn't until the crew is picked up by an Amer­i­can whal­ing ship that we under­stand just how curi­ous and bright he is. At a time in Japan­ese his­to­ry when their iso­la­tion­ism was severe and peo­ple who tried to trav­el into or leave the coun­try were killed, it is pos­si­ble that Man­jiro was the first Japan­ese per­son to live in Amer­i­ca … and he cer­tain­ly brought knowl­edge of Amer­i­ca back to Japan.
The nov­el-length ver­sion of the sto­ry will find favor with a vari­ety of read­ers. Those who like fic­tion will appre­ci­ate Preus' paint­ing of Man­jiro as a ten­der-heart­ed, care­ful boy who can stand up for him­self in a fight yet is filled with won­der over the many new expe­ri­ences he encoun­ters. Those who want to read only real-life sto­ries will find the nar­ra­tive solid­ly based in well-researched fact with draw­ings by Man­jiro from more than 150 years ago. Those who like swash­buck­ling adven­ture will enjoy the rough-and-tum­ble world in which Man­jiro finds him­self, espe­cial­ly the vivid descrip­tions of whal­ing and sail­ing on a ship for three years. For the read­er who likes descrip­tive details, a touch of romance, and flu­id dia­logue, Preus achieves a good bal­ance.
Teach­ers will appre­ci­ate the book for its par­al­lels to today's immi­grant expe­ri­ence. Man­jiro, renamed John Mung by his crew­mates, is not uni­ver­sal­ly accept­ed into the New Bed­ford com­mu­ni­ty to which he sails with Cap­tain Whit­field, his sur­ro­gate father. Here, Preus' paint­brush finds the right tone, with sol­id friends sup­port­ing Man­jiro in his pur­suit of a life he nev­er could have had in Japan. In that way, it's also a book for those who take heart from the lift­ed-by-his-boot­straps sto­ry … we all want to believe we can cre­ate a bet­ter life for our­selves.

Man­jiro (Emi­ly Arnold McCul­ly, Far­rar, Straus & Giroux, 2008) is the sto­ry told in a non-fic­tion pic­ture book form. How inter­est­ing to com­pare Ms. McCul­ly's real­is­tic water­col­or paint­ings to the art­work with­in both Heart of a Samu­rai and Ship­wrecked! much of which is tak­en from archives and his­tor­i­cal doc­u­ments. Com­par­ing West­ern art to Japan­ese art would cre­ate a fas­ci­nat­ing look at both cul­tures, lead­ing to sev­er­al good dis­cus­sions about form, sym­bol­ism, method, and the regard for art.

Ship­wrecked! does an admirable job of plac­ing Man­jiro in his time and help­ing us under­stand two cul­tures that are very dif­fer­ent than our own: the whal­ing cul­ture of Mass­a­chu­setts and the strict iso­la­tion­ist cul­ture of Japan. It would be inter­est­ing to note how a non­fic­tion writer can inter­rupt the flow of a nar­ra­tive to present far more detailed infor­ma­tion than a fic­tion author can. Blum­berg includes a descrip­tive chap­ter about Man­jiro's time spent work­ing in the gold fields in Cal­i­for­nia, as well as Man­jiro's role in open­ing Japan to the world when Com­modore Matthew Per­ry demand­ed that Amer­i­ca be allowed to trade in the islands.
Teachable Aspects
These three books pro­vide an ide­al means for teach­ing the dif­fer­ence between fic­tion and non­fic­tion. In the midst of TV's real­i­ty shows, video games, and news media that blurs the lines between fic­tion and fact, many schools incor­po­rate teach­ing this skill set into their cur­ricu­lum. Heart of a Samu­rai could be read out loud to the class and stu­dents could exam­ine the oth­er resources, includ­ing Ship­wrecked! and Man­jiro, as well as a num­ber of online resources. For those near Fairhaven, Mass­a­chu­setts, a three-sto­ry home has been pre­served as a memo­r­i­al to Man­jiro and Cap­tain Whit­field.
So, to my 7‑year-old friend, thanks for the tip about Ship­wrecked! I appre­ci­ate the read­ing path it opened for me.
An excerpt from Heart of a Samurai

Mar­gi Preus is a lyri­cal writer, pos­si­bly from her deep expe­ri­ence as an actress and stand-up come­di­an. This pas­sage from her new book is one of my favorites (p. 272):

"Long after all the oth­ers had gone to bed, Man­jiro stood at the door of the hut. The moon made a path of light lead­ing to the ocean and beyond — per­haps all the way to Amer­i­ca. It looked as if he could walk there, on that path of light.

"It was so still that he could hear the rush of waves on the beach; the solemn hoot of an owl rolled down the moun­tain­side. Beyond that was a deep and ancient silence, as old as these hills.

"It was hard to imag­ine any­thing chang­ing this remote vil­lage, but the wind of change was blow­ing, and Japan would be swept along by it one way or anoth­er. She, his beloved coun­try, had spent hun­dreds of years liv­ing from full moon to full moon while the West had sped ahead in sci­ence, inven­tion, trans­porta­tion, nav­i­ga­tion, and most omi­nous­ly, mil­i­tary strength. There were hun­dreds of ways Japan would ben­e­fit from the com­ing changes. And hun­dreds of ways she would not."