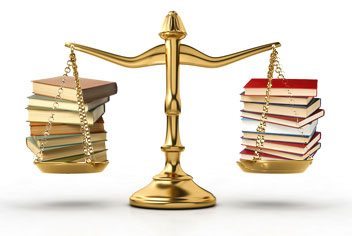 Non­fic­tion is get­ting a rock­et lift-off into the con­scious­ness of edu­ca­tors … and pub­lish­ers … through­out the Unit­ed States. Why? The Com­mon Core State Stan­dards require that non­fic­tion text is includ­ed in the class­room. I, of course, am cheer­ing over this. I haven't put the list of books I've read on a scale, non­fic­tion on one side and fic­tion on the oth­er, but I sus­pect the two sides would weigh up equal­ly. I was the kid who would read any­thing that had a cov­er on it: com­ic books, mag­a­zines, books, maps, work­books, col­or­ing books (yes, I read them before I col­ored in them). I've been a relent­less Seek­er of Sto­ry, some­thing every read­er can become with the right books. And, although I love a good book of fic­tion, there's some­thing deli­cious about know­ing that I'm read­ing some­thing real in non­fic­tion.
I know the CCS and some peo­ple are han­ker­ing for us to call these books "infor­ma­tion­al text," but does­n't that sound dead­ly dull and dry? Non­fic­tion isn't much bet­ter, but at least it's neu­tral. Good non­fic­tion is far, far more than infor­ma­tion­al text. It's inspi­ra­tional, cap­ti­vat­ing, and adds tex­ture to our sense of the way the world was, is, and could be.
I've spent the last sev­er­al days read­ing a book that will be in my mind for months and years to come. No Crys­tal Stair: a doc­u­men­tary nov­el of the life and work of Lewis Michaux, Harlem book­seller by Vaun­da Michaux Nel­son, illus­trat­ed by R. Gre­go­ry Christie, and pub­lished by Carolrhoda/Lerner, is all that good non­fic­tion can be.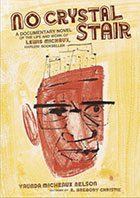 Before we get too far down the road of laud­ing this as non­fic­tion, I quote from About the Author at the end of the book, "To write No Crys­tal Stair, Vaun­da spent years research­ing Lewis Michaux's life. She con­duct­ed inter­views, sift­ed through library col­lec­tions, exam­ined fam­i­ly archives, and inter­viewed those who knew Michaux. In the end, though, the man's full sto­ry (and even his date of birth) remained elu­sive. Only the tools of fic­tion could make a com­plete por­trait." That's right, it's a NOVEL. Even says so in the sub­ti­tle.
Then why am I think­ing of it as non­fic­tion? I've filled in many unfath­omable holes in my knowl­edge of Amer­i­can his­to­ry by read­ing this book. Ms. Nel­son choos­es the sto­ry of her great-uncle to con­vey the pas­sion and yearn­ing behind the Civ­il Rights Move­ment. This is no dry book of infor­ma­tion­al text. In short vignettes, short enough to intrigue a reluc­tant teen read­er, we learn about the Michaux broth­ers, Lewis Hen­ry and Light­foot Solomon. One was a gam­bler and carouser who grew up to be a book­seller and inspi­ra­tion for peo­ple who changed the world. The oth­er was a reli­gious evan­ge­list who found­ed the Church of God in New­port News, Vir­ginia, mov­ing in the same cir­cles as Franklin Delano Roo­sevelt, Dwight Eisen­how­er, and J. Edgar Hoover. There were oth­er broth­ers and sis­ters, but the book focus­es on the lives of these two. At odds through­out their lives, they still found room for respect and love. (Polit­i­cal play­ers, take note.)
Lewis Hen­ry Michaux, also known as The Pro­fes­sor, did­n't attend col­lege. After drift­ing rest­less­ly from job to job, gam­bling, being thought of as unre­li­able, Lewis is inspired by read­ing. He is moved by Fred­er­ick Dou­glass and Mar­cus Gar­vey. In 1919, Gar­vey advo­cat­ed that Negroes should return to Africa, tak­ing up pro­duc­tive lives in their for­mer home­lands. Lewis did­n't feel that was quite right, but his read­ing made him think about the pow­er of the intel­lect, that read­ing could lift you up out of your cir­cum­stances.
Lewis took an idea to a banker. He want­ed a loan for the start-up cap­i­tal to open a book­store for black peo­ple. The banker told him "Negro peo­ple don't read." Undaunt­ed, Lewis took five books, a build­ing, and $100 he bor­rowed from Light­foot to open the Nation­al Memo­r­i­al African Book­store in 1939 in the cen­ter of Harlem, New York. It was a book­store that sold books about black lives and peo­ple writ­ten by black authors and poets.
Through Lewis eyes, as well as a cast of char­ac­ters who drop into the book­store or touch on Lewis' life, we meet Mal­colm X, Muham­mad Ali, Mar­tin Luther King, and Eldridge Cleaver. The read­er, no mat­ter the col­or of their skin, will under­stand the pas­sion and the intel­lect behind the Civ­il Rights Move­ment in a tan­gi­ble, mem­o­rable way.
There are pho­tos and arti­facts that have been in the Michaux fam­i­ly's archives, news­pa­per arti­cles, reports from the Fed­er­al Bureau of Inves­ti­ga­tion, poems. The back mat­ter includes a fam­i­ly tree, source notes, a bib­li­og­ra­phy, per­mis­sions, fur­ther read­ing, and sev­er­al author's notes. I read every word in the book.
It is a nov­el because the writ­ing that weaves the sto­ry is not tak­en direct­ly from print­ed mat­ter or audio records. It is a nov­el because it has a sto­ry arc and pro­gres­sion that are not often present in the messy veins of life. But the source notes doc­u­ment con­ver­sa­tions, inter­views, news­pa­per and mag­a­zine arti­cles, and books from which the writ­ing was adapt­ed. This is non­fic­tion the way much of our lives are remem­bered from bits, pieces, jour­nals, items from the box­es of stuff we hang onto … the mem­o­ries we wrap around our­selves that tell the sto­ry of our lives.
I am grate­ful to Vaun­da Michaux Nel­son for shar­ing this part of her fam­i­ly's sto­ry with us. I will always car­ry it with me.