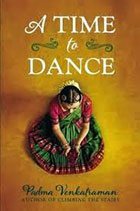 A Time to Dance
Pad­ma Venka­tra­man
Nan­cy Paulsen Books / Pen­guin Put­nam
Dis­claimer: I'm a fan of Pad­ma Venkatraman's books. Each one has charmed me. I know I can always expect a read­ing expe­ri­ence unlike any I've had before. Her new book does not dis­ap­point.
In A Time to Dance, teenaged Veda has already ded­i­cat­ed her life to dance, much to her mother's frus­tra­tion. Her moth­er expects that Veda will study hard, become an engi­neer, make a good liv­ing for her­self, and nev­er wor­ry about mon­ey again. With her father and grandmother's sup­port, Veda stud­ies Bharatanatyam dance, com­pet­ing and receiv­ing adu­la­tion when she wins. Her sat­is­fac­tion is short-lived. A hor­rif­ic acci­dent takes the low­er part of her right leg and dance is seem­ing­ly a part of her past.
Not so fast. The book real­is­ti­cal­ly por­trays Veda's grief, ter­ror, and anger over the loss of a limb. A young doc­tor is deter­mined to fit her with a pros­thet­ic leg that will enable her to dance once again. Veda is equal­ly deter­mined to do just that, even though the Bharatanatyam dance form is com­pli­cat­ed and demand­ing and her goals seem impos­si­ble to achieve.
It's a book about many things: faith, friend­ship, fam­i­ly, young love, strength of con­vic­tion, feel­ings that roller­coast­er real­is­ti­cal­ly from despair to leap­ing joy. The sen­so­ry details pulled me deeply into the sto­ry as only a mas­ter sto­ry­teller can. A Time to Dance is set in India and Shi­va is at the cen­ter of Veda's faith. By accom­pa­ny­ing Veda on her jour­ney, we can't help but look at our own beliefs, our strengths, the areas in which we can make high­er leaps, learn­ing to bring the audi­ence in our lives to tears because we have expressed under­stand­ing and com­pas­sion.
As with all of Ms. Venkatraman's books, I closed the cov­ers reluc­tant­ly, know­ing that A Time to Dance is a book that has become a part of me, one I will always remem­ber.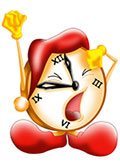 (Note: My review of this book is based on an Advanced Read­ers Copy I received from the pub­lish­er.)