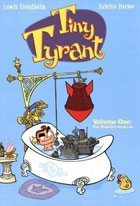 Read­ing my way in delight through the First : Sec­ond graph­ic nov­els has been a treat. I love a good mys­tery, adven­ture, thriller, romance, rib-tick­ler … and I've found all this and more in graph­ic nov­el form with this imprint.
First up, the rib-tick­ler. That would come in the form of pint-sized, impe­ri­ous monarch, Ethel­bert (in Eng­lish) or Adal­bert (in French), the star of Tiny Tyrant, vol­umes 1 and 2. I don't ordi­nar­i­ly laugh out loud while I'm read­ing, but this Ethel­bert is spoiled, yes, out­ra­geous, oui, but he fre­quent­ly gets his come­up­pance and the sly, droll wit of the sup­port­ing cast is incred­i­ble.
Each vol­ume con­tains six short sto­ries. In vol­ume two, A Lucky Win­ner, the chef in "A Sur­prise Vis­it" is harassed by this fussy boy-king who demands a twen­ty-times-his-size banana split … and takes one bite. The chef gen­tly chides Ethel­bert for being waste­ful and the king dis­miss­es his remon­strance. The chef, how­ev­er, gets even in a most fit­ting way.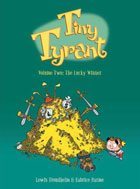 Ethel­bert pass­es a new law when­ev­er he wants his own way (haven't you wished for that pow­er?) and tests his min­ions in unfair com­pe­ti­tion. He vies for the hand of Princess Hilde­gar­di­na with his cousin Sigis­mund and reg­u­lar­ly tries the patience of the cit­i­zens of Por­tocristo. What will he think up next?
Stu­dents will find the illus­tra­tions by Fab­rice Parme to be intri­cate, full of detail … and just right for inspir­ing their own car­toon­ing. Facial expres­sions, com­po­si­tion, focal points … each frame is a minia­ture paint­ing. And the let­ter­ing is par­tic­u­lar­ly clean and easy to read. These vol­umes will moti­vate some of your reluc­tant read­ers because they're so fun­ny and visu­al­ly appeal­ing.
Pub­lished in France as Le Roi Cat­a­stro­phe, the author's pseu­do­nym is Lewis Trond­heim (in real life, Lau­rent Cha­bosy). From Wikipedia, "In 2006, Trond­heim was award­ed the Grand Prix de la ville d'An­goulême at the Angoulême Inter­na­tion­al Comics Fes­ti­val, arguably the most pres­ti­gious award in the field." Trond­heim has authored numer­ous comics, a good num­ber of which have become tele­vi­sion car­toons. The episod­ic nature of Tiny Tyrant would fit the medi­um well, but as yet his zany adven­tures have not been tele­vised. Take a look at his web­site, which says that M. Parme and M. Trond­heim are work­ing on vol­ume 3.
You can pre­view the two Tiny Tyrant vol­umes in Google Book.
Look for more rec­om­men­da­tions soon about graph­ic nov­els from First : Sec­ond. I'm eager to share the trea­sures I've found.