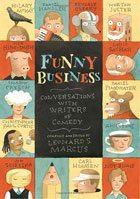 In Leonard Mar­cus' inter­view with author Bev­er­ly Cleary, which you'll find while read­ing one of this mon­th's Chap­ter & Verse Book Club selec­tions, Fun­ny Busi­ness: Con­ver­sa­tions with Writ­ers of Com­e­dy, she pass­es along a won­der­ful tip for prompt­ing kids (and oth­ers) to write.
Q: In the Ramona books, Beezus wor­ries about not hav­ing enough imagination.
A: Many chil­dren feel that way. I ques­tion teach­ers who expect chil­dren to write sto­ries. I get des­per­ate let­ters from chil­dren say­ing, "I can start a sto­ry but I nev­er can fin­ish it." I think teach­ers would be wis­er to teach chil­dren to lis­ten and to write a page of dia­logue. There are lots of good sub­jects, such as a quar­rel between a broth­er and sis­ter, that they would real­ly like to write about. A descrip­tion of some­thing they like or don't like. A descrip­tion of a cafe­te­ria lunch, for exam­ple, might set off some cre­ative ideas.
Bev­er­ly Cleary cel­e­brat­ed her 94th birth­day on April 12th of this year. I could­n't find enough of her books on the shelves when I was grow­ing up. I faith­ful­ly read every new book she wrote long into my adult years. And they still made me laugh out loud. Read a recent inter­view with Ms. Cleary on School Library Jour­nal's web­site.