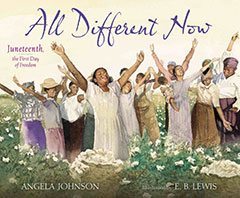 Do you know how some­times your hands hov­er over a book, want­i­ng to open it, sens­ing that this will be an impor­tant book, and you hes­i­tate, want­i­ng to pro­long your inter­ac­tion? I did that, turn­ing All Dif­fer­ent Now this way and that, then exam­in­ing the title page, the jack­et flaps … and final­ly allow­ing myself to read the book.
The writ­ing by Angela John­son and the illus­tra­tion by E.B. Lewis deserve rev­er­ence … it's a beau­ti­ful, mind-alter­ing, book of his­to­ry, pro­mot­ing under­stand­ing and appre­ci­a­tion for the dif­fer­ent paths our ances­tors trav­eled to give us our own foun­da­tions in life.
As an off­spring of Ger­man and Nor­we­gian house­holds in Min­neso­ta and Wis­con­sin, my knowl­edge of June­teenth was rec­og­niz­ing the name. Now, thanks to this book, I am aware of how piv­otal that date is and why it deserves cel­e­bra­tion.
On Jan­u­ary 1, 1863, Pres­i­dent Abra­ham Lin­coln issued the Eman­ci­pa­tion Procla­ma­tion, declar­ing all slaves in Amer­i­ca to be free. It wasn't until June 19, 1865, when Major Gen­er­al Gor­don Granger announced that the Eman­ci­pa­tion Procla­ma­tion was law from a bal­cony in Galve­ston, Texas, that slaves in Texas under­stood they were free from slav­ery.
This book takes place on one day, the day when the slaves on a cot­ton plan­ta­tion learned the news as it spreads quick­ly from Galve­ston. The text is sparse but effec­tive in com­mu­ni­cat­ing the dis­ori­en­ta­tion, won­der­ment, and ten­ta­tive joy of being a slave one day and free the next.
The illus­tra­tions are awash with heat and dust and being worn out. The sun glares. It is the faces, the hands in prayer, the expres­sive bod­ies, the qui­et cel­e­bra­tion in the night that make this book so mov­ing. I revere the work of Mr. Lewis and look for­ward to each of his books. He has out­done him­self here.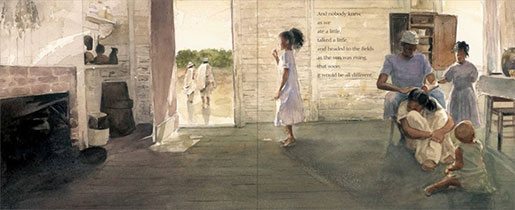 Every fam­i­ly in Amer­i­ca, every class­room, should own a copy of this book, talk­ing about what it means to be a slave and what it means to be free. Those are impor­tant dis­cus­sions to have. This is one of the best books to start that dis­cus­sion.
The back mat­ter is rich with emo­tions and infor­ma­tion to aid your dis­cus­sions and under­stand­ing of this moment in time. I hope you're moved to find your near­est June­teenth cel­e­bra­tion and help with the fes­tiv­i­ties.
All Dif­fer­ent Now: June­teenth, the First Day of Free­dom
writ­ten by Angela John­son
illus­trat­ed by E.B. Lewis
Simon & Schus­ter Books for Young Read­ers, May 6, 2014
Cel­e­brat­ing African Amer­i­can eman­ci­pa­tion in the Unit­ed States and free­dom world­wide
June­teenth World­wide
(This is a review of a book I checked out of our pub­lic library.)