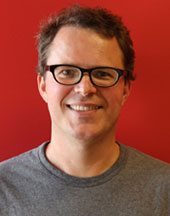 We're in post-sea­son, when a lot of fans start to look wild-eyed, won­der­ing how they'll hang on for three months until spring train­ing starts in Feb­ru­ary. Here in Min­neso­ta, it's tough for sand­lot base­ball or Lit­tle League games to be played in the snow with an icy base­line. Young fans can keep up the momen­tum with Kur­tis Scaletta's base­ball books, the Topps League series.
Star­ring Chad Sny­der, the new bat­boy for the Pine City Por­cu­pines, a Sin­gle A minor league team, as well as Dylan, the bat­boy who doesn't par­tic­u­lar­ly like base­ball, and Abby, the secret iden­ti­ty of the team mas­cot, Spike, these books are fast-paced and atten­tion-hold­ing.
I feel con­fi­dent rec­om­mend­ing you place this series in the hands of every young read­er who shows the slight­est inter­est in base­ball. I pre­dict they'll be intrigued about the sport but, even more impor­tant­ly, they'll race through these books because they're that well-writ­ten.
Recent­ly, I asked the author, Kur­tis Scalet­ta, if he would answer the burn­ing ques­tions I had after read­ing all six books.
Q: Do you remem­ber what first cap­tured your atten­tion about base­ball … and how old you were?
A: Ha. Well, I hate to blow my cov­er, but I actu­al­ly was­n't much of a base­ball fan (or even a sports fan) as a kid. I did get excit­ed when the '87 Twins won the World Series — I was a fresh­man in col­lege and work­ing at the sports desk for a city paper. But I did­n't real­ly become a big fan until I moved to Min­neapo­lis in my mid-20s, and base­ball books had a lot to do with it. There is so much great writ­ing about base­ball, and so many great writ­ers are base­ball fans.
Q: Did you play base­ball at any point?
A: I played a lot of sand­lot ball, which I still love — I don't know if kids play pick-up games any­more, but I cel­e­brate that kind of base­ball in Mudville. I was­n't much for orga­nized sports after sixth grade.
Q: Do you have your own base­ball card col­lec­tion?
A: Nope, but I do have a Kir­by Puck­ett card a read­er sent me. I love it.
Q: How did this writ­ing assign­ment come to you?
A: I was on Abrams' radar because of Mudville, so they asked my agent if I was inter­est­ed in writ­ing a base­ball card series. My first thought was "I can't do this because Dan Gut­man OWNS base­ball cards" but after noodling on it for a while I came up with a premise that is dif­fer­ent enough from his. I wrote up a pro­pos­al and they liked it.
Q: Are there ele­ments to be includ­ed in every book?
A: Yep, one thing I learned about writ­ing this kind of series, where each book stands alone, is that you need to set expec­ta­tions for each book. It's not real­ly a for­mu­la so much as a frame­work. The Topps League books all have three sto­ries: one is Chad's sto­ry, like wor­ry­ing about being good at his job. One is a ball­park sto­ry, a new fea­ture or spe­cial occa­sion that kids can look for­ward to. And the main sto­ry is that a play­er is try­ing to accom­plish some­thing or over­come a set­back and Chad is try­ing to help. Some­times the sto­ries inter­sect real­ly well.
Q: Why did you choose to write this series about a Sin­gle A team rather than a Dou­ble A or Triple A team?
A: It's impor­tant in the books that the play­ers are try­ing to play their way up in the sys­tem (or just stay at the single‑A lev­el), so it's more mean­ing­ful when this is the first seri­ous ball for some play­ers and a last chance for oth­ers. It's also more like­ly that a sin­gle A team would have real­ly young kids as bat­boys.
Q: Did you inter­view play­ers or bat­boys in order to write this series? Can you tell us how they might have reshaped what you were expect­ing to write?
A: Yep, I went and talked to some bat­boys for the [St. Paul] Saints. The team was real­ly help­ful and sup­port­ive in let­ting me snoop around behind the scenes. I talked to a kid named Dylan and named that char­ac­ter for him. I got some ideas for the stuff Chad would be doing before, dur­ing, and after a game and that was real­ly help­ful. One thing I learned that was very impor­tant to know is that bat­boys don't trav­el with the team, so each ball­park has one or more bat­boys who help the vis­it­ing team. That becomes a reg­u­lar bit in the books, because Chad always wants to help the home team. It also helps tell the sto­ry from the oth­er lock­er room once in a while, so it proved real­ly use­ful.
Q: Why did you choose to have Dylan be a char­ac­ter who isn't par­tic­u­lar­ly inter­est­ed in base­ball but has a tremen­dous inter­est in ani­mals?
A: I want­ed series-long arcs — even though the books stand alone, kids who read them in order will find three dis­sim­i­lar kids get­ting to know one anoth­er and the Por­cu­pines climb­ing out of the cel­lar and into con­tention. Dylan and Abby also give kids who don't con­nect imme­di­ate­ly to sports-mad Chad oth­er char­ac­ters they might relate to. By the way, as a kid I was a lot more like Dylan than Chad!
Q: You enlight­en read­ers about the "mag­ic" base­ball cards you choose to fea­ture in each book. Learn­ing about these play­ers was a high­light of the books for me. Did you pri­mar­i­ly use the inter­net to research their sto­ries? Or do you have books that you find help­ful?
A: Yep, I did web research. I also occa­sion­al­ly solicit­ed advice from my point per­son at Topps. The research was a fun part for me. My favorite book in the series is the fourth one, and a big part of that was learn­ing about Andy Pafko and why his Cubs card is one of the most valu­able base­ball cards out there.
Q: Writ­ing to spec­i­fi­ca­tions does­n't give you the con­trol you have when writ­ing your nov­els, but it requires a cer­tain mas­tery and dis­ci­pline to write this way and make it inter­est­ing, which you do. What do you appre­ci­ate about writ­ing a series now that you've fin­ished six books?
A: You know, I real­ly did have a lot of cre­ative con­trol over the series, though Topps def­i­nite­ly had a vision for the series it was­n't that restric­tive. And I learned that I love writ­ing chap­ter books — it's fun to see recur­ring char­ac­ters, to come up with a tem­plate and play with it, to see what you can do with­in the struc­ture you cre­at­ed. I'd real­ly like to launch a new series for the same age lev­el.
Q: Do you have a sys­tem for track­ing the details in your series of six (so far) books?
A: I had a ros­ter, line up cards, team sched­ules, and a list of oth­er char­ac­ters. If it got much longer I'd need to put togeth­er a bible that had all of that and recaps of past sto­ry­lines. One thing I was able to do, plan­ning sev­er­al books at once, was antic­i­pate future sto­ry­lines and plant a few things in ear­li­er books so it does­n't feel as impro­vised.
Q: When writ­ing a series, what keeps your inter­est sparked?
A: That was the biggest chal­lenge, com­ing up with new sto­ries and new angles for each book that would be as strong as the first cou­ple of books.
Q: You've worked in enough base­ball lin­go and tempt­ing-to-learn-more base­ball his­to­ry that even a young child who knows noth­ing about base­ball can't help, like Dylan, become inter­est­ed. Was this one of the goals of writ­ing this series?
A: Def­i­nite­ly.
Q: As an adult, the plot of each book is inter­est­ing enough to keep me eager­ly turn­ing pages to find out what hap­pens next. I appre­ci­ate the skill that takes. These books could be read aloud, which would be a great deal of fun for par­ents and their chil­dren, but they're tru­ly intend­ed to be ear­ly chap­ter books, books that can be read by emerg­ing read­ers. What were you aware of as defin­ing char­ac­ter­is­tics of an ear­ly read­er while you were writ­ing?
A: I nev­er say the age of Chad or the oth­er kids because we want­ed the series to appeal to a range of kids. I found out that old­er kids — fifth and sixth graders — who are daunt­ed by 300+ page nov­els — like these books because they're quick reads but don't feel like baby books. I get a lot of email from par­ents of reluc­tant read­ers who are pleased their kids have found books like these. It makes me want to write more like them, because real­ly there's no bet­ter feed­back you can hear as a children's book author than that your book turned a kid onto read­ing.
Q: Who was your edi­tor for the Topps League series? Is that per­son a base­ball fan?
A: Her name is Sheila Keenan. She was at Abrams, but now she's left to write full-time. She likes base­ball but was­n't a hard­core fan. One nice sur­prise was that she'd been to Saints games and knew where I was get­ting my inspi­ra­tion. We had read­ers at Topps who did more of the detail checks — would this real­ly hap­pen at this point in a game, etc.
Q: How did your edi­tor work with you to shape these books?
A: We talked a lot about the shape of the series before I wrote a word of the text — not just her point of view, but also medi­at­ing for Topps and their vision for the series. For exam­ple, Topps was con­cerned that my orig­i­nal line-up did­n't have enough diver­si­ty, since the game is very diverse at every lev­el. They want­ed to make sure the play­ers had their hang-ups and quirks but were good role mod­els. They had great input. It was­n't so much chang­ing things lat­er but agree­ing in advance to what kind of series it would be.
Q: Are there cur­rent­ly any plans to pub­lish more books in this series?
A: None are planned right now, but we'll see! In any case, I def­i­nite­ly want to pur­sue anoth­er series like this, because I like the for­mat and it's been very reward­ing to hear from par­ents and young read­ers who've enjoyed them.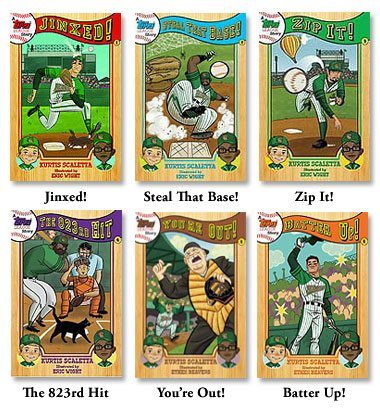 Topps League series:
Book 1: Jinxed!
Book 2: Steal That Base!
Book 3: Zip It!
Book 4: The 823rd Hit
Book 5, You're Out! starts the sec­ond year of Chad and Dylan being bat­boys
Book 6: Bat­ter Up!
Books 1 through 4 were illus­trat­ed by Eric Wight of Frankie Pick­le fame. Books 5 and 6 were illus­trat­ed by Ethen Beavers.
Vis­it Kur­tis Scalet­ta's web­site. I'll be writ­ing about his most recent book, The Win­ter of the Robots, in an upcom­ing arti­cle (hint: I real­ly like this book).