Kinder­garten. It's not pecu­liar to the USA, but the States took up the move­ment toward ear­ly child­hood edu­ca­tion after Friedrich Froebel intro­duced the con­cept in Bad Blanken­burg, Ger­many, on June 28, 1840. "Chil­dren are like tiny flow­ers; they are var­ied and need care, but each is beau­ti­ful alone and glo­ri­ous when seen in the com­mu­ni­ty of peers," Froebel believed.
Start­ing kinder­garten. One hun­dred days of kinder­garten. The last day of kinder­garten. Mov­ing on to first grade.
We have pre-schools, ECFE, play­groups, many ways for very young chil­dren to social­ize, learn to get along with peo­ple out­side of their fam­i­ly and neigh­bor­hood, but kinder­garten remains a stead­fast mile­post in a young life.
Here are books to share with your chil­dren and stu­dents who are begin­ning, attend­ing, and fin­ish­ing up their kinder­garten experience.We're approach­ing the last day of kinder­garten, so we begin there: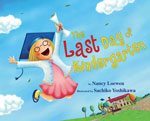 The Last Day of Kinder­garten by Nan­cy Loewen, illus­tra­tions by Sachiko Yoshikawa (Mar­shall Cavendish). That's right … the LAST day of kinder­garten. It's the end of kinder­garten. All those wor­ries and fears have been replaced by fun chal­lenges, the excite­ment of learn­ing, and good mem­o­ries of new friends, a spe­cial teacher, and a touch of sad­ness that the school year is com­ing to a close. But, wait … first grade is ahead. That makes the last day of kinder­garten a very spe­cial day indeed.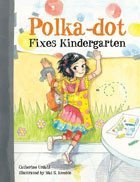 Pol­ka-Dot Fix­es Kinder­garten by Cather­ine Urdahl, with illus­tra­tions by Mai S. Kem­ble (Charles­bridge). Pol­ka-Dot is thrilled to be going to kinder­garten, espe­cial­ly when Grand­pa gives her a fix-it kit, com­plete with duct tape, run­ny soap, and pol­ka-dot­ted ban­dages. Liz, a girl in her class­room, finds fault with every­thing about Pol­ka-Dot, pro­vid­ing a chal­lenge – how can Pol­ka-Dot fix this predica­ment with her tool kit?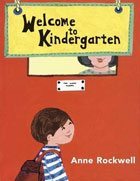 Wel­come to Kinder­garten by Anne Rock­well (Walk­er Books). Tim gets to vis­it his kinder­garten class­room before the school year starts. He's glad to know his days will be filled with vari­ety, new friends, sports, and treats! As always, Anne Rockwell's illus­tra­tions per­fect­ly fit the visu­al inter­est lev­el of her read­ers.

Kinder­garten Rocks by Katie Davis (Har­court). Dex­ter has many fears about his first day of kinder­garten, but author Katie Davis finds humor­ous ways to reas­sure her main char­ac­ter. In fact, as sis­ter Jessie advis­es Dex­ter, "kinder­garten rocks!"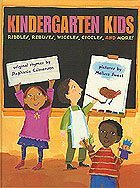 Kinder­garten Kids (Harper­Collins). Melis­sa Sweet and Stephanie Cal­men­son teamed up to cre­ate this busy activ­i­ty book that will reas­sure not-quite-there-yet kinder­garten­ers that they're going to enjoy school. There are rhymes, rid­dles, guess­ing games, count­ing, and the kids sing, draw, and laugh their way through the day. Teach­ers will enjoy this book, too.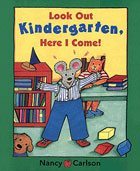 Look Out Kinder­garten, Here I Come! by Nan­cy Carl­son (Viking). Carlson's beloved Hen­ry is head­ing off to the first day of kinder­garten. He's ready. He knows all about kinder­garten and he's excit­ed … until it's time to head into the build­ing. It doesn't take long, though, and Hen­ry remem­bers how much fun he's going to have.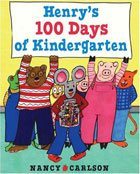 Hen­ry's First 100 Days of Kinder­garten, also by Nan­cy Carl­son (Viking). Go, Hen­ry! Count­ing to 100. We for­get what an achieve­ment that is for a young stu­dent. The teacher adds one jel­ly bean to a jar every day, stu­dents bring in 100 show-and-tell items, and the vari­ety of items are at once fun and famil­iar — a pop­si­cle-stick house, a 100-year-old great-grand­moth­er — every­thing rein­forces the con­cept of 100. With mag­ic mark­ers and pen-and-ink, Nan­cy Carl­son cre­ates a friend­ly school envi­ron­ment that will feel instant­ly com­fort­able to young read­ers and lis­ten­ers.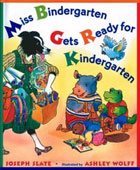 Miss Binder­garten Gets Ready for Kinder­garten by Joseph Slate, with illus­tra­tions by Ash­ley Wolff (Dut­ton). Miss Binder­garten, a bor­der col­lie, teach­es kinder­garten and there are many books about her teach­ing expe­ri­ences (includ­ing Miss Binder­garten Cel­e­brates the Last Day of Kinder­garten and Miss Binder­garten Has a Wild Day in Kinder­garten), but the ded­i­ca­tion of this teacher speaks well for teach­ers every­where. It's an alpha­bet book, an ani­mal iden­ti­fi­ca­tion book, and a book that reas­sures young chil­dren how inter­est­ing and col­or­ful kinder­garten will be.

The Night Before Kinder­garten by Natasha Wing (Gros­set & Dun­lap) made the New York Times Best­seller list. That's what a big deal kinder­garten is! All kinds of kids feel all kinds of things before their first day of kinder­garten, but by the end of the day they all agree: kinder­garten is cool! You'll enjoy the famil­iar rhyth­mic struc­ture of Clement Moore's The Night Before Christ­mas with Natasha Wing's live­ly poet­ry.

Count­down to Kinder­garten by Ali­son McGhee with illus­tra­tions by Har­ry Bliss (Har­court) is a book about kinder­garten anx­i­ety. No, it's a book about shoelace tying. No, it's a book about count­ing. No, no, no. It's a very FUNNY book about get­ting to kinder­garten with­out wor­ry­ing about rules and appear­ances and poten­tial dis­as­ters. A light­heart­ed, laugh-out-loud book.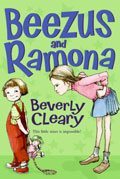 Beezus and Ramona by Bev­er­ly Cleary (Harper­Collins). Beezus is beset by the prob­lems that her kinder­garten-aged sis­ter caus­es, but Ramona doesn't real­ly mean to be so trou­ble­some. Espe­cial­ly not when she invites her entire kinder­garten class to a par­ty at her house … with­out telling her moth­er. A good read-aloud.
Do you have oth­er favorite kinder­garten titles to add? Add to the list … we'll post the results on the CLN site's Read­ing Lists.