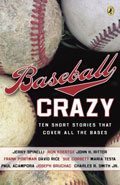 Yup. I admit it. I am base­ball crazy. I have been since my mom took me to games at Met­ro­pol­i­tan Sta­di­um in Bloom­ing­ton, Min­neso­ta, to see the new­ly arrived Min­neso­ta Twins. And this year the Twins have out­door base­ball for the first time since 1982. It's no won­der "base­ball aware­ness" is height­ened at this time of year. Of course, peo­ple all over the coun­try were wait­ing for their teams to take the field for Open­ing Day just two weeks ago. Among the CLN mem­bers who are base­ball crazy that I know about are: Jen Bryant, Sue Cor­bett, Lin­da Sue Park, Tom Fitz­patrick (Read­ing with Dads), Kur­tis Scalet­ta, Anne Ursu (the orig­i­nal Bat-Girl … we sure miss that blog), and me! (If you'd like to be added to this list, it's nev­er too late. Make a com­ment, step right up!)
In the mean­time, here are ten of my favorite base­ball books to cel­e­brate the season:
Base­ball Crazy: Ten Short Sto­ries That Cov­er All the Bases. Jer­ry Spinel­li, Ron Koertge, John H. Rit­ter, Frank Port­man, David Rice, Sue Cor­bett, Maria Tes­ta, Paul Acam­po­ra, Joseph Bruchac, Charles R. Smith, Jr., (Dial). Good for read­ing out loud, these ten sto­ries cen­ter around base­ball, rang­ing from humor­ous to serious.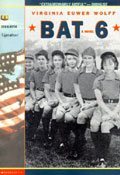 Bat 6, Vir­ginia Euw­er Wolff (Scholas­tic). Two Ore­gon towns have a strong rival­ry between their girls' soft­ball teams. When World War II rages, so do the tem­pers and prej­u­dices on the two teams. A strong sto­ry of recog­ni­tion and reconciliation.
Base­ball Saved Us, Ken Mochizu­ki, illus by Dom Lee (Lee & Low). A Japan­ese-Amer­i­can fam­i­ly is sent to an intern­ment camp dur­ing World War II; base­ball gives the fam­i­lies a pur­pose­ful way of pass­ing the time.
The Boy Who Saved Base­ball, John H. Rit­ter (Philomel). Tom, Doc Altenheimer, Cruz de la Cruz, and Dante del Gato all fig­ure promi­nent­ly in this sto­ry about a small town fac­ing major devel­op­ment. When Doc issues a chal­lenge to Tom and the oth­er base­ball play­ers, the town ris­es to make win­ning base­ball a real­i­ty. A book-length tall tale, this is great fun.
The Des­per­a­do Who Stole Base­ball, John H. Rit­ter (Philomel). Back in the days of the Wild West, base­ball would try to save anoth­er town. Jack Dil­lon and Bil­ly the Kid are the cen­tral char­ac­ters in this even taller tale from Ritter.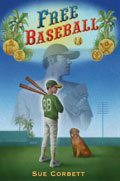 Free Base­ball, Sue Cor­bett (Dut­ton). Felix has grown up in Amer­i­ca, where he idol­izes his father, a Cuban base­ball super­star. Felix lives and breathes base­ball, so when he's mis­tak­en for the bat boy of a Flori­da minor league team, he's thrilled. It's a com­ing-of-age sto­ry, seam­less­ly inte­grat­ed with sports action.
Jack­ie's Bat, Mary­beth Lor­biec­ki, illus by Bri­an Pinkney (Simon & Schus­ter). When Jack­ie Robin­son takes the field for the Dodgers in 1947, the bat­boy par­rots his father's prej­u­dices. Dur­ing a sea­son of learn­ing to know and observ­ing the man, young Joey comes to his own con­clu­sions about the base­ball play­er we all hon­or today.
Mudville, Kur­tis Scalet­ta (Knopf). It's been rain­ing for 22 years in Moundville, pro­long­ing the fin­ish of an inter­rupt­ed base­ball game. When the rival­ry between two towns involves a curse, it's up to the next gen­er­a­tion to play out the game, dis­cov­er­ing what real­ly hap­pened so many years ago.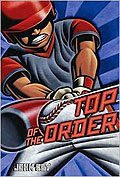 Top of the Order, John Coy (Scholas­tic). When four friends, the top of the order on their base­ball team, face big changes in their lives, the game pro­vides a piv­ot cen­ter for them.
You Nev­er Heard of Sandy Koufax? Jon­ah Win­ter, illus by Andrew Car­ril­ho (Schwartz & Wade). From the engag­ing illus­tra­tions to the unsen­ti­men­tal pre­sen­ta­tion of the amaz­ing per­son­al and pro­fes­sion­al capa­bil­i­ties of this base­ball super­star, this is a pic­ture book to treasure.