Summer Reading No. 1
Trav­el sea­son begins now. Resorts and road­side attrac­tions and Dairy Queens are all spruced up. The OPEN signs are once again flipped to the side that mat­ters. Will you be trav­el­ing the high­ways and back­roads, look­ing for adven­ture?
I've read a new pic­ture book that made me look dif­fer­ent­ly at some­thing trav­el­ers take for grant­ed: truck stops. In fact, the book is called Truck Stop. Writ­ten by Anne Rock­well and illus­trat­ed by Melis­sa Iwai, it tops the list of my favorite new pic­ture books because of its read-aloud-abil­i­ty, the illus­tra­tions, the end­pa­pers, but most of all for the sto­ry.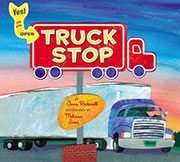 We've all learned that fam­i­lies come with many dif­fer­ent descrip­tions. Truck Stop helped me real­ize that fam­i­lies exist wher­ev­er we've learned to look out for one anoth­er, to take the time to learn some­one's likes and dis­likes, and to share a heart­felt smile. In the case of the Truck Stop fam­i­ly, those smiles are exchanged before the sun comes up!
Anne Rock­well under­stands the inter­ests of the three‑, four‑, and five-year-old crowd. The end­pa­pers have ener­getic, detailed draw­ings of many types of spe­cial­ty trucks: eigh­teen-wheel­er, milk truck, school bus, dump truck, ice cream truck (yum­mm). A num­ber of them take part in the dra­ma unfold­ing in the book.
More impor­tant­ly, we get to meet the truck dri­vers who fre­quent the truck stop. "Mom, Dad, and I" pre­pare each morn­ing to greet Eigh­teen-Wheel­er and "Sam, his dri­ver." "Milk Tank and Maisie are next." As each cus­tomer walks through the door, "Mom, Dad, and me" (a child who could eas­i­ly be a boy or a girl) know just what to throw on the grill or pull out of the bak­ery case.
The trucks are tak­en care of, too. Uncle Mar­ty has the ser­vice garage next door. He checks tire pres­sure, tops up gas tanks, and brings an old green pick­up back to life.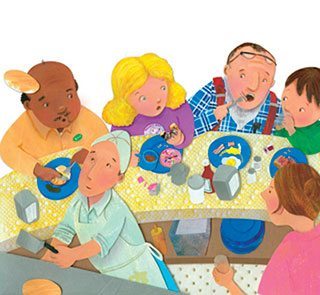 Melis­sa Iwai's illus­tra­tions are par­tial­ly acrylic paint — beau­ti­ful, vibrant sun­ris­es and dimen­sion­al high­ways, part print­ed paper and col­ored paper used effec­tive­ly in col­lage style, and part India ink. She pays such care­ful atten­tion to the details in the book that chil­dren-who-notice-every­thing will not be dis­ap­point­ed. The break­fasts slow­ly dwin­dle on the counter-top plates until Maisie has only sprin­kles left and Sam's bits of egg yolk lend a real­is­tic touch. The din­er's floor is pol­ka-dot­ted and the sil­very milk truck shines pink in the morn­ing's sun­rise.
All of this is accom­plished with words that are inter­est­ing to read out loud but could eas­i­ly be deci­phered by a begin­ning read­er. The sto­ry has good humor, spice, and a bit of mys­tery. It sat­is­fies the spot that wants all to be right with the world and reminds us that fam­i­ly occurs in many heart-warm­ing ways.
Learn­ing about this Truck Stop will have me look­ing around when we stop in at any of the hun­dreds lin­ing the free­ways and back­roads of the USA: are these folks a fam­i­ly? Do they ask after pets and moth­ers and chil­dren? Do they share grad­u­a­tion pho­tos and favorite songs?
Thanks Anne Rock­well and Melis­sa Iwai … you've made the world a rich­er place for me and many sure-to-be fans of Truck Stop.