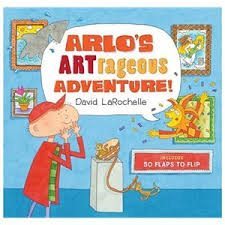 Arlo's ARTra­geous Adventures!
writ­ten and illus­trat­ed by David LaRochelle
Ster­ling Children's Pub­lish­ing, 2013
If you're con­sid­er­ing gifts for the hol­i­day sea­son … (book #1 in our series of Gift­ed recommendations) …
No mat­ter how unin­ter­est­ing Arlo's elder­ly rel­a­tive insists on mak­ing their trip to the muse­um with her warn­ings to be seri­ous and qui­et and not to touch any­thing, Arlo can't help but find the oppo­site to be true. Every­where he looks, some­thing inter­est­ing is hap­pen­ing. Whether it's laugh-out-loud fun­ny (that oh-so-prop­er, be-rib­boned admi­ral loves to swim in sur­pris­ing attire!) or anachro­nis­tic (those hus­band-and-wife matched paint­ings have a twen­ty-first cen­tu­ry way of com­mu­ni­cat­ing!) or iron­ic (that gold trea­sure chest, which I have decid­ed is an automa­ton, but I'm sure you'll cre­ate your own sto­ry), this is an engag­ing book full of sur­pris­es and delights.
As an adult, you'll dis­cov­er the homage to famous paint­ings and sculp­ture and movies and books (I found a Rick Rior­dan book) and even if David LaRochelle didn't intend them … you can inter­pret the art any way you like. That's the point.
Chil­dren will love shar­ing this expe­ri­ence with you, learn­ing about art, and dis­cov­er­ing the trea­sures in a muse­um. I don't think I'll spoil any­thing if I share a small secret: there's a long-tailed crit­ter on each and every page inter­act­ing with the art. As an adult, you'll have as much fun hunt­ing for that crit­ter as your favorite child does.
I have always loved David LaRochelle's illus­tra­tions. He is adept at cap­tur­ing the emo­tion in a scene with a few adroit lines, good cheer abounds, and his palette in this book is so engag­ing that it's impos­si­ble not to feel enthu­si­as­tic about going to a museum.
And, peo­ple, it's a lift-the-flap book. Take some time to talk about this with your chil­dren. Imag­ine how each page had to be con­struct­ed so that the flap that opens on one page doesn't inter­fere with the flap on the page that backs up to it. The lay­out of flaps that extend to anoth­er image had to be placed pre­cise­ly. Ingenious.
This book is high­ly rec­om­mend­ed. It will engage ram­bunc­tious read­ers as well as qui­et read­ers. Ages 4 and up, adults emphat­i­cal­ly included.