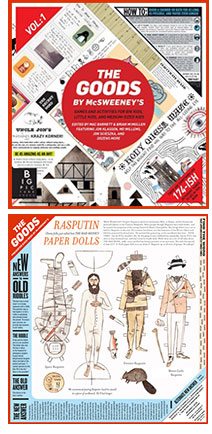 The Goods by McSweeney's:
Games and Activ­i­ties for Big Kids,
Lit­tle Kids, and Medi­um-Size Kids
edit­ed by Mac Bar­nett and Bri­an McMullen
fea­tur­ing Adam Rex, Jon Sci­esz­ka, and more
Big Pic­ture Press, an imprint of Can­dlewick Press, 2013
For your hol­i­day gift-giv­ing con­sid­er­a­tion …
An over­sized book filled with every imag­in­able dis­trac­tion, this should be on every family's hol­i­day gift list. Seri­ous­ly. With the crafty appear­ance of fun and friv­o­li­ty, there's a whole lot of learnin' going on between the cov­ers of this book. And nobody will know that except a few odd teach­ers and par­ents who look for learn­ing oppor­tu­ni­ties every­where.
Is a lot of this goofy? Yes. Would you find Rasputin paper dolls with an astro­naut cos­tume any­where else? No. Have you ever count­ed chick­ens after they've hatched? Pos­si­bly not.
From spa­tial rela­tion­ships to ety­mol­o­gy to cog­ni­tive prob­lem-solv­ing to learn­ing facts to rea­son­ing and deduc­tion to read­ing skills … there's some­thing for every­one here. And did I men­tion … FUN? Isn't that what we want every­one to under­stand? Learn­ing is FUN. This book proves it.